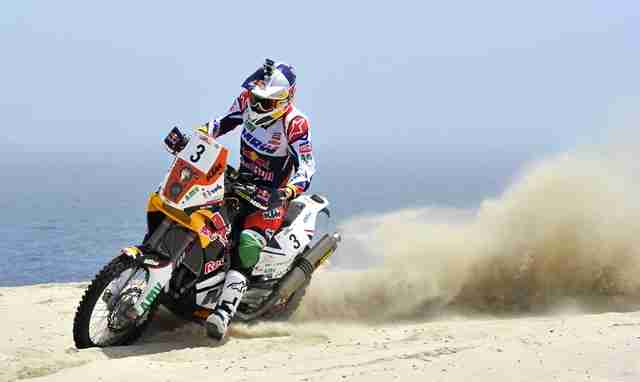 KTM's 3-time Dakar winner Marc Coma took a comfortable third on his KTM 450 Rally bike in the second desert stage of the inaugural Sealine Rally in Qatar on Thursday to retain the lead in the overall standings going into the longest stage tomorrow. Even though competitors come virtually straight from the Abu Dhabi Desert Challenge just two weeks ago, the Sealine Rally, the second round of the FIM Cross Country Rally World Championship presents entirely new challenges, according to race leader Coma. "This is a new country for me to race in and I approach the event with excitement and a little nervousness of how to place the strategy," he said after Stage 1.
Coma finished the second stage behind Joan Barreda of Spain and Helder Rodrigues however as Barreda now has a two-hour penalty, which leaves only Rodrigues as Coma's main rival for the top podium place. "Today everything went well. There were no problems and we made no mistakes," Coma said at the completion of Thursday's ride. "We are now near the middle of the rally and there is no big gap between the leading contenders so everything is going well for us." On Thursday riders retraced their tracks from the previous day in a second loop course of 330 km of special stage and a 7 km liaison. Again they traveled through the southern part of the Gulf State over hard and sometimes rocky terrain and finished in the tricky dunes. Coma said before the rally that the key to success would be to avoid serious mistakes but competition is tight and the three fastest in Thursday's stage traveled at a daunting average of between 93 kmh and 89 kmh.
"Tomorrow with be very important," Coma said. "We have 360 km of special tests and there will be a lot of navigation." Riders are hoping for another day where the desert temperatures are not too severe. On Thursday they were relatively mild although there was some wind and at times there was a problem with visibility, Coma remarked. On a good day for riders of the KTM 450 Rally bike Francisco Lopes finished fifth followed by Australian Matthew Fish, Gerard Farres Guell of Spain, Jakub Przgonski of Poland, Spain's Jordi Villadoms and KTM factory rider Ruben Faria of Portugal who placed 6-10.
Results Stage Two
1. Joan Barreda, Spain, Husqvarna, 3 hours 3:33.31
2. Helder Rodrigues, Portugal, Yamaha at 7.10
3. Marc Coma, Spain, KTM at 9.12
4. Paolo Goncalves, Portugal, Husqvarna at 9.14
5. Francisco Chaleco Lopez, Chile, KTM at 13.48
Standings after Stage Two
1. Coma, 7 hours 33.24
2. Rodrigues at 1: 08
3. Villadoms at 14.41
4. Przgonski at 14:50
5. Faria at 15:58
6. Farres Guell at 23:06
7. Paolo Ceci, Italy, KTM at 23:58