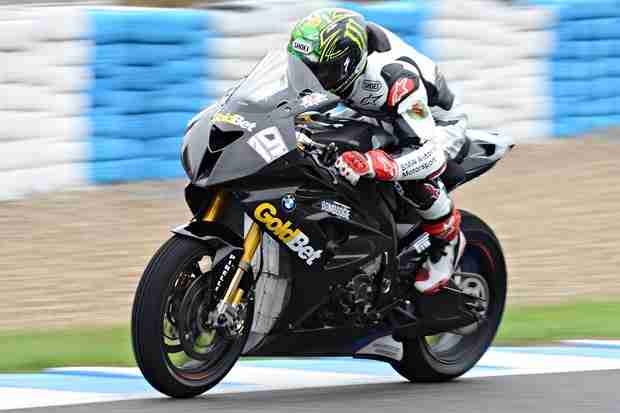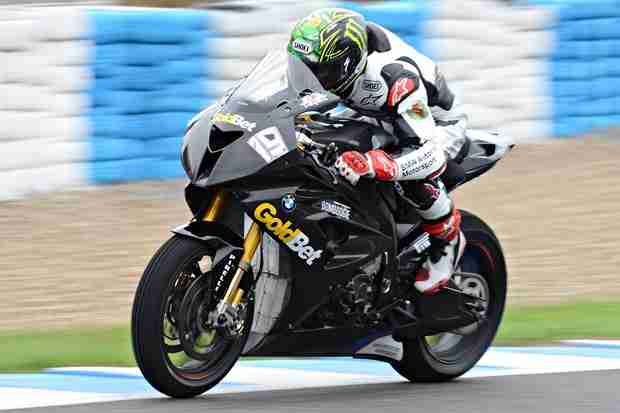 The preparation for the 2013 FIM Superbike World Championship is in full swing. BMW Motorrad factory rider Marco Melandri (ITA) and his new team-mate Chaz Davies (GBR) conducted two days of winter testing in Jerez in the south of Spain. It was Chaz's first time working on track with BMW Motorrad. He used the two days to get acquainted with his new environment and with his RR. The test was also a good opportunity for the re-structured team to get to grips with each other.
Over the two days, BMW Motorrad evaluated newly developed components for the RR. Unfortunately, track time was reduced due to the changing weather conditions. Yesterday it was dry in the morning but raining in the afternoon. This morning it was still wet before the rain stopped around noon. The highest air and track temperatures reached was between 16 and 18 degrees Celsius. In total, Marco and Chaz completed 149 laps or 659 kilometres of testing on their RRs. Having raced there once back in 1990, Jerez will again feature on the Superbike World Championship calendar in 2013 when it will host the season finale in October.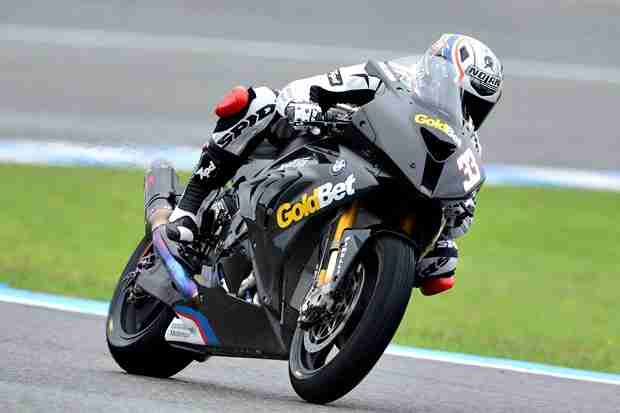 Marco Melandri
Bike: BMW S 1000 RR
"Unfortunately we could not ride that much because of the weather. The track was never really dry or really wet, it was always in between so we could not do as many laps as we planned but had to wait in the garage for some time. We hope to have more luck and better weather at the next test. Anyway, it was nice to be at the race track, to meet up and work with the team again. It was also good to test with my new team-mate Chaz for the first time. It is interesting to know what he thinks about our RR. As a person, I think he is a good guy and I feel that we will get on very well."
Chaz Davies
Bike: BMW S 1000 RR
"It was great to test my RR for the first time and to be back on the track again. Unfortunately we didn't have the weather we were hoping for; it would have been nice to have consistent conditions no matter if wet or dry but that wasn't the case so it was a little bit challenging. I think I need to start steadily; I wouldn't be on the pace after one test even in perfect conditions. We need to keep working and hopefully we will have better luck with the weather at the next test.
My first impression of the bike is very good. When I tried the bike for the first time, there were no surprises at all, which is always nice. The RR is very well balanced; it has a lot of power and a lot of options to control the power. So far, we have mostly worked on finding my riding position. The BMW Motorrad team is really great. I knew a few of the guys before but not too many of them so it was good to meet everybody. I have to learn a lot of new names with so many people in the garage but I am sure that I will get there soon. Everybody is so friendly and welcoming and obviously good at their job, so it is a pleasure to work with the team."
Serafino Foti
"We were not so lucky with this test; the weather did not help us at all. We had a lot of things to work on. Our riders did different jobs: Marco tried some new components to improve the bike, but unfortunately it was impossible to evaluate all available material. For Chaz it was the first test with the BMW family. He used it to become familiar with his RR and to find the right settings and riding position for the bike. We hope to have better conditions at the next tests, because it is very important to keep up with our work programme. Regardless, the test was good for consolidating the new team structure. All the guys have done a great job and there was a positive and confident atmosphere in our garage. We are very motivated to start the new season."