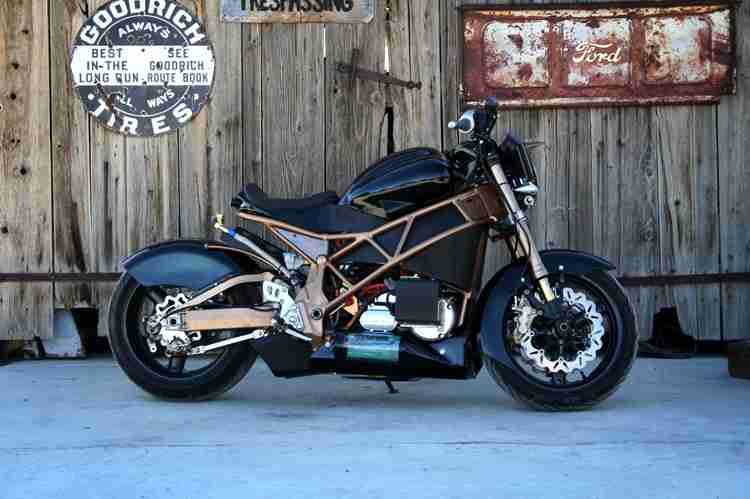 The electric two wheelers segment  is growing by the day and quite surprisingly so is the interest among the people for the same. Last fall, Brutus Electric Motorcycle introduced the first version of their two wheeler Brutus, and has now come out with the Brutus 2.0. Brutus 2.0 is composed of pretty much the same components as last year's bike but still so very different.
Since Brutus 2.0 is still in the testing phase of its performance is still a prototype, it could undergo several other changes before it reaches a production version. However what we currently know about the Brutus 2.0 is that it does a 0 – 60 miles per hour in 4.7 seconds and goes on to a maximum of 258 km / h. Truly impressive numbers for a cruiser. The new model sees 153 volt/4.9kWh Lithium Polymer battery packs that replace the earlier sealed lead acid outing, and that are designed to last up to 50,000 miles with minimal maintenance (if any). The batteries are recharged using a household mains outlet (110 V), and it's said to take just three hours to reach full charge. New to the front of Brutus 2.0 is full HID and LED lighting, with the headlight area gaining a small fairing. The digital display is also a Manzanita unit, the LighTech carbon fiber rear view mirrors have been shifted to above the grips, and there are 50mm, inverted, 3-way, 14-point, adjustable front forks. The gas tank is not just there for show, it's hinged to allow keyed access to the batteries and a small storage area – big enough to hold a pair of gloves and some tools.
Below are the technical specifications of the Brutus 2.0, for more photographs visit the Brutus 2.0 gallery.
Technical specifications
| | |
| --- | --- |
| Motor | Electric DC |
| Transmission | 5 Speed Divorced (Wet Type) |
| Clutch | N/A |
| Weight | 535 lbs |
| Length | 84" |
| Width | 31" |
| Overall Height | 46" |
| Wheel Base | 58.5" |
| Seat Height | 31" |
Tires
| | |
| --- | --- |
| Front | 120/70/17 |
| Rear | 190/50/17 |
Front Suspension
50mm Inverted 3 Way 14 Point Adjustable Front Forks
Rear Suspension
Link Type 3 Way 22 Point Adjustable Rear Shock Plus 3 Position Ride Height Adjustment Settings.
Brakes
| | |
| --- | --- |
| Front | Twin 6 Piston Dual Rotor |
| Rear | Dual Piston Dual Caliper Single Rotor |
Lighting
Full HID and LED Lighting