The WSBK season 2012 comes to an end with Max Biaggi winning the championship by just 0.5 points. The weather almost ruined the final race day, with a wet track for both races, but then this wet track made the run for the championship more dramatic with a lot of unexpected twists and turns.
Race 1 begain with Sykes taking the lead followed by Jonathan Rea, Eugene Laverty, Carlos Checa, Melandri and Biaggi. Almost immediately Melandri lost 3 spots and dropped down to number 8. As the first lap finished Laverty had lost his position to Biaggi and that remained the order till on the third lap Biaggi crashed out, although a crash is never a good thing, this time it quite literally opened the championship wide and meant that Sykes and Melandri had a better chance of catching up to the point leader Biaggi. Every one knew this, every rider knew this and from here on its was a race worthy of a season closer.
Jonathan Rea caught up with Sykes at lap 5 and quickly put in a fast couple of laps and increased his lead by 3 seconds. By this time the tricky conditions took down Lorenzo Zanetti and Leon Camier. By the 7th lap Checa was closing in on Sykes but succumbed to the conditions leaving Guintoli and Melandri in a battle for third. The race took another interesting turn when an over confident Rea despite warnings from the pit to take it easy, ruined his bike and ended up not finishing the race. Sykes now had a free promotion to the number one spot followed by Melandri and Guintoli. The three riders now were in a battle that kept everybody glued to their seats, with each one of them pushing hard and taking risks every once in a while, but this battle was won by Guintoli as Sykes and Melandri  favoured points for position in the last few laps.
Although Sylvain Guintoli took race 1, Melandri and Sykes got themselves some much needed points to catch up with the points leader Biaggi. Biaggi now only had a 14.5 point lead over Sykes and a 18.5 one over Melandri, this meant that he had to finish at least at 5th in race 2 to win the championship. The home win by Sylvain Guintoli was definitely an emotional one for Pata Racing as they are not contending from next year.
Race 2 began with Tom Sykes again taking the lead and this time he kept it like that till the end. He was followed by Laverty and Guintoli and by lap two Guintoli moved past Laverty to the number 2 spot. Lap five saw Melandri Crash out along all his championship hopes, this was followed by a crash from Loriz Bazm which gave a cautiously cruising Biaggi at 10th the advantage. Another error this time by Leon Haslam gifted Biaggi a 6th spot, but almost immediately he made an error of his own had to let through Davide Giugliano. Upfront Laverty almost had a major spill that left Rea to take an easy third spot.
It was in the 12th lap that Biaggi started to show some aggression and overtook Giugliano for the 6th spot. Two laps later he caught up with Checa and took the magical number 5 spot and remained there till the end of the race. The race ended with Sykes at number one followed by Rea and Guintoli.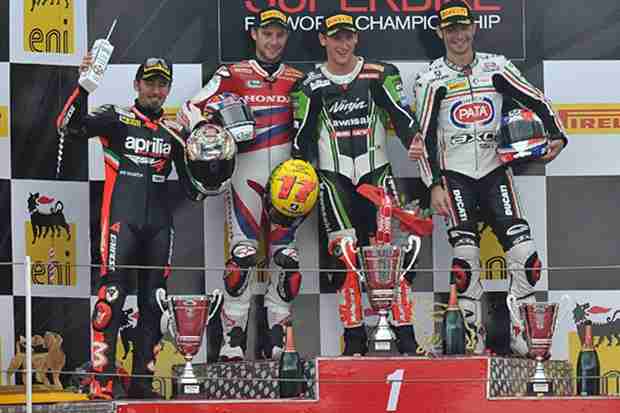 Max Biaggi had just one job to do in race 2, finish it and finish it at least number 5, and that's what he did. Even with some splendid riding by Sykes in race 2, Biaggi managed a 0.5 point victory, the closest ever and took home the championship for the 6th time. Team Aprilia also took home the manufacturers title.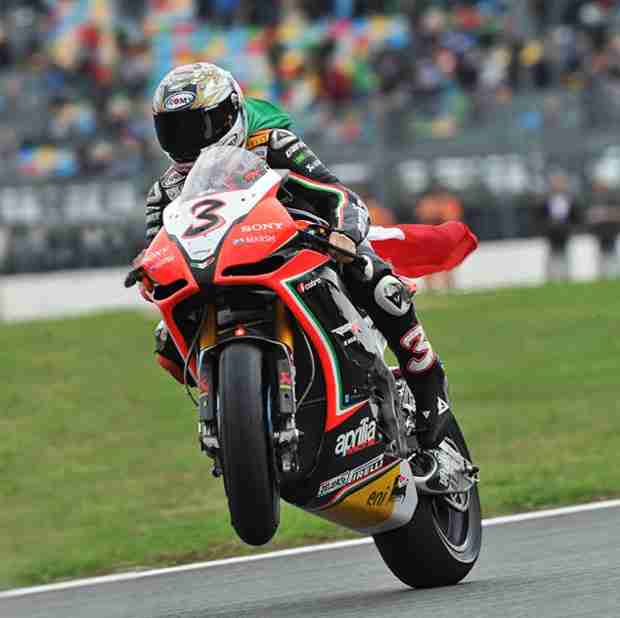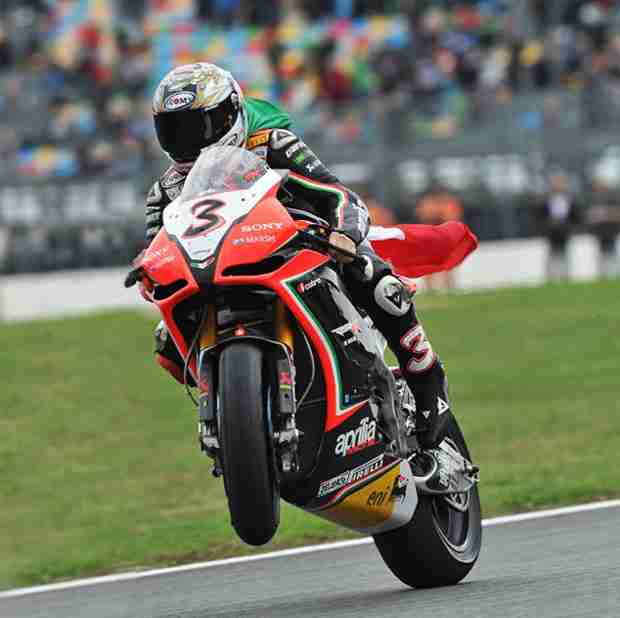 Max Biaggi
"This is the fourth world championship out of six that I've won in the last race. I guess I must like a difficult challenge! The 2012 season was tight to say the least: we started off well winning at Phillip Island after completely revamping my team, but we also had some difficult moments. We definitely worked for the title and maybe that's why it's an even sweeter victory. I'd like to thank the Team, Aprilia and Piaggio Group, from president Colaninno to the last worker because my success is just the tip of a great Italian company's work. I would also like to thank my family, my girlfriend Eleonora and my two children, as well as the always present Marino Laghi".
Tom Sykes
"We were on pole, took a new circuit record, got a podium and then a win and pulled back 30 points on Max Biaggi. Not easy against a rider of his level. Yes, obviously there is a massive disappointment on one hand because we were only half a point from the world championship! But on the other hand, being realistic, we are very happy and we have – by far – overachieved on expectations this year. We have been very strong and I think this weekend we have been particularly strong; partly because of this Joan Lascorz replica helmet I am wearing. I have had massive support here from my family, friends and the Kawasaki fans so to sum up my year it has been fantastic. I really appreciate that Kawasaki, Provec; all the team our sponsors, Motocard, Leo Vince and all of them have put us in the situation of fighting for the world championship. Hopefully next year we can be very consistent from the start."
Marco Melandri
"It felt good to finish a race on the podium again after the last two unfortunate race weekends. My BMW S 1000 RR was working very well. In the first couple of laps of race one, I was still struggling a bit with warming up the tyre, but once the tyre was working, I could go at quite a good pace. Anyhow, it was a tough race and I did not want to overpace and risk too much. Unfortunately the track dried up more and more which did not work in my favour. When I finally passed Tom, the track was not really wet anymore, and in these conditions I had no chance to follow Sylvain, who really showed a strong performance today. The track conditions were very difficult in race two. I pushed 100 per cent but I could not change direction quickly. When I crashed I must have hit a wet patch, and I lost the rear of my RR. My back and my leg are very sore now. Overall, this was a great season for us. We can be proud of what we have achieved. When we started the season we were quite far from the top guys. We closed the gap quickly and fought with them for the rest of the season. We won races, but we also had some bad luck and I made mistakes. Everything was possible this year, and we can be happy. I hope to start from that point next year. A big 'Thank You' to all the team in Germany and at the track."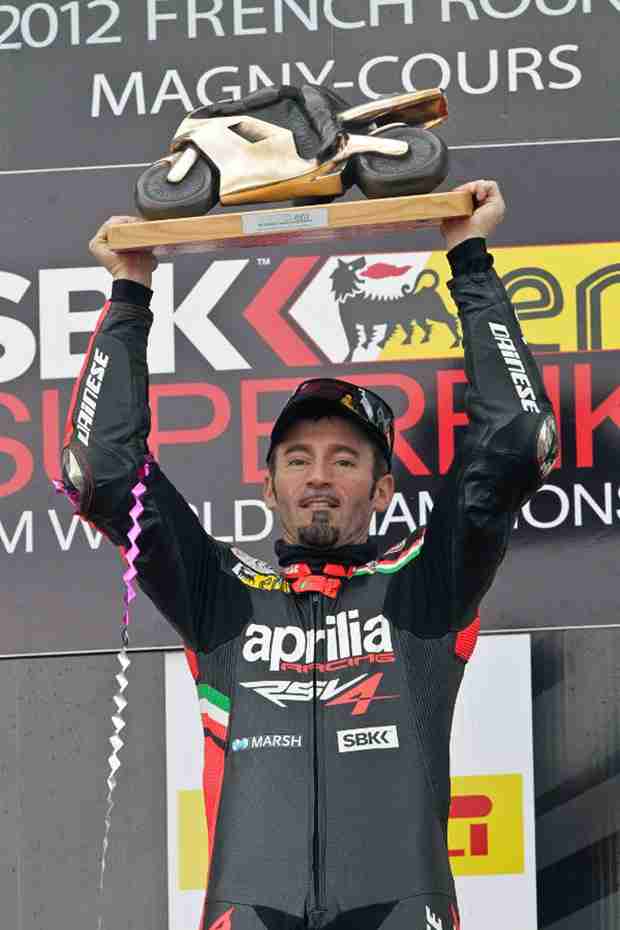 WSBK 2012 Championship results
MAX BIAGGI – APRILIA 358
TOM SYKES – KAWASAKI 357.5
MARCO MELANDRI – BMW 328.5
CARLOS CHECA – DUCATI 287.5
JONATHAN REA – HONDA 278.5
EUGENE LAVERTY – APRILIA 263.5
SYLVAIN GUINTOLI – DUCATI 213.5
LEON HASLAM – BMW 200
CHAZ DAVIES – APRILIA 164.5
DAVIDE GIUGLIANO – DUCATI 143
WSBK Magny-Cours Race 1 results
Sylvain Guintoli — PATA Racing Team — Ducati 1198 — 23 laps in 44'06.299
Marco Melandri — BMW Motorrad Motorsport — BMW S1000RR — + 6.127
Tom Sykes — Kawasaki Racing Team — Kawasaki ZX-10R — + 16.595
Maxime Berger — Red Devils Roma — Ducati 1198 — + 21.857
Leon Haslam — BMW Motorrad Motorsport — BMW S1000RR — + 25.149
Ayrton Badovini — BMW Motorrad Italia GoldBet — BMW S1000RR — + 32.778
Eugene Laverty — Aprilia Racing Team — Aprilia RSV4 Factory — + 34.311
Davide Giugliano — Althea Racing — Ducati 1198 — + 47.269
Claudio Corti — Team Pedercini — Kawasaki ZX-10R — + 49.720
Loris Baz — Kawasaki Racing Team — Kawasaki ZX-10R — + 50.192
Norino Brignola — Grillini Progea Superbike Team — BMW S1000RR — 1 lap
Michel Fabrizio — BMW Motorrad Italia GoldBet — BMW S1000RR — 2 laps
Jonathan Rea — Honda World Superbike Team — Honda CBR 1000RR — 5 laps
WSBK Magny-Cours Race 2 Results
Tom Sykes — Kawasaki Racing Team — Kawasaki ZX-10R — 23 laps in 38'15.725
Jonathan Rea — Honda World Superbike Team — Honda CBR 1000RR — + 1.354
Sylvain Guintoli — PATA Racing Team — Ducati 1198 — + 2.393
Eugene Laverty — Aprilia Racing Team — Aprilia RSV4 Factory — + 13.122
Max Biaggi — Aprilia Racing Team — Aprilia RSV4 Factory — + 13.955
Davide Giugliano — Althea Racing — Ducati 1198 — + 18.229
Carlos Checa — Althea Racing — Ducati 1198 — + 18.430
Chaz Davies — ParkinGO MTC Racing — Aprilia RSV4 Factory — + 26.648
Ayrton Badovini — BMW Motorrad Italia GoldBet — BMW S1000RR — + 33.809
Leon Camier — FIXI Crescent Suzuki — Suzuki GSX-R 1000 — + 37.217
Maxime Berger — Red Devils Roma — Ducati 1198 — + 38.871
Claudio Corti — Team Pedercini — Kawasaki ZX-10R — + 55.714
Lorenzo Zanetti — PATA Racing Team — Ducati 1198 — + 57.621
Hiroshi Aoyama — Honda World Superbike Team — Honda CBR 1000RR — + 1'05.487
Norino Brignola — Grillini Progea Superbike Team — BMW S1000RR — 1 lap
2012 Manufacturers championship results
Aprilia – 444.5
BMW – 421
Ducati – 416
Kawasaki – 397.5
Honda – 293.5
Suzuki – 136.5