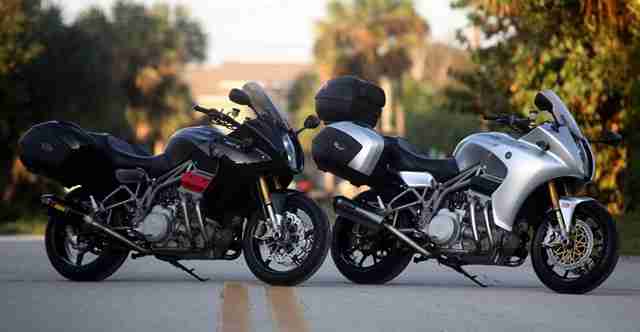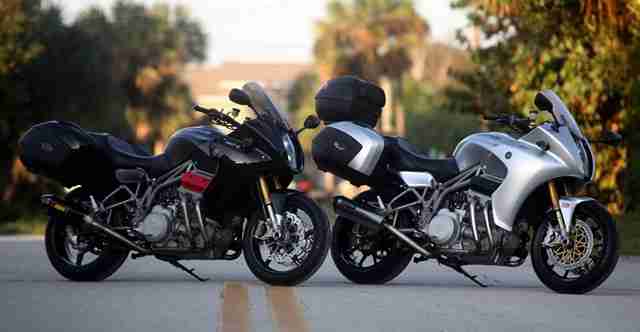 After a year of extensive testing and development, Motus Motorcycles are back at Daytona BikeWeek with full 2012 production plans, including pricing, accessories, specifications, availability, and an initial list of Authorized Motus Dealers.
The 2011/2012 American Sport Tour led Motus through the laboratory, around racetracks, across the country, and back to Daytona for Bike Week. Both the MST and MST-R have been ridden from Alabama to California, up its coast and over its mountains, across the desert, through the Bonneville Salt Flats, over the Colorado Rockies, past purple mountains, and between fields of corn, cows, and amber waves of grain. In addition to the Big West leg of the Sport Tour, the MST's also traveled to the Northeast from Birmingham to Boston and eventually covering a total of 29 states during this year of real-world dynamic testing. Motus is now preparing for Fall 2012 production of the initial 2013 model year of Motus.
Motus is displaying the MST and MST-R motorcycles during Bike Week at Daytona Ducati, BMW Triumph,March 15-17, and is on hand to answer questions and take reservations for a limited number of 2013 MST's. The MST and the premium MST-R are comfortable sportbikes designed for long-range canyon carving, solo or two-up. Both are exhilarating, charismatic machines powered by the mighty V4 Baby Block engines and both are offered with various accessories and upgrade options.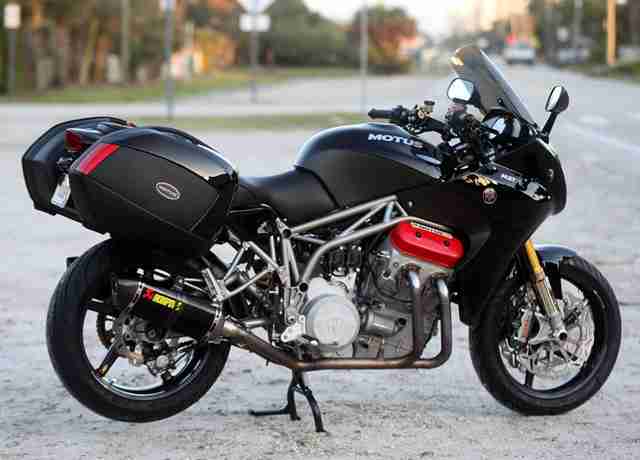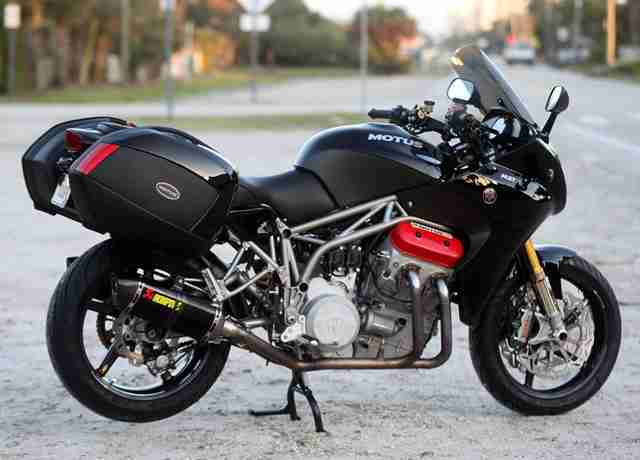 2013 Motus MST- starting at $30,975
2013 Motus MST Specifications
– V4 Baby Block, 1650cc liquid cooled, 165 horsepower
– 6-Speed, dual-overdrive
– Electronic fuel injection
– Electronic throttle control
– 720w alternator
– Öhlins R&T adjustable front suspension
– Progressive mono-shock rear suspension with remote preload adjuster
– Brembo calipers
– Aluminum wheels with wave rotors
– Powerlet port
– Michelin tires
– Removable side cases by Givi
– Premium Sargent seat
– 20,000 mile XW-ring chain by RK
– Hybrid rear sprocket with lifetime warranty
– Centerstand

– 30 liter top case by Givi

– Adjustable windscreen

– Adjustable handlebars

– Dual rear Powerlet port

– Heated seat

– Heated grips

– Premium low seat by Sargent

– Rear storage rack

– Touring windscreen

– Speed Silver Metallic

– Flame Red Metallic

– 2 years, unlimited mileage

2013 Motus MST-R- starting at $36,975
2013 Motus MST-R Specifications
– V4R Baby Block, 1650cc liquid cooled, 185 horsepower
– 6-Speed, dual-overdrive
– Electronic fuel injection
– Electronic throttle control
– 720w alternator
– Öhlins R&T NIX adjustable front suspension
– Öhlins TTX mono-shock rear suspension with remote preload adjuster
– Brembo M4 monoblock calipers
– Forged OZ aluminum wheels with wave rotors
– 3 Powerlet ports
– Michelin tires
– Removable side cases by Givi
– Premium Sargent seat
– 20,000 mile XW-ring chain by RK
– Hybrid rear sprocket with lifetime warranty
– Centerstand
2013 Motus MST-R Optional Equipment
– 30 liter top case by Givi
– Adjustable windscreen
– Adjustable handlebars
– BST carbon fiber wheels
– Heated seat
– Heated grips
– Premium low seat by Sargent
– Rear storage rack
– Touring windscreen
– Strong White
– Carbon Black
2 years, unlimited mileage