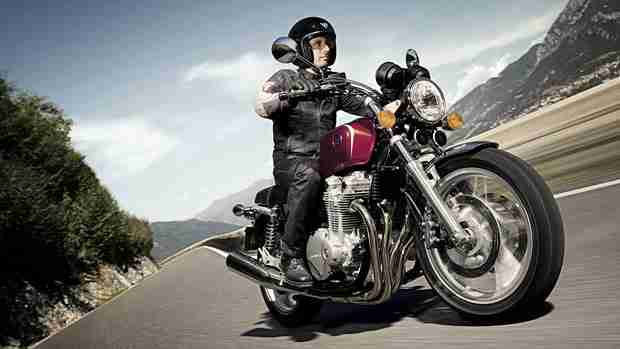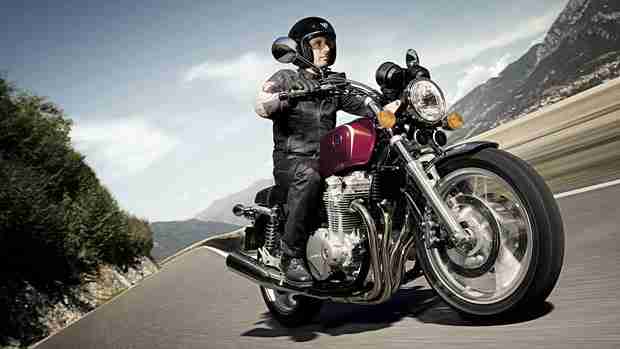 First look at the 2013 Honda CB1100 and one would mistake it for a vintage classic, but this bike carefully mixes the best of both worlds, a strong classic look and a modern involving engine at heart. Honda say that the CB1100 was strongly influenced by the 1969 CB750 that used to make a good 67bhp from its inline four. The CB1100 though, is powered by a DOHC, fuel injected, oil cooled, inline four that produces 88bhp and 93Nm of torque and sanely ridden will still return you a 25kmpl.
The bike has a tubular steel double-cradle chassis, 41mm telescopic forks (preload adjustable), Showa rear shocks and 19-inch alloy wheels shod with 110/80 and 140/70 tyres. Anti-lock brakes are standard, with twin 296mm discs at the front, with Nissin 4-piston calipers. Kerb weight is at 248 kilos.
"Instant acceleration has its appeal, as does modern styling that conveys the swiftness of the bike. But there's a lot more to the path of motorcycle evolution. I found myself thinking along these lines for the first time when I returned to Japan, after several years in Europe. It was also at this time that I grabbed a pencil and quickly started sketching," says Mitsuyoshi Kohama, Chief Designer for the Honda CB1100. "Tyres. Engine. Frame. Tank. Seat. I thought about how to craft all the necessary elements beautifully and combine them in a perfect whole. I wanted to create a beautiful motorcycle with artisan-level handiwork that's also approachable and easy to ride," he adds.
"Going with an air-cooled engine was bound to seem 'retro' to people at Honda, which had long favored liquid-cooled systems in the pursuit of maximum performance. When asked to explain my choice, I could only say the reason is that a lot of customers like air-cooled engines. A motorcycle's engine should have oil in it, not water! Just looking at the cooling fins inspires me," says Kohama. "There is something about an air-cooled engine, a feeling you simply can't get from the liquid-cooled engine in a high-performance bike. To me, a bike rider and a bike fan, a future without air-cooled engines just didn't seem right. And I was certain I wasn't the only one who felt this way," he adds.