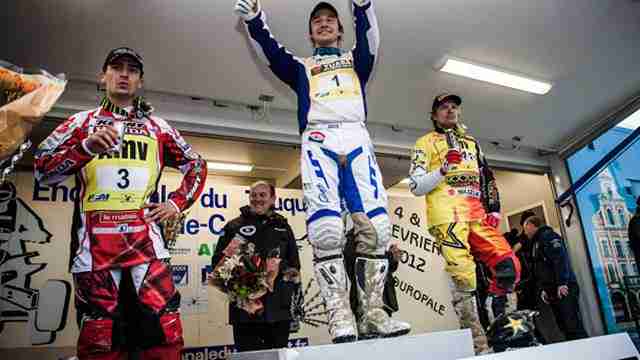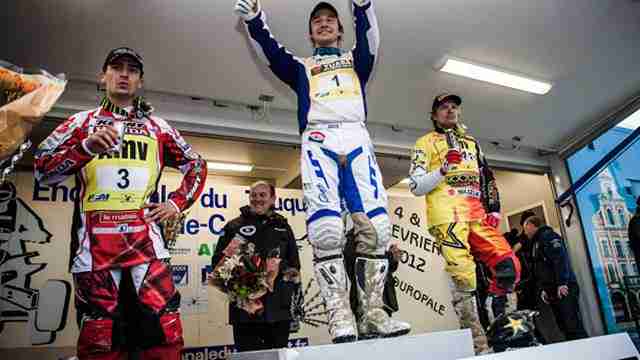 Across the frozen seaside at Le Touquet Jean-Claude Mousse took his Yamaha Racing France Les 2 Roues Yamalube YZ450F to victory in a bitterly cold three-hour sprint to record his third success in the 37th edition of the prestigious beach race. The Frenchman made an excellent start and was leading the field by the fourth of ten laps. He survived a moment of drama when he was hit and pushed to the ground by another competitor but was able to remount and defend his advantage to the chequered flag. Mousse, who claimed Le Touquet spoils in 1999 and 2004, was the first of five YZ450F riders to place in the top seven of the final classification.
"It was a hard Touquet," the 41 year old said. "There were some very difficult conditions out there but I knew I had speed. I had a little pressure as a favorite on the last lap. I've had a couple of victories now but the win today was outstanding. I fell quite hard at one point but the day ended well and that's what counts."
The Enduropale sprint at Le Touquet has been active since 1975 and Mousse's achievement was the twelfth for Yamaha (the rider's second in 'blue') in the famous sand.
The company was also able to celebrate silverware in the Quad category with expert ATV driver Romain Couprie taking his YFZ450R to second place and Matthieu Ternynck in third. The runner-up, a multiple French and European Champion was unable to catch Jeremie Warnia but led home Yamaha technology in the following two positions.