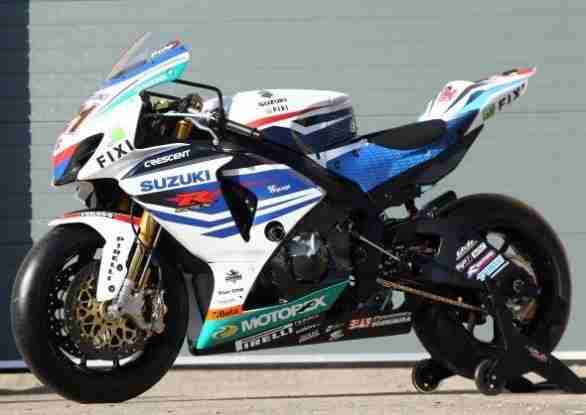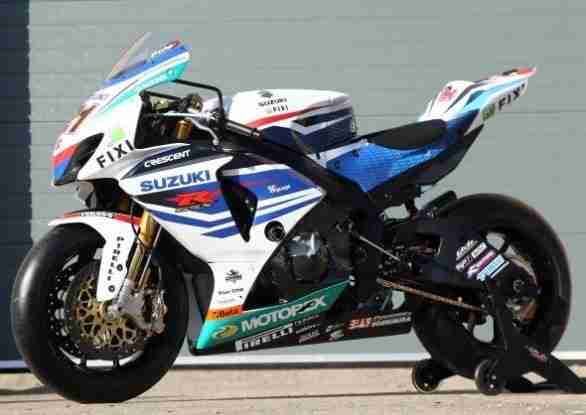 Crescent Suzuki has pulled off the wraps on the livery of the 2012 GSX-R1000s that John Hopkins and Leon Camier will be using in this season's 2012 World Superbike Championship. The team also revealed that Foreign Exchange Solutions company Fixi will be their co-title sponsor and the Dorset based team will be racing under the name Crescent Fixi Suzuki.
Paul Denning – Team Principal:
"The team has done a stunning job to prepare the new GSX-Rs for this level of competition; the attention to detail is faultless and I think that this will be the most-advanced GSX-R ever to grace a racetrack! Yoshimura's hard work and proactive attitude to engine development has also enabled us to be as well prepared for Phillip Island as we can be. John and Leon are ready, the team is very motivated; and we will put everything into competing at the best level we possibly can!
"I would like to thank Richard Wynn and his co-directors at Fixi for their continued and expanded support. I would also like to thank Ronald Kabella and the team at Motorex and all our partners for their commitment to Crescent Fixi Suzuki's assault on the World Superbike Championship. Finally, thanks to everyone at new team partner Sign Language for completing the graphic-wrapped livery so expertly and quickly."
Richard Wynn – CEO, Fixi Plc:
"Fixi provides bespoke, state of the art foreign exchange services to the institutional and professional marketplace and we are no strangers to Crescent, having supported them in the British Superbike Championship last year. Having our brand exposed globally is extremely good timing for us – we have offices in London, Chicago and more recently Singapore and, through our innovative technology, we are able to reach out to clients and partnerships in all the leading global financial centres.