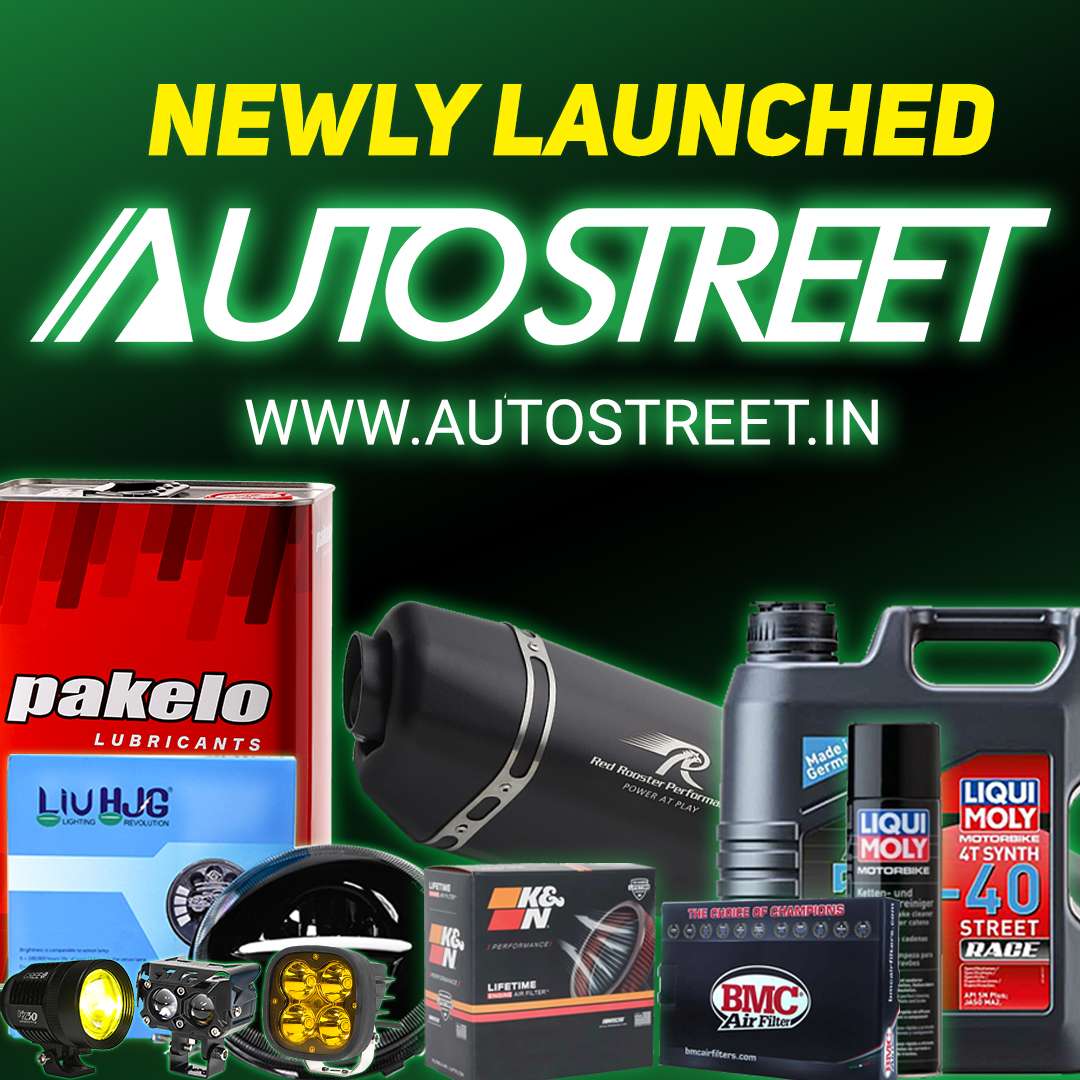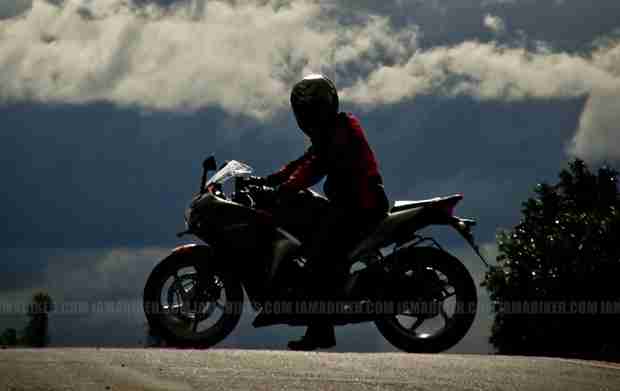 The Honda CBR250R opens up a new era in Indian motorcycling. The familiar VFR  styling, the fat Continental tyres, power figures that suggest a lot of fun and a price that makes it more interesting. The battle of the 250's have finally begun, with the only other competitor in the segment seemingly from another world in terms pricing and market. So where does the CBR250R stand and what is it really capable of? A road test to find out then.
Engine and Performance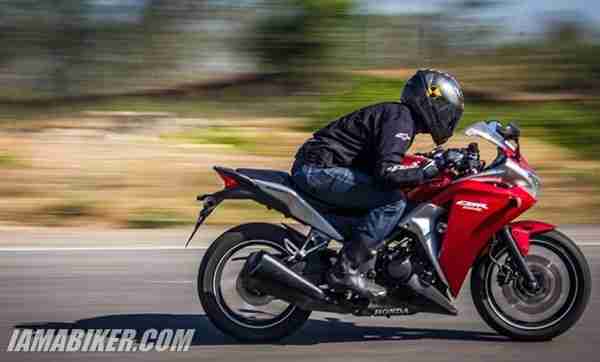 Typical to Honda, the CBR250R's is no different and is quite refined. Thumb the starter and you'd be hard-pressed to be able to hear the engine idling, most of the sound you hear is from the bassy exhaust note than from the engine itself. With a stroke of 55mm, it would appear that the 250cc mill was built to be a high revving track oriented machine that produces most of its power at higher RPM's, but boy are you in for a surprise! You'll find oodles of torque from as less as 3.5K RPM. As the rev's build up you definitely do notice the typical Honda engine looses its composure a little bit, not something that will bother you but then not typical Honda.
The PGM-Fi makes sure of a quick throttle response every time you wring the throttle, the motorcycle just darts ahead in any gear. The CBR250R builds speed up quite rapidly, cruising at 110-120 kmph effortlessly with enough juice to go all the way to 140 kmph quite easily. We did a top speed run and managed a 158 kmph. Acceleration figures from our test are below.
0 – 60 kmph   : 3.8 seconds
0 – 100 kmph : 9.3 seconds
Top speed achieved: 158 kmph
Look and Feel and Build Quality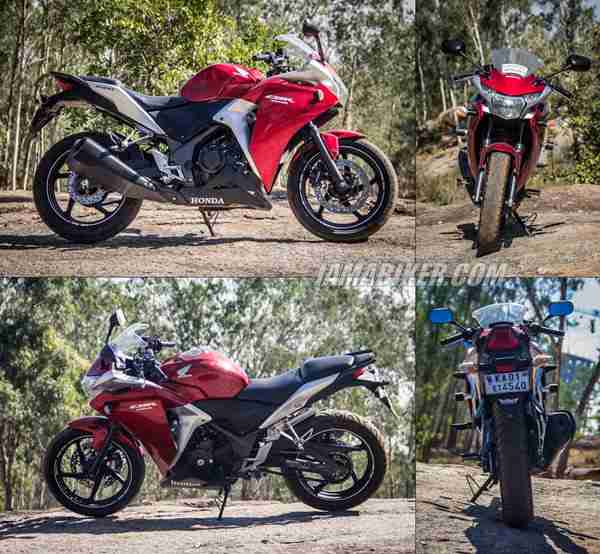 Ok, its not what you would expect to see when you hear the letters CBR. With clear design cues from the big brother the VFR, its definitely not something to complain about either. You look closer and you realize although the bike looks and definitely is heavy its dimensions are not as much as it suggests itself to be. You sit on it and you are welcomed by quite a sporty riding stance, the foot pegs are not as aggressively set back like on a through bred sports bike but definitely compliments the sports tourer pedigree Honda wants to promote for the bike. The instrument cluster has a well-deciphered layout with an analogue tachometer, a speedometer, trip-counter, clock, fuel and temperature readouts. Added to the fairing is a sharp belly pan as well. The flank panels swoop beautifully backwards to the tail with the brake lamp. You get the split seat configuration with integrated grab rails for the pillion.
The instrument cluster gets a classy silver trim and is well designed and placed, making visibility easy under all conditions. The switches are standard and give a good 'click-y' feel when pushed. The brake and clutch lever are also well made and feel nice to operate. The side fairing panels are multi layered which is quite a benefit in case a spill, helps you replace only the necessary parts. The plastic quality is definitely good and at par with the best out there today in the market. The over all fit and finish is again good, however we did notice some paint fading near the handle bars and some panel gaps.
Handling and Braking
Probably one of the first things that you notice once you hop on, is how comfortably you are able to hug the tank with your legs. The riding position is quite sporty and once you are on the move all of the 167 kgs, do not seem much of a hindrance. Throw it into a tight corner and then you notice the weight, not the easiest to change direction on the fly but definitely very stable all through. The 296 mm disc on the front offers good but very sharp braking force, a one finger jab and you loose speed quite rapidly. The rear brakes expectedly offer a far lesser bite but definitely do their job well. The suspensions are quite  plush in the stock setup and you definitely need to firm it up for the track, that said, the front does not dive a great deal on hard braking.
Honda offers a C-ABS version of the bike for an additional 30k and it definitely makes some tough, tight situations easy.  The ABS increases safety by preventing the wheels from locking up and going into a slide when braking too hard or under slippery conditions. The C in the C-ABS stands for "combined" and whenever you apply the rear brake a little bit of the front brake is automatically applied.
Accessories and Key features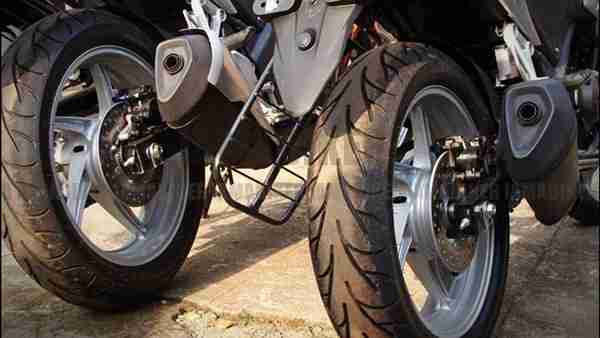 The CBR250R is one of the first bikes in India to have ABS at-least as an option. The ABS definitely adds that extra dimension of safety, but we will reserve our comments till after we do a full tough test of it. The adjustable pro-link rear suspension is definitely a welcome addition. The digital meter is quite compact and one would sometimes wish it was a bit bigger, but day or night it does its job well. The rear pillion seat detaches for a very compact area and can pretty much hold only your bike's documents. The switch gear like we said earlier are nice and chunky and be easily operated even with the gloves on.
Commuting and City Riding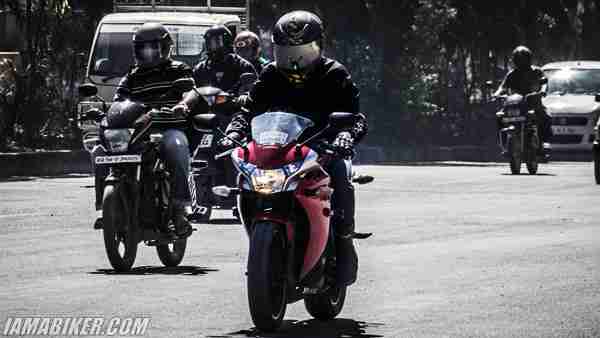 You could almost the forgive the CBR250R for all the bulk its carrying if you consider the  fact that it comes with an ever so light clutch. In spite of its bulk, the bike is quite agile and it would just be the mirrors that would restrict you from squeezing in between a pair of cars. Slow moving bumper to bumper traffic is one place the CBR250R is not comfortable. The grab rails for the pillion are good and are definitely functional. The short gearing means you end up working on the gearbox quite hard in slow moving traffic. We thought the CBR250R would scrape on all the incredibly high speed breakers in our country, but not once did we encounter such a situation.
Touring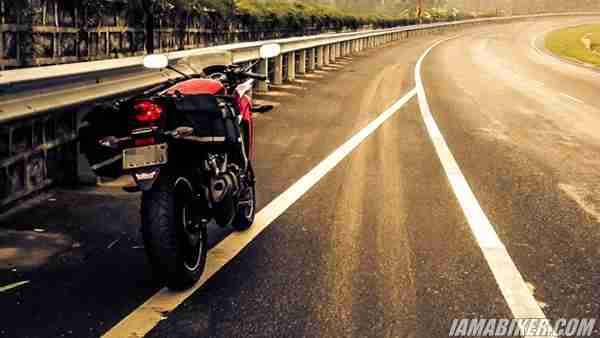 The combination of power, riding ergonomics and comfortably firm suspensions make the CBR a very good tourer. Tubeless tyres make for a less worrisome ride but the stock Continental tyres get quite twitchy in the wet. The wide power-band makes overtaking slower vehicles a breeze even in 6th gear and then return to cruising in overdrive. We tried one the popular saddle bag brands out there, not exactly a comfortable fit, but yes functional. A tank bag poses a slight problem once mounted on the already high tank. The pillion seat is pretty comfortable and the grab-rails are easy to hold on to. Surprising though is the fuel tank capacity, a deceptively big looking tank just holds 13L. However with an average range of 350km, you will be pretty much always near a petrol bunk. A bigger tank would have been better though. The 60/55 W bulb sure make riding in the night easy they have a very good spread and throw.
Off-Roading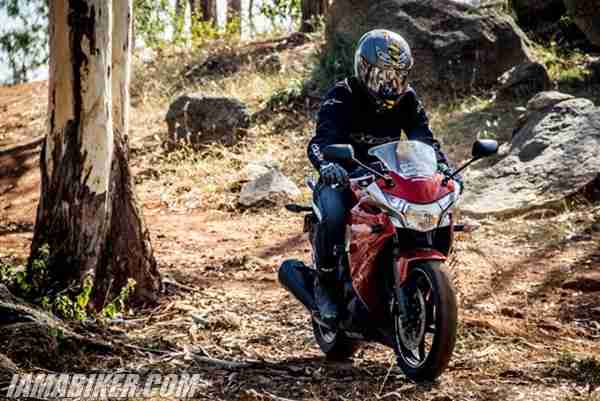 Its a full faired bike, its a sports tourer its not meant for any hardcore off-roading. But just in case you run into a difficult bad stretch, do not worry the CBR250R will pull through easily. We put it through some difficult terrain and it did quite well. Soaked up small bumps easily and did not bottom out almost all the time.
Stunting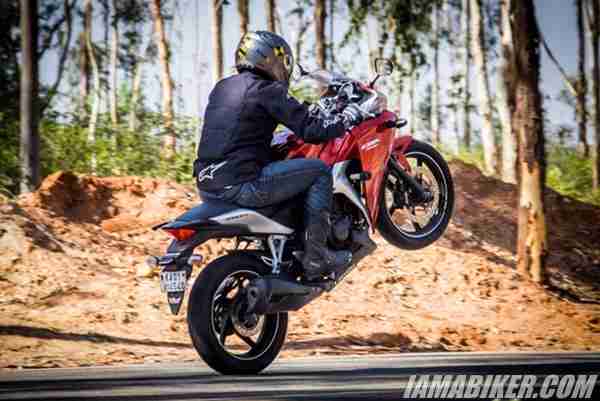 The CBR250R has enough low end torque that makes popping that front wheel ever so easy. The wide tyres make it quite stable on one wheel too, front or rear. With the amount of torque that's at the rear wheel, slipping and sliding is quite easy too. But other complicated stunts would definitely be a tough ask. Remember though, with the C-ABS, no fun stoppies.
Track Riding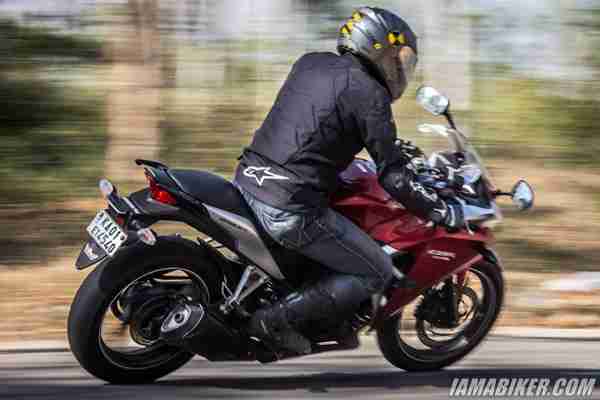 The CBR250R gathers momentum very quickly every time you exit that corner. The sharp brakes means you can go late on them and save some valuable time. But when it comes to fast direction changes then you find the CBR250R a bit sluggish. In a corner though its very stable and the balance is good.
Value for Money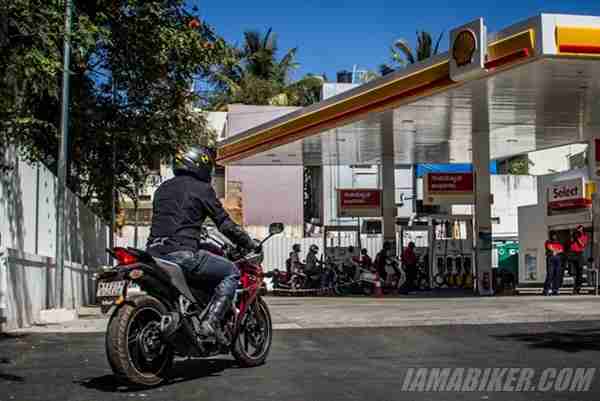 The CBR250R spares are pretty decently priced. Being a Honda you can expect a good reliable machine. With a range of about 350 – 380 kms on a tank full, it is a near perfect sport tourer, considering Indian conditions. Being a single cylinder has allowed Honda to keep the pricing in what we think is the just right position for a 250. A definitely good overall package but add the really helpful ABS option and now you have a motorcycle that moves closer to the two lakh mark.
Final Verdict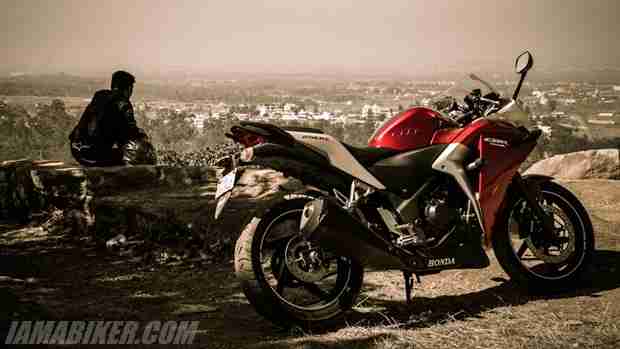 At  Rs. 1.51 lakh (ex-showrrom, Delhi) and the C-ABS-equipped CBR250R at Rs. 1.77 lakh (ex-showroom, Delhi), yes the CBR250R might be a 250 that's priced just right. There are a couple of kinks in the armour though, but those are mainly in area's where the CBR is not primarily meant for. A decent daily bike that doubles up as a good touring companion. The CBR250R does a lot of things great, but where it excels and is truly is in its power play is on those smooth winding highways that will leave you grinning inside your lid in sheer happiness on all that you have left behind and all that you are left to cover.
Specifications Sheet
| | |
| --- | --- |
| Design | Single-cylinder, 4-stroke, spark-ignition engine, liquid-cooled |
| Displacement | 250 cm³ |
| Bore | 76 mm |
| Stroke | 55 mm |
| Torque | 22.9 @ 7000 RPM |
| Power | 25 bhp @ 8,500 RPM |
| Starting aid | Electric starter |
| Transmission | 6-speed constant mesh |
| Cooling system | Liquid cooled |
Frame
Twin Spar
Fork
Telescopic Fork
Shock absorber
Pro Link
Brake system Front
Disc brake with two-pot brake caliper
Brake system Rear
Disc brake with one-pot brake caliper, floating brake discs
Brake discs – diameter front
296 mm
Brake discs – diameter rear
220 mm
Chain
O‑Ring
Wheel base
1,367 mm
Ground clearance (unloaded)
145 mm
Height (unloaded)
1127 mm
Total fuel tank capacity approx.
13 L
Unleaded fuel (91 RON)
Weight without fuel approx.
167 kg
Battery
12 Volt 6 amp maintenance free
Head lights
12V 60/55 W
Engine Oil Grade
10W30 FS Oil
Tyres
Front: 110/70 17
Rear : 140/70 17
Test Riders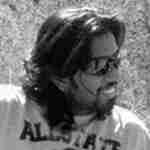 Ninja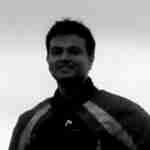 Sourav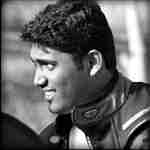 Sudeep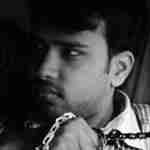 Manohar