Electric motorcycles clearly are the future, so when the opportunity to see one being made presented, I jumped on board, no questions asked. I had the privileged opportunity to go behind the scenes at Tork Motors, an Indian electric motorcycle startup. Their journey began as an electric racing team, Tork India, which made a remarkable mark in its early days by achieving podium finishes at the Isle of Man TT Electric GP. Today, they proudly offer the Kratos R, an electric motorcycle that's entirely designed and manufactured in India.
The story of Tork Motors takes us from its humble beginnings to its current production facility in Chakan, located within the Bharat Forge facility, which is a part of the Kalyani Group—a significant investor in this EV startup. Initially, they had a production capacity of 60,000 units per year, expandable up to 100,000 units annually. However, due to high demand, they presently produce a modest 30 units per day.
Their manufacturing process kicks off with the assembly of the battery and e-motor, subjecting them to rigorous tests to ensure real-world performance. After that, they proceed with the assembly of other essential components. Once the motorcycle is on wheels, it undergoes several additional procedures, receiving additional parts and finishing touches.
The creation of each motorcycle begins with the frame, followed by the addition of core components like the battery pack, wheels, brakes, auxiliary battery, electrical components, lighting units, body panels, and more. Following assembly, each motorcycle undergoes individual calibration and a thorough quality check in a light booth. Then, it advances to dyno testing, where a technician evaluates its performance against defined parameters. Only after successfully passing these tests is the motorcycle deemed ready for the road.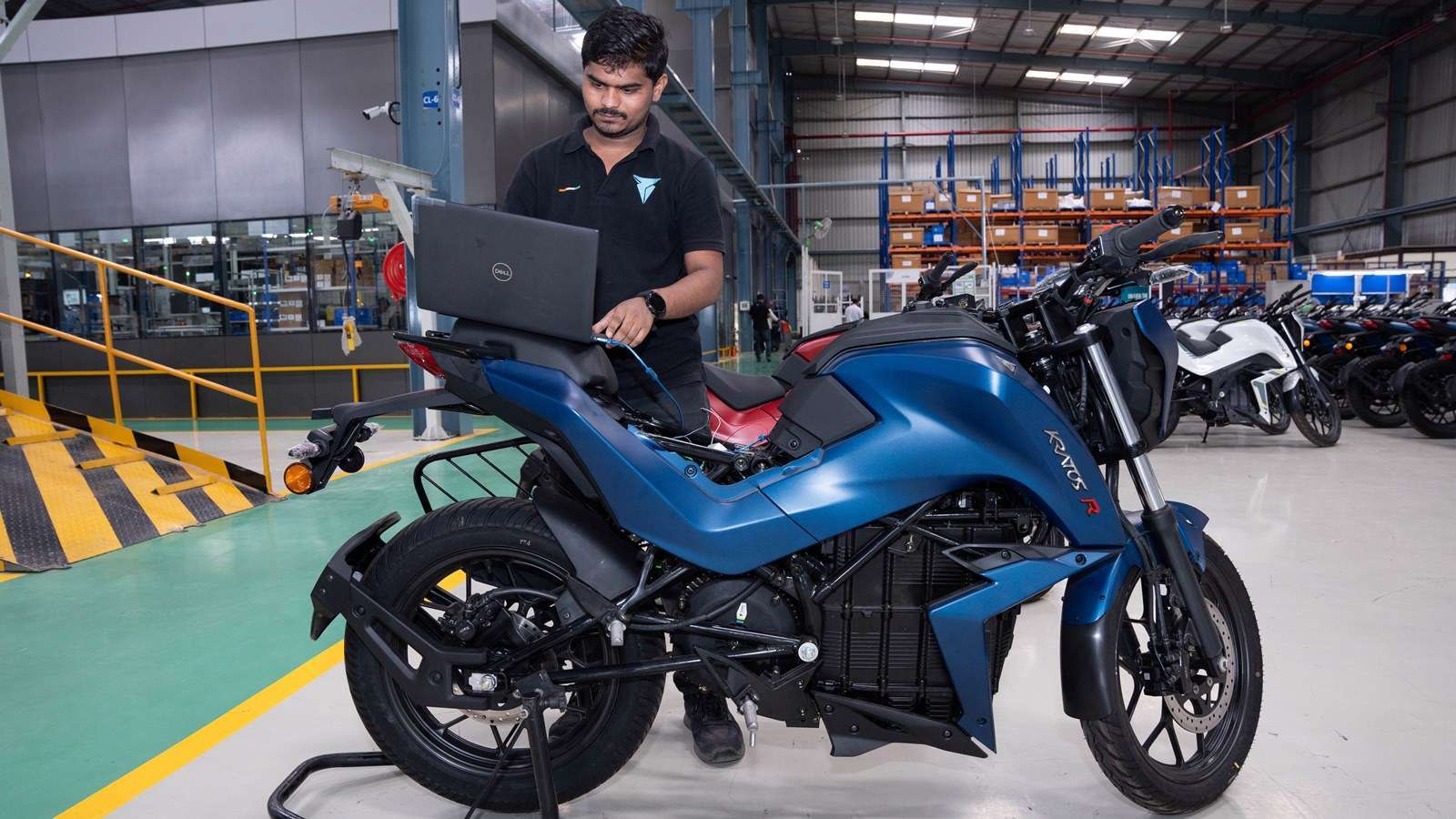 The assembly line is complemented by two crucial units: the battery pack assembly and the motor assembly units, both playing pivotal roles in Tork's electric motorcycle production. While the factory may not be the most complex in terms of scale with KUKA robots all around, it prides itself on simplicity and efficiency, reflecting a grounded approach in the industry.
The result of Tork Motors' proficient design and manufacturing process is the Kratos R—an electric motorcycle boasting 12bhp of peak power, 38Nm of torque, and a range of 180km, powered by a 4kWh battery. This motorcycle supports fast charging and features a digital display, LED lighting, and extensive connected features, including over-the-air (OTA) updates.
In conclusion, my visit to the Tork Motors production facility showcased the high precision and innovation required for manufacturing electric motorcycles. The Kratos R not only pushes the boundaries of electrified motorcycling but also underscores India's capabilities in sustainable transportation. Tork Motors' journey from the racetrack to the production line serves as compelling evidence of how passion, vision, and innovation can lead us toward a greener and more exciting future of transportation.