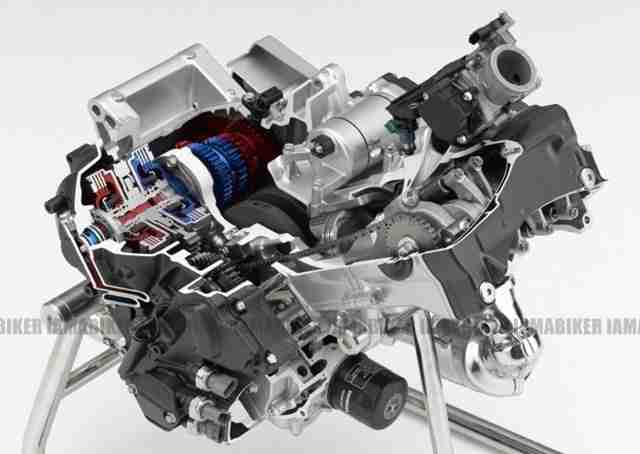 Honda has developed a highly fuel-efficient, torquey 700cc twin cylinder engine with a second-generation Dual Clutch Transmission which will be present in three different motorcycle designs at the EICMA 2011 International Motorcycle Exhibition in November in Milan, Italy.
The same engine will also feature with a manual six-speed gearbox in at least one of those bikes and with it delivering better than 3.7 l/100km is designed for on-road usability, it is almost certainly the first bike designed for the western markets keeping the inevitable gas price and shortage issue.
Also on display will be Honda's new 125 engine which will be used in its 125cc scooters around the world starting next year and contains an idle-stop system and delivers about 25% better fuel economy than current generation scooter engines. Both the 700cc and 125cc engines contain considerable technological wizardry to achieve their goals.
For motorcyclists, the 700-twin engine will be an interesting new alternative as the engine reportedly delivers powerful torque in the low- to mid-speed range, something that makes riding a joy around town, and something that is much rarer than it should be with modern motorcycles. Over the last forty years, motorcycle magazines have concentrated on horsepower and lap times, which are largely immaterial for machines not at the sporting edge.
Honda is beginning to bring more relevant values and emphasis back to motorcycling.
The engine is also described in the press releases as having a "pleasant throbbing feel" and that the overall package has reduced vibration. It seems that we're going to need to wait to see what they've actually achieved in terms of engine character, but one hopes it is good, because they've gone to a lot of trouble to achieve it.
There's a degree of irony in this announcement as Honda's 1968 CB750 was the first "superbike" and its four cylinder motor had an order of magnitude less vibration than the bikes it came to market against – the Norton Commando 750, Suzuki T500 two-stroke, Triumph Bonneville 650 and Yamaha 650 parallel twins, BMW R75/5 flat twin, Harley Ironhead 900 v-twin, the three-cylinder two-stroke Kawasaki H1 500 and Suzuki GT750 and three-cylinder four-strokes from Triumph Trident and BSA Rocket 3. All were consigned to obsolescence by the CB750 and so began the escalation between the four Japanese manufacturers that gave us the untouchable but rather bland Universal Japanese Motorcycle – four cylinders, in-line and not much different to your friends UJMs, regardless of the badge.
The 125 engine seems like a return to old values to be talking about enhanced durability, quietness, and fuel economy, but Honda has gone all-out to build the next 125 world motor with those primary qualities. The engine boasts fuel injection, a range of low friction technologies and an advanced idle stop system to enable fuel economy that is "approximately 25% better than that of conventional engines for scooters with the same displacement."
Any global engine needs to be very good, and a measure of the effort behind the motor is that Honda has exceeded the current PGM-FI 125 in all the important aspects – cost-to-run, fuel economy and low emissions. To achieve the engine's excellent fuel efficiency, Honda incorporated a broad spectrum of new ideas to minimize frictional losses in the motor.
Just how much energy can be saved by reducing the frictional losses of the engine? According to Honda, the new engine has 20% less frictional losses compared to the current engine when running at 50km/h. It should be noted that we have already waxed lyrical about the current engine, so it's clear that enormous analysis and critical thinking has been employed in the new design.
A highly efficient radiator core has been employed on the new 125, approximately 50% more efficient than the current engine, enabling a smaller and lighter cooling fan on the back of the radiator, which in turn has reduced frictional loss by approximately 30% in this area.