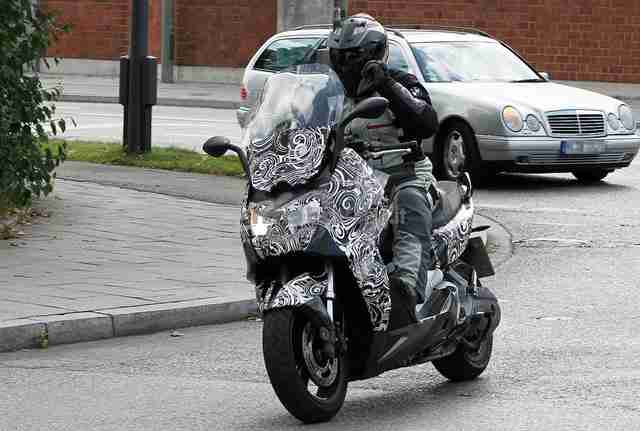 BMW this year will not come empty handed to the 69th International Motorcycle Exhibition at the Milan Fair from the 8th – 13th November 2011. With the recently launched Husqvarna naked, whose several features are still not yet revealed and the BMW Maxi scooter that has seen a lot of changes with every new photograph we get, BMW will definitely make its presence felt at the Milan EICMA. The concept C maxi scooter from BMW had announced its arrival at last years EICMA, this year, we should get to see its production model.
The latest snaps show that the scooter is now different from the earlier prototypes. The first noticeable changes are the different mirrors, which are now left without the turn indicators and has been shifted to the sides of the front panel, which is also redesigned.
While we cannot confirm yet of any technical differences, its is most likely not to have any changes and the BMW maxi scooter will be available in two versions, both run a two-cylinder engine, with an engine capacity of 650cc and depending on the model will develop 48 hp or 61 hp. An exclusive specialty of this maxi-scooter will be its variable luggage space whose dimensions vary depending on your needs.