Kawasaki Motors Japan has created a racer custom model of the new Ninja ZX-25R, with is set to go on sale in Japan this Autumn. The newest model in Kawasaki's Ninja ZX supersport series, powered by a 250cc class In-Line Four engine, offers high performance that customers will surely enjoy not only on the street, but also on the circuit. This racer custom model illustrates the Ninja ZX-25R's high circuit potential and the additional level of excitement it can deliver.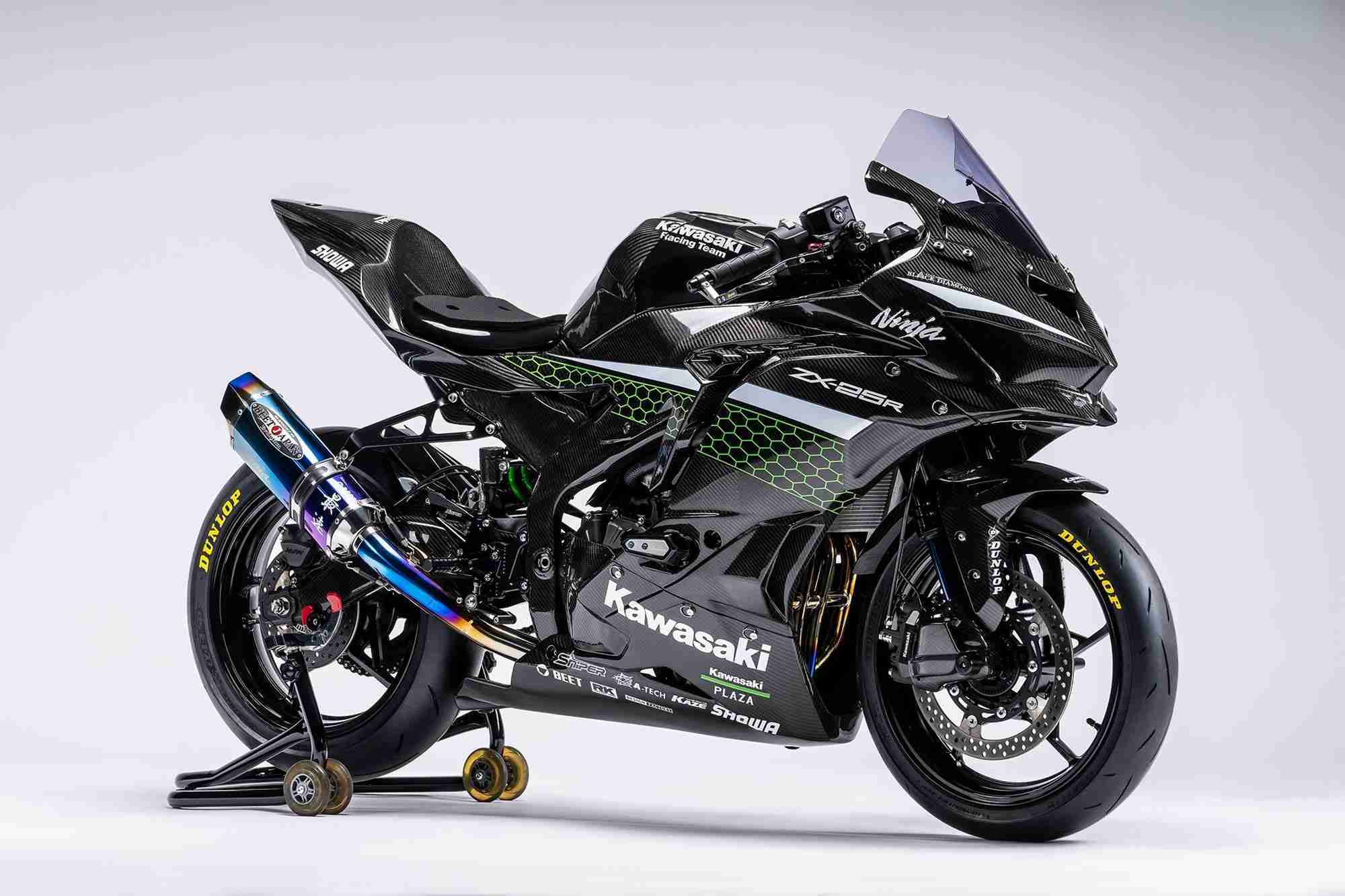 Additionally, a Ninja ZX-25R one-make race series is being planned for 2021. The fun event is being designed to accommodate riders with and without racing experience. Keep an eye out for a demo race event this Autumn. We will update you with more details as they become available.
Unfortunately this custom racer model is not being offered for sale.
The list of custom parts is shown below.
Cowling: A-TECH BLACK DIAMOND Racing Full cowling
Tail cowl: A-TECH BLACK DIAMOND Racing Seat cowling
Tank pad: A-TECH BLACK DIAMOND Racing Tank pad
Exhaust system: BEET NASSERT-R Evolution Type II (Race Prototype)
Tyres: DUNLOP SPORTMAX α-13SP
Chain: RK BL520R-XW
Sprocket: RK (painted version of Ninja ZX-25R standard equipment)
Front suspension: SHOWA (Ninja ZX-25R standard equipment with coated inner tubes) (Reference Part)
Rear suspension: SHOWA (Ninja ZX-10R part) (Reference Part)
Footpads: SNIPER rear sets
Brake lever: SNIPER 6-way adjustable, retractable brake lever
Clutch lever: SNIPER 6-way adjustable, retractable clutch lever
Lever guard: SNIPER carbon fibre guard