Compared to riding on the streets, riding on a race track is a completely different ball game. My journey at the track began thanks to TVS Racing and their Media Racer program. This program has changed me forever and I'll tell you how!
The Media Racer program is a one-of-a-kind racing event organised for Motorcycle Journalists to experience the world of racing. Their aim was to provide regular folks like us an in-and-out feeling of what it is like to be a motorcycle racer. 2018 has been lucky for me and I was chosen to be a part of this exciting program and for a guy like me who is a motorcycling fanatic, it couldn't get any better. The program was consisted of an initial track day training session which is a basic requirement to acquire racing licence from FMSCI followed by 4 races to be held alongside the Indian National Championship at 3 tracks, MMSC, Kari Motor Speedway and Buddh International Circuit.
I rode TVS's flagship naked 200cc RTR, this machine holds its own in the stock form, but for the race, the bike was slightly spruced up with high-lift race cams, a loud free flow exhaust, slipper clutch to reduce rear chatter and some good sticky Pirellis for better grip.
Keeping it real – Training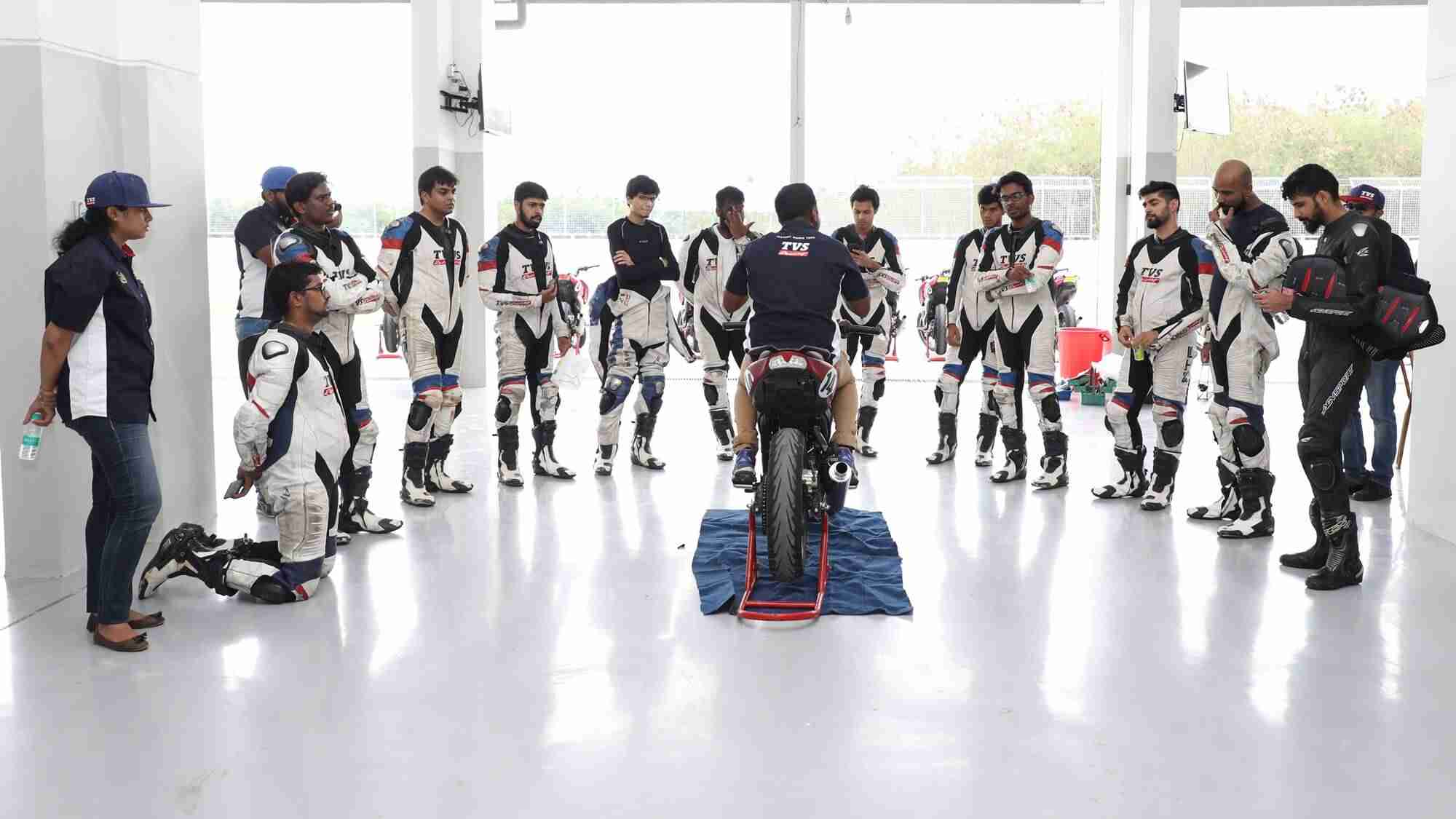 The program kicked off with a track day training session at MMSC in Chennai. The training session was to learn track safety instructions and to induce us with some racing knowledge. These included several important aspects that one needs to be aware of while riding on a track in the form of some classroom theory sessions as well as practice sessions on the track. Just like the rules on the road, we need to learn some simple but very important rules on the track. These rules help keep ourselves and fellow riders on the track safe. The training was imparted to us by the likes of Jagan Kumar, Harry Sylvester and K.Y Ahmed who are TVS Racing's top crop of racers with many championships and race wins under their belts. What better way than to learn from the best? We cannot thank TVS Racing enough for such an amazing opportunity!
Apart from the safety rules we were instructed on how to be quick around corners, how to shed speed quickly, body positioning and other tricks to help us feel at home on the track. The training sessions on the track were exciting as Jagan and K.Y. Ahmed led us showing us the fastest lines of the curvy MMSC track.
It was a great experience but really tiring thanks to the sweltering heat at MMSC and a full leather racing suit. This tiresome ordeal makes one wonder how fit and strong WSBK and MotoGP riders might be to manage and "manhandle" 260+ bhp machines for over 30 laps during a race in such extreme conditions, not to forget the numerous practice and qualifying sessions over a single race weekend. My respect for the riders and the sport just doubled!
The training and practice sessions seemed like an uphill task for a guy with average fitness levels, but my excitement and passion kept me going! The track day training was nothing short of overwhelming as it left us with a lot on our minds as we found our strengths and weaknesses when it comes to riding fast on the track. The first race was up in June at Kari Motor Speedway and we just had a couple of months to wrap our heads around it and go racing.
Race 1- Kari Motor Speedway
As I waited for the first official race of my life, we got our Racing Licence from FMSCI and I was on cloud nine. We reached the Kari Motor Speedway and the pit was bustling with garages and mechanics and riders all excited for the first round of the Indian National Racing Championship. We would have our first practice session and qualifying session that day and the race the next day.
The mixed conditions of the track surface made things very tricky especially for a newbie like me who has never raced before and I had to go out in the wet for my first official practice session. I was losing the front on almost every corner but managed to stay on the bike for the practice and qualifying sessions.
It was only during the last few minutes of qualifying when I felt confident to push as the track started drying up. I pushed as much as possible for the last 2 laps without crashing and the session ended as the chequered flags came out and rolled into the pits awaiting the results of the qualifying session. To my astonishment, I was first in qualifying!
This helped my confidence in a way but it also puts a lot of pressure due to expectations built by the qualifying result in my head. I thought about it and my only strategy for the race was to take it easy and not to crash.
It was Race Day and we were on the grid with me at the front and honestly it was a bag of mixed feelings which hit me. Soon the one minute board was taken away and the lights came up and off we went. As I said I wanted to take it easy but I was 4th by the time we reached the 1st corner owing to a bad start. My mind started getting eager to get back those positions. I took it easy on the first lap and slowly increased my pace and started picking up positions and by the 3rd lap I was back at the front again at C6. Reality hit me as hard as the asphalt at Kari just 2 corners after taking the lead as I lost the front without any warning at the slow speed right hand C10. I slid to the side of the track as all the other riders passed by while I ran to get back on my bike! I was furious! Screaming expletives inside my helmet for throwing it all away but then I reminded myself to be calm and push without any further mistakes. Because the worse was over and all I could do was to gain as many positions as possible.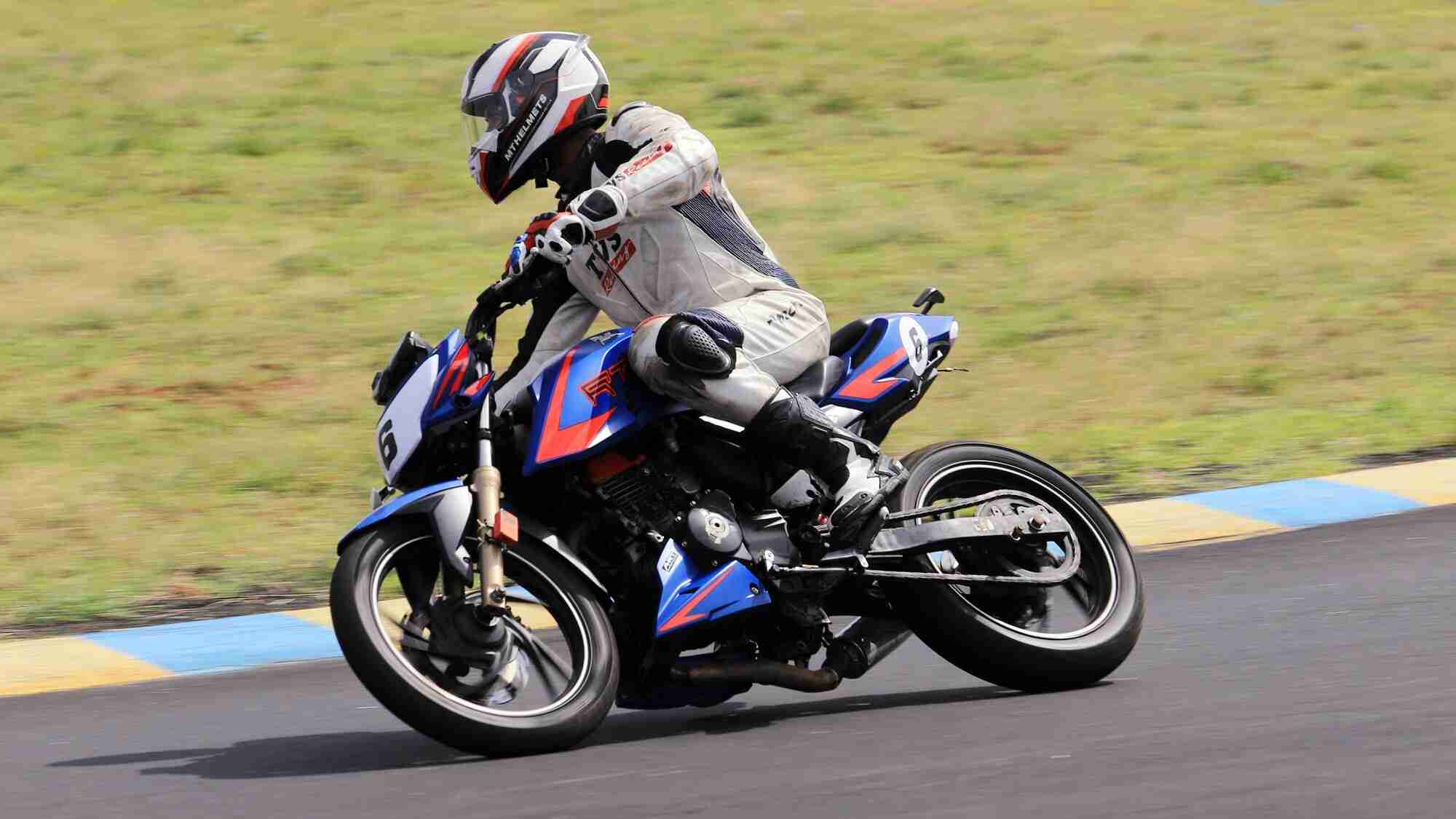 Thanks to the proper riding gear provided by TVS there was not a single scratch on me and I was on the hunt again. Slowly I started gaining positions trying not to crash again and by the time the chequered flag was waved I was in 4th.
To add to the misery, coming back into the pits, the TVS team told me that I jumped the start and there would be a 10 second penalty. I gave up waiting for the results as everything that could go wrong had gone wrong in my first race. A jump start and a crash. But then the results came in and to my surprise I was 4th. Even after the 10 second penalty for the jump start and the huge amount of time I lost due to my crash! Although disappointed, I was sort of content that I was just out of the podium even after doing everything I could to ruin my race. Given that this was my first race and there were more to come, I got over the failure and looked optimistically forward to the next race.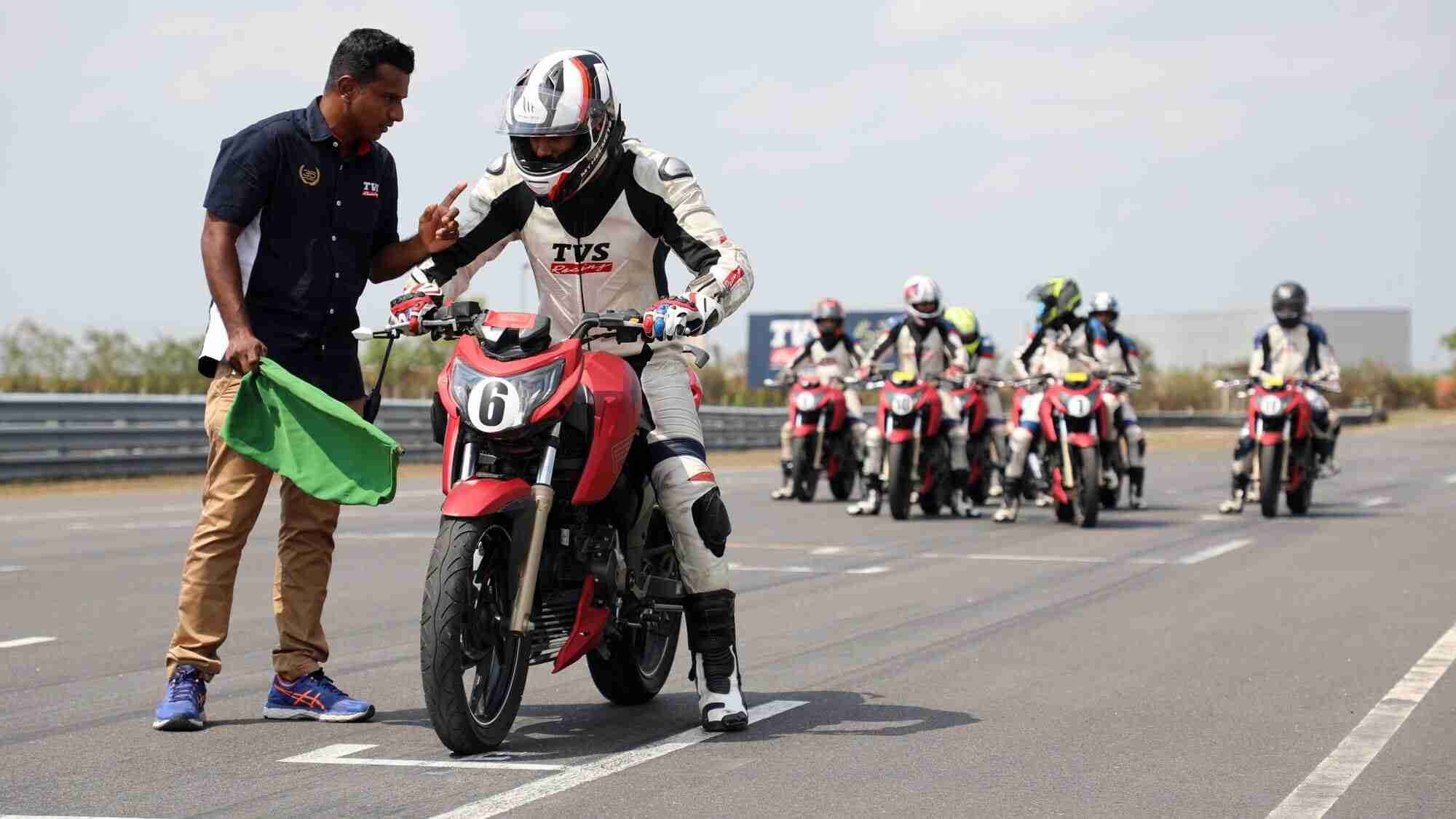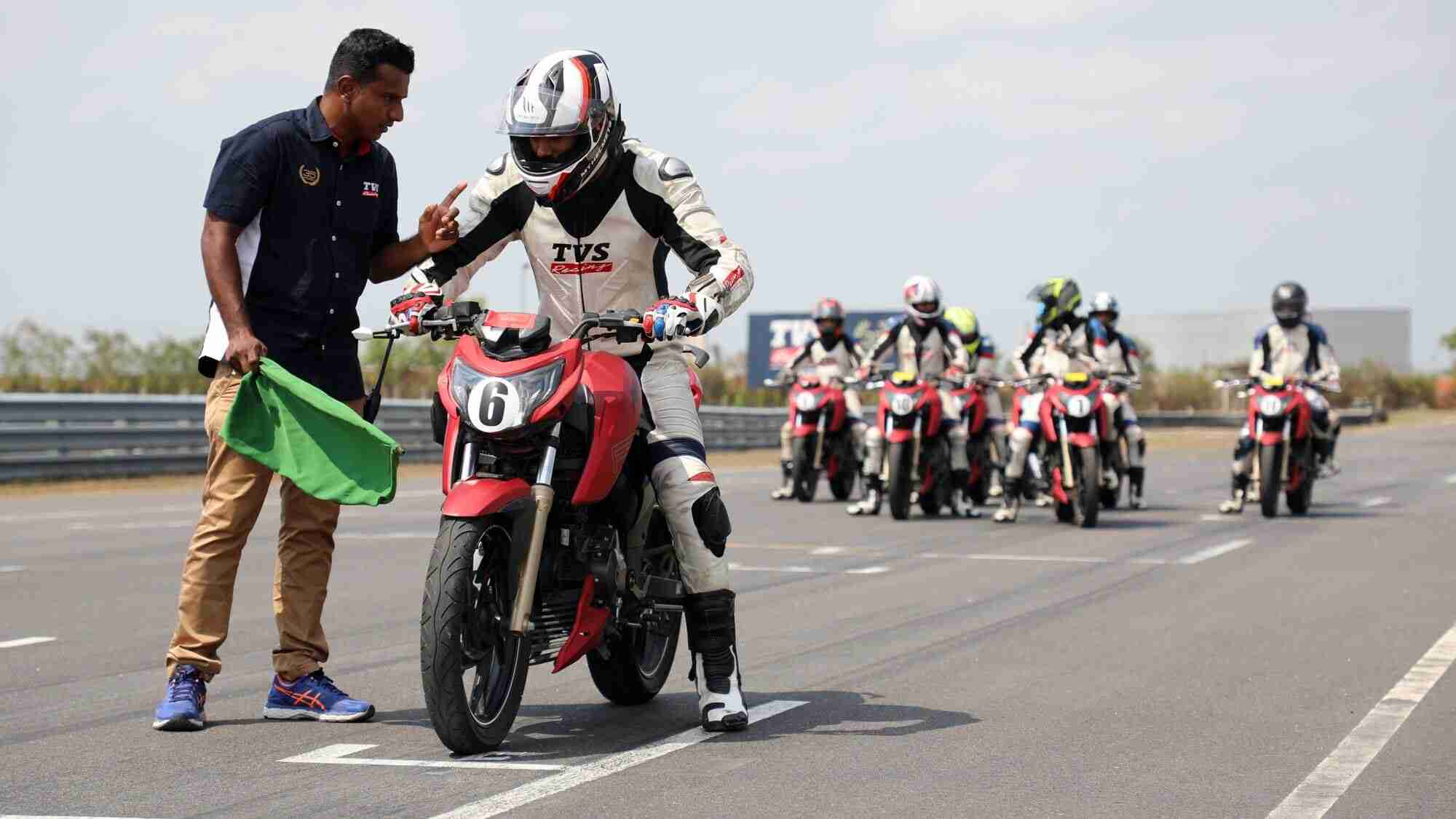 Race 2 – MMSC – Bitten hard by the crash bug
Sadly, even after qualifying again at the front of the grid and being over 3 seconds faster than the next fastest rider, I threw it all away with a low speed crash at the slowest corner on the track C10. I lost the front and could not get back on the bike as I lost my the left rear sets on my bike in the crash. Two races in and even with great qualifying, my excitement and adrenaline rush always itched me to push hard and make mistakes without which both races would have been a lot different for me.
Lessons I learnt
On a track you get a chance to focus all your senses on the machine and dedicate concentration to do one thing and one thing only. To go faster! The only thing holding you back is the fear which stems from lack of experience in taking so much inputs from the bike and reacting to it. It is nothing short of overwhelming as to how much you feel when you ride on the track. Only when you can tune your senses to overcome this, will you try to push harder because confidence plays a huge role in racing!
We hear world championship level riders talk about lack of confidence due to the motorcycle or the track or the weather or a hundred other trivial reasons. They didn't make sense much earlier and I couldn't understand the significance of those statements. But now with the first-hand experience thanks to TVS all this make so much more sense to me.
A positive thing about crashing the first time on a track is that you get confidence. It might sound crazy but you realise that it's a lot safer and you also understand the limits of the bike and yourself. This builds on your confidence to push a little harder. Fear is an enemy on the track. But it is fear which also keeps you safe.
Riding on the track is an art which requires a lot of practice packed with a load of patience! The more time you spend on the track, the more your brain learns the physics and makes you a better rider. With time you learn how to understand the bike and its limits and only then that you get the most out of it. It's controlled aggression at above average speed! It's about controlling your adrenaline rush to avoid mistakes.
Due to personal reasons and earlier commitments my season ended early and I could not participate in the remaining of the season. But even with just two race weekends my world has totally changed. I am now a better rider, faster, safer and most importantly an advocate for the sport.
I would like to thank the TVS Racing Team for the amazing opportunity and for their warm hospitality during the whole event. They left no stone unturned in making sure we had fun while keeping us safe and teaching us how its done!
Feel motivated to get into racing? Well you are lucky because TVS is looking for riders for their One Make Series. You can register for the selections right here – http://www.tvsracing.com/tvs-apache-one-make-championship.aspx