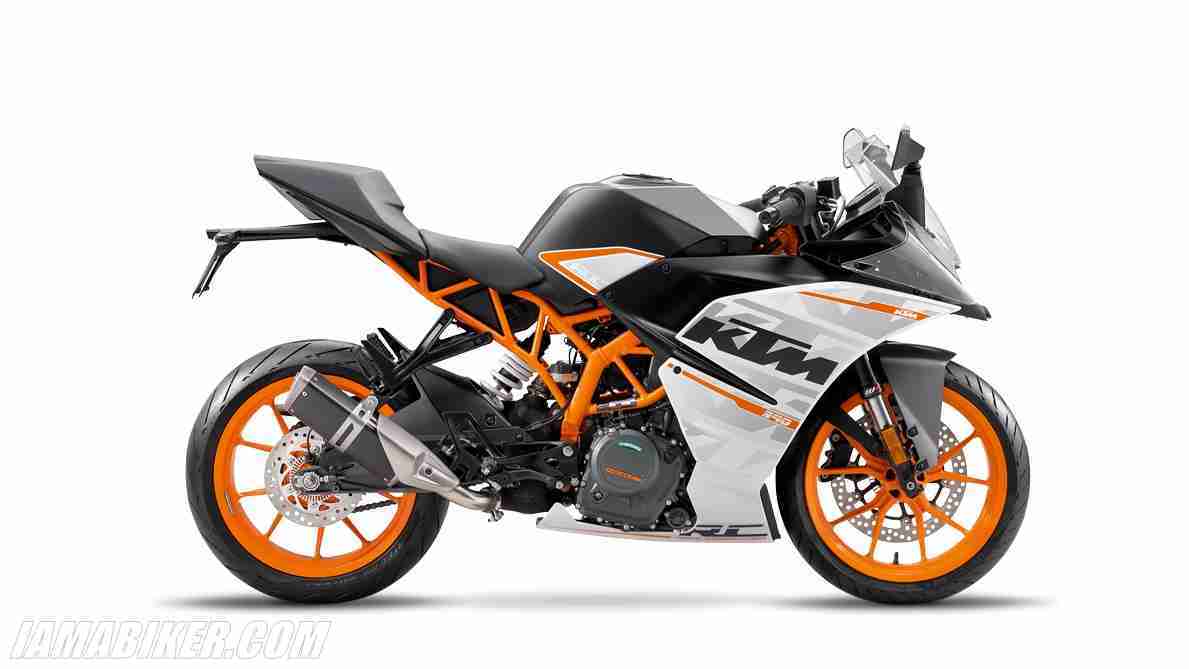 Well well, this was unexpected, the 2016 KTM RC390 gets some interesting changes and not just a sticker job. The KTM RC390 has always been a power packed package that was light and fantastic value for money. The Duke 390 got the slipper clutch this year and it was just a matter of time before the more race oriented RC390 got the same. But KTM have not stopped at that. The 2016 KTM Duke 390 now gets a ride by wire system and most interestingly a new exhaust silencer that no longer is hidden below. While the changes to the silencer is primarily to cope with the strict Euro4 emissions it does also change one of the annoying characteristics of the RC. The fairing now is not as boxed out below as the earlier version, this used to lead to a lot of belly scraping action. Being a bit narrower at the bottom end has also made the 2016 KTM Duke 390 look a little more slim and trim adding to its already sharp and quick looks.
The switchable ABS now gets assisted by a bigger 320 mm disc at the front. The front brake lever is now adjustable but the clutch lever remain the same. The mirrors also are now bigger and better with a slightly new design on how they operate. Photographs also show a missing headlight switch, but even earlier the EU region had DRL's while the Indian version got the off switch. The engine remains the same and still produces a good 44 HP @ 9500 RPM and 35 Nm of torque @ 7250 RPM. We expected the 2016 KTM RC390 to be slightly heavier with the new side slung aluminium exhaust, but KTM say that the weight remains at the 147 kg dry weight mark. The passenger seat also is thicker by about 12 mm for a more comfortable ride for the pillion.
Now, for sure this has to come to India by next year, expect a premium of about 10,000 INR over the current model.
2016 KTM RC390 changes
EURO 4 emission regulation compliant
New Aluminium side slung exhaust slip-on
Fairing bottom tip modified – made narrower
Power Assist Slipper clutch – PASC
Vapor recovery system of the integrated fuel tank
Ride-by-wire
New mirrors – broader
Adjustable brake levers
New passenger seat, thicker by 12 mm
Front brake disc now 320 mm
2016 KTM RC390 specifications