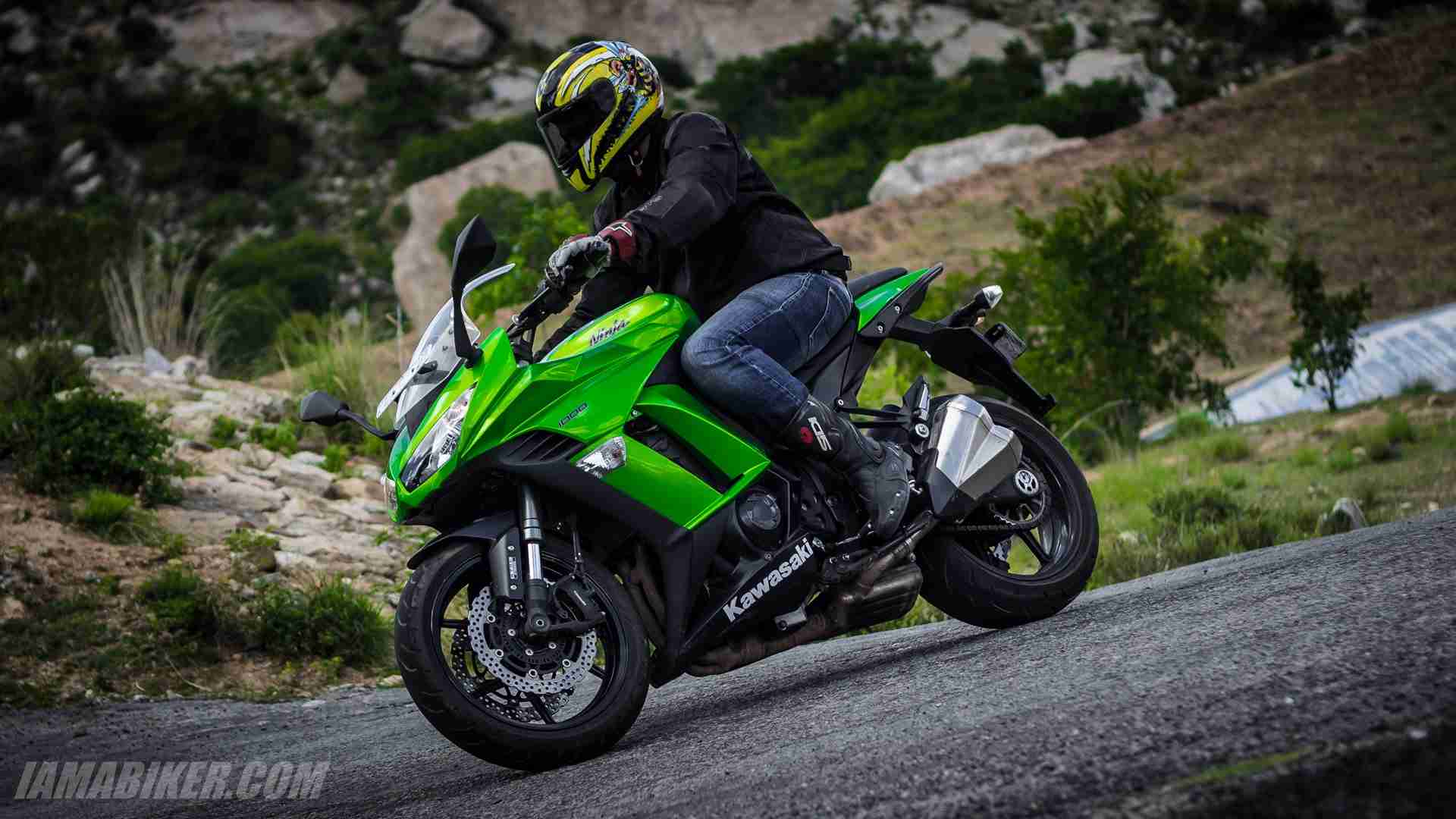 The Kawasaki Ninja 1000 is a very interesting motorcycle. Talk about an inline-four litre class motorcycle wearing Kawasaki green, full fairing and you're immediately thinking of the ZX-10R. Talk about one in its naked avatar and the Z1000 pops to mind. Which shoes, then, does the Kawasaki Ninja 1000 fill? The answer comes in two words. Sports Tourer. Kawasaki saw a market for motorcycles that weren't after your life. Sure the ZX-10R is a proven championship winner and has performance that answers the question "how do I set my pants on fire", but it isn't what the discerning gentleman rider would call an everyday ride. Litre class superbikes over the years have been so focussed on shaving that last tenth of a second per lap, that now they took themselves more and more out of place in the cities and the highways and perfectly are at home only on the track. That left a very real, big gap for a motorcycle that was just as fast, quite as capable but would fit in perfectly in the real world conditions. Enter the Kawasaki Ninja 1000.
The styling cues on this motorcycle aptly follows its purpose. It isn't racy or aggressive like its race going brethren and it is not imposing and "look at me I'm so angry" as it's naked sibling. It treads the middle ground and looks quite sharp in its own right. The twin headlamps setup up front with the fairing draped tightly over its aluminum twin-tube backbone frame gives the front a very sleek look, yet somehow managing to stay understated enough to slip under the radar while on the go. The Ninja 1000 follows through on its design language at the rear as well, with that sharp yet not overly done tail section blending neatly into the rest of the package. One look at the Kawasaki Ninja 1000 and you know you are in the presence of something substantial yet comforting. What really manages to catch your visual attention, though, are the short twin end cans on either side. Looking good, however, is not the only thing they do well.
The Kawasaki Ninja 1000 has a growl that is many things at once. It smacks of controlled aggression from the word go. Blip that throttle and you're rewarded with a bassy yet muffled shriek that would do any motorcycle in its capacity proud. Let it idle, however, or even at slow city riding pace, and this big green Kawasaki turns into its true namesake, a ninja. All that raging firepower within comes out as smooth and assured off the line as they get. Slot her into first gear, dump the clutch and it comes as a bit of a surprise that the Kawasaki Ninja 1000 doesn't immediately makes you wet your pants. This is a motorcycle that loves taking it nice and steady instead of shouting a few chosen expletives to your face and taking off like a hound's on its tail.
Onto the big numbers first. The Ninja 1000 makes 142 PS @ 10,000 RPM and 111 Nm @ 7300 from its 1043 cc 4 cylinder in-line engine. That, as far as figures go, are impressive ones. What is even more impressive, however, is how all of that power is delivered to the wheel. Remember we spoke of controlled aggression? That. The power delivery is very linear and the revs build nice and quickly. Once you go past 7K revs, however, things get beautifully aural and aggressive. It begins to scream to its rev limiter at which point you'd slot the gearbox into the next higher gear and the fun begins again. Oodles of torque flow right from the word go and it never peters out. In fact, such is the evenness of the torque spread and fuelling, the Kawasaki Ninja 1000 doesn't care less if you're in 6th gear at 40 kmph. Open that throttle and you'll be sailing past 200 kmph in no time. This makes the motorcycle quite easy to handle at city speeds because no matter which gear, at which speeds, ask for it to move and it will keep your word. The tractability in the city transforms into neat cruising ability out on the highway, a place where this motorcycle can sing at 150 kmph to 180 kmph all day without breaking a sweat, all the while running at a lazy 6K RPM.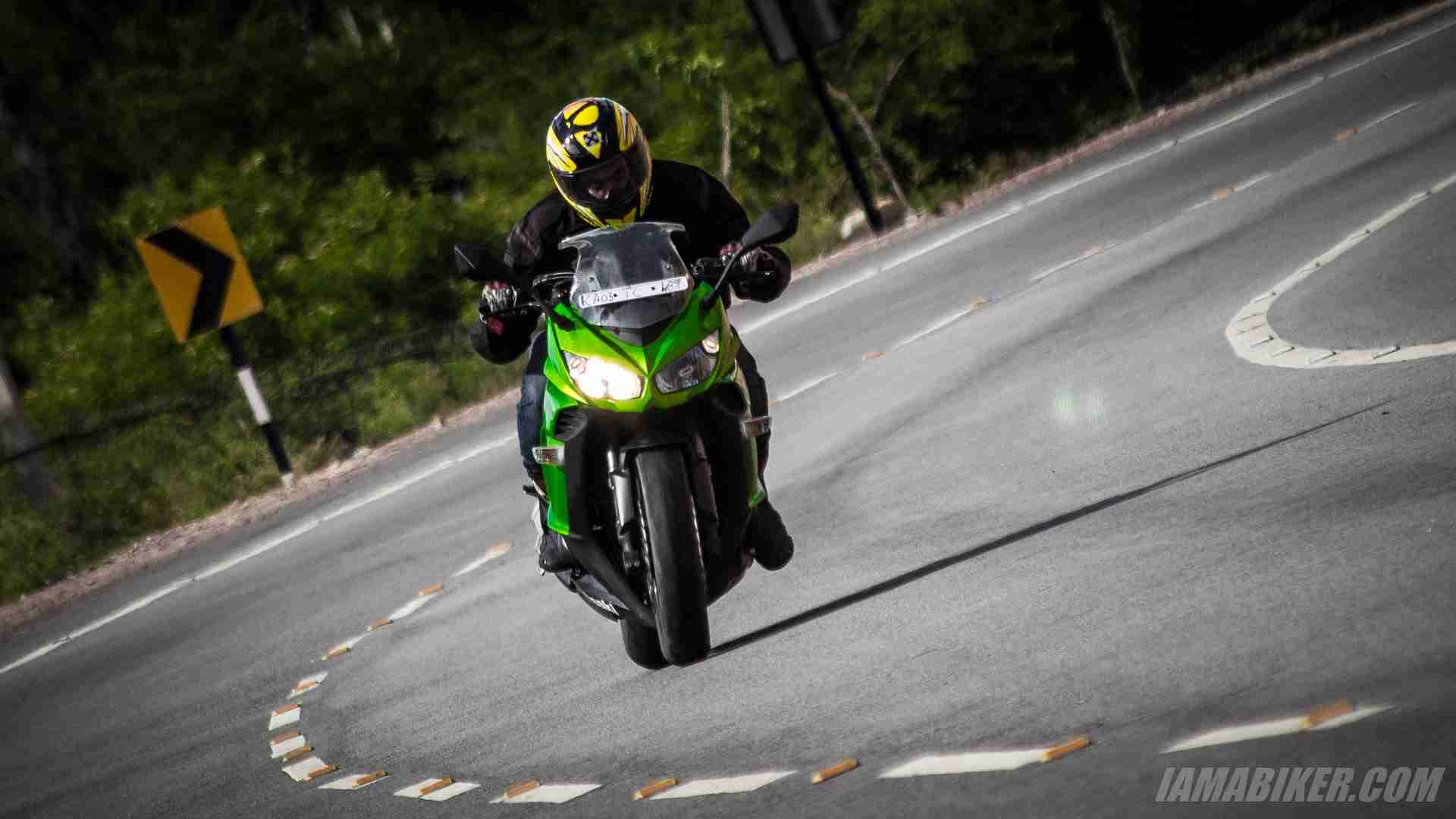 The Kawasaki Ninja 1000 is not all about how assuredly it goes. It stops just as nicely. Twin 300 mm petal discs up front coupled with the 250 mm single at the rear along with ABS brings this fast sports tourer to a complete halt quicker than you'd have imagined anything weighing all of 231 kgs could. The Kawasaki Ninja 1000 also comes with three level traction control that aides the rider well under difficult and varying circumstances. The traction control, or KTRC as Kawasaki calls it, is a welcome addition that it's almost similarly engineered sibling the Z1000 does not get. The amount of intrusiveness of the traction control can be set by the rider in three levels, and for the truly adventurous, can be turned off for good as well. The engine power has two modes it can be put into, full power with all of its firepower at your disposal and a lite mode that restricts the output to 70% of its max output. Both of these features are lacking in its naked alternative, the Z1000 and makes the Ninja 1000 stand out that much more.
For a motorcycle that isn't exactly featherlight, the Kawasaki Ninja 1000 is surprisingly easy on the highway, managing its bulk quite ably. It is an able handler and takes to corners positively. While it is fun on fast winding roads, slow turns are something that you will need to get used to. The weight of the motorcycle becomes quite apparent and to keep a line at that speed you will need to muscle it into doing so. The responsiveness of its engine coupled with suspension that are plush and compliant on broken surfaces and its handling characteristics makes the Kawasaki Ninja 1000 one true blue sports tourer. A proper interstate express, if you will. Helping its highway cred are features such as adjustable windscreen and luggage mounting hooks at the tail section. The rear suspension itself lends to easy adjustability with a big pre-load adjustment knob sitting pretty under the seat. The pillion seat in itself is quite accommodating and riding two up is never an issue. Speaking of highway riding, the Kawasaki Ninja 1000 has an 18.9 litre tank and did 13 kilometres to a litre on our ride overall. With a range just south of 250 kms, it does need taking a halt every so often to top her up, but rest assured, you'll be flying between those stops for good measure.
By the end of our ride with the Kawasaki Ninja 1000, we came away impressed. The Ninja 1000 may not be the poster child from Kawasaki's stables but it really does hold its place in Kawasaki's glittering line up. Want a track specialist? You have it in the ZX-10R. Want one for the city and to make a statement, you have the Z1000. Want best of both worlds, a dollop of comfort and real world practicality? The Kawasaki Ninja 1000 is we think your answer.