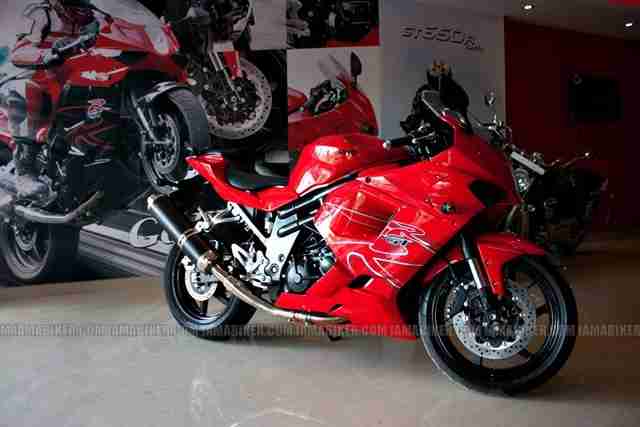 Garware motors on 9th unvield the first Hyosung showroom in Karnataka. The showroom has been named Satya Mitra Motors. This particular showroom will take care of the operations for the entire state and also the southern region until further showrooms are set up in the south belt. Garware confirmed its plan to start a Hyosung outlet in Cochin as well with more showrooms around India in the next 6-8 months. Work has been fast since Garware Hyosungs launch of the GT650R and the ST7 earlier this year.
At the current showroom you will have access to sales, service and spares and Garware Hyosung are ready to dispatch motorcycles right from day one with no waiting period on both the models the Hyosung ST7 and the Hyosung GT650R. Finance options are available for both ST7 and GT650R. More than 10 Hyosung's have already been sold. The demand for both the bikes have been similar, with both the Hyosung's selling in almost equal numbers. The Bangalore Garware Hyosung showroom will also have a fully equipped service centre right next to the main showroom.
Now here is some interesting news, Garware Hyosung are looking to bring in their 250cc motorcycle in the next 7-8 months, They are currently working out the specifics on whether the Comet(GT250) or the GT250R (faired) should be brought in. With recent spotting's of the 2012 Hyosung GT250, things have been rather exciting for us in India. Mr Sachin, Manager – Sales & Marketing for Hyosung said that they are working on a competitive pricing and look to make a good impact in the 250cc segment.
He also went ahead and said that we could expect couple of surprises from Hyosung in the coming months and to definitely look forward to the Autoshow next year. Currently they are not looking at older Comets, since certain spares are no longer similar to the older models and due to the take over, certain models have not been carried forward. But plans are in place such that after their primary line up is set for India, they would go ahead and make arrangements for the older Comets.
Garware Hyosung are setting customer priority high on their list. They are arranging High flyers club, weekend events including riding out and other customer centric activities all exclusive to Hyosung owners.
Garware Hyosung are keen to be known as a lifestyle/niche motorcycle makers, which probably hint's that they do not intend to bring out mass selling products like the recently launched Honda CBR250R, but only well engineered and classy products. This could also mean a slightly costlier tag on the Hyosung 250's as compared to the CBR250R and probably a good indicator to expect the faired GT250R than the Comet GT250. Currently all their focus is on the 600cc segment as they are the only other player in that market the other being the Kawasaki Ninja 650R.