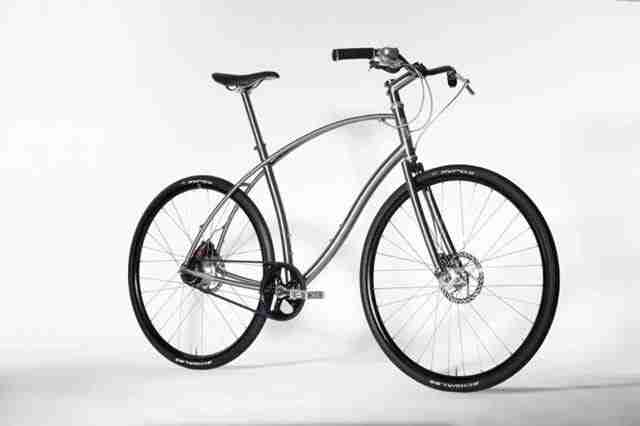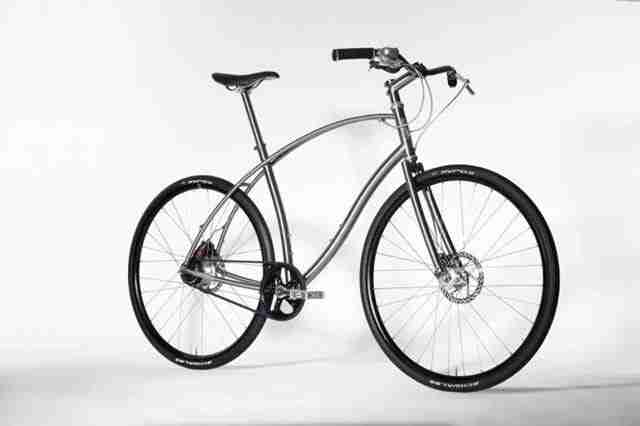 Looking to invest in a high-end, all-purpose bicycle that will last a lifetime?Look no further, feast your eyes on the beautiful lines of the No1 and No2 luxury bikes built by Paul Budnitz. Both models are lightweight with a strong Titanium frame handmade in the U.S. A Titanium Cantilever frame that's said to be as light as carbon fiber, stronger than steel, and rust and corrosion-proof is one of the many things that makes this bike unique. The frame's curved tube bends under pressure to absorb road shock, and sports mounts for a rack and a water bottle. Gear and brake cables are hidden inside the frame rather than spoiling the gorgeous lines. The half-crown fork at the front is also Titanium, as is the stem and seat post.
The No1 commuting bike features 25-inch (63.5-cm), no-rise cold-forged Titanium handlebars, Velocity Blunt 700c rims and either Schwalbe Kojak 35C or Schwalbe Marathon Supreme 40C tires.
No2 was apparently created for joy rides on sunny spring days and errands around town, and has 24-inch (61-cm) handlebars, 29-inch Velocity Blunt rims at the front and 26-inch at the back, and Schwalbe Big Apple Liteskin 2.35-inch super-fat tires.The Budnitz bikes are priced at US$5,500 a piece and come in three frame sizes and with a 60 to 90 day production window.