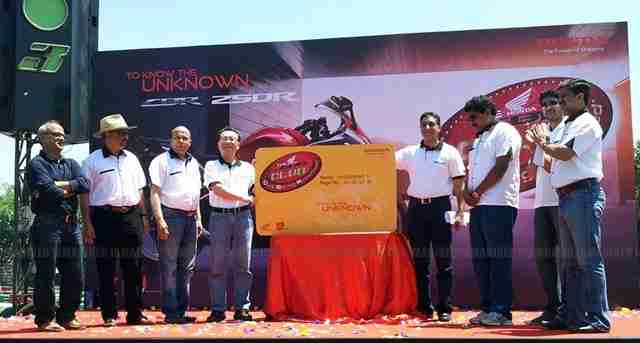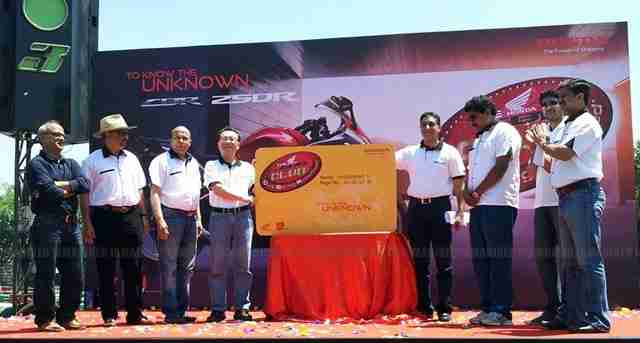 Honda off late has taken keen interest in customer interaction, and the huge response it has received from the CBR 250R has made them announce special benefits for the premium customers. On 24th September, Honda organized a special event for the CBR 250R customers at E-zone Bangalore. The event saw participation from top brass at Honda and dealers from Bangalore.
The event was scheduled from 10am to 6pm and all the customers were welcomed with refreshments. The program started at 11 am with the unveiling of the Honda CBR 250R club membership card. Post the presentation ceremony the customers were divided into 2 groups for different activities and games, which included paintball and skill riding tests followed by lunch.
The membership card would be mailed to every CBR 250R owner and would entitle them to a host of benefits as listed below.
– Members would get service discounts.
– Referral discounts: 1st and 2nd referrals would get 1000INR worth of petrol gift voucher. 3nd referral would get 1500INR worth of petrol gift voucher and the 4th gets 2000INR.
– 5% off synthetic oils
– 5% off on Honda genuine accesories
– 3 vehicle washes free
– plus a whole lot of other discounts which will be soon announced.
The club activities would include group rides and other get together's exclusively for the CBR250R owners.
Here are selected few snaps from the event, For the full album visit our Facebook Fan page.