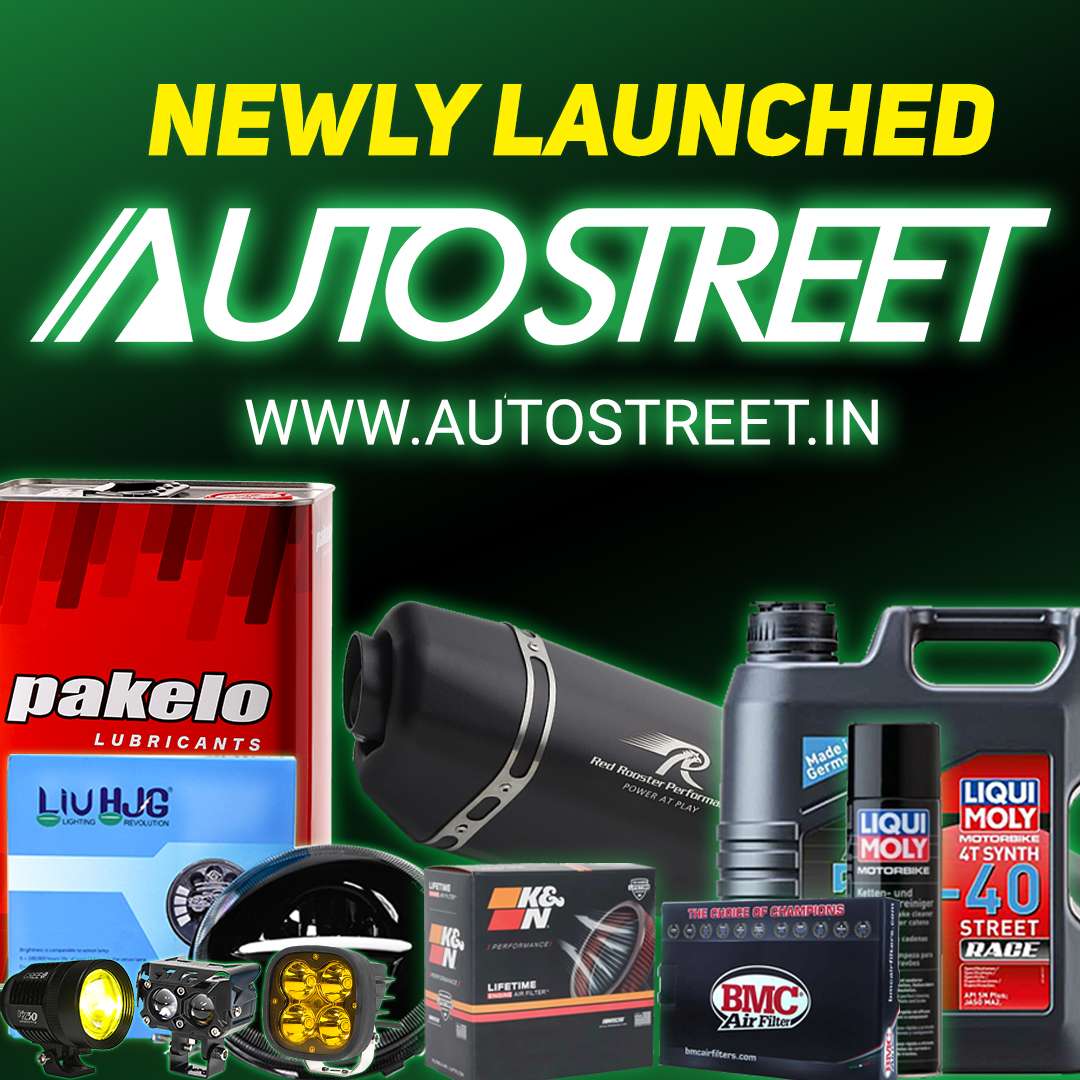 Hi guys, I got my bike on 2nd June after a long long wait and during this waiting all sorts of questions were on my mind. Lots of discussions online, lots of good and bad bits being pointed out by a lot of people across a lot of various websites and forums. All this just added to my anxiety and I just cannot explain in words how happy I was on the day I took delivery of my red CBR.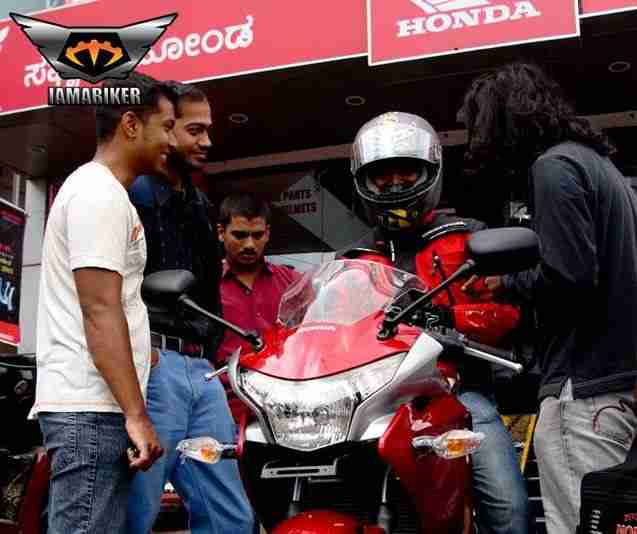 There are a lot of questions out there from prospective customers for the CBR and also from a lot of bikers. Here I write about my experience so far with the CBR250r.
The physical appearance of the bike although not typical to the CBR name is some thing that I love. The quality of the body parts is good and I feel they are currently as good as the parts on top players like the R15 and ZMR  if not better. May be the finishing could have been a bit better, but then its not bad at all. The only panel gap that I did not like was the one at the tail section, between the seat and the tail. I am happy and impressed that there were no gaps in between, considering the fact that the CBR250R has a multilayered fairing. Being a multi layered fairing, it makes it easy to replace each single part rather than the entire unit in case of scratches or a crash. The seats are definitely comfortable and wide and even provided good support even after shot rides of 200 – 300 kms.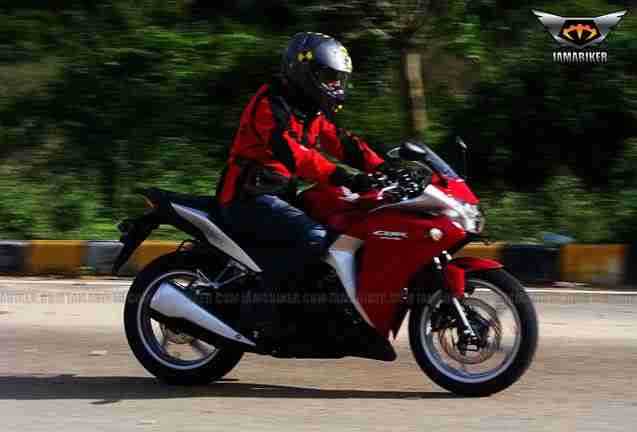 The clutch is very soft and you just need 2 fingers to pull back the clutch. The only difficulty that I faced was while shifting from 1st to 2nd gear as it would move into neutral once in a while.
The power is definitely not as exaggerated like in other reviews where they mention its has wheelie popping kinda power, but it does comes pretty close ;), and the surge that you feels is quite strong and it does pull away pretty beautifully. The real power I felt comes from the 2nd gear and upwards. In the 2nd gear, the bike races to 60-70 kmph comfortably and the rpm also shoots up very quickly. But since there were restrictions before the 1st service, I never did push it hard. The engine is always asking you to rev it and couple that with the beautiful intake sound and you become addicted to it, I am. Riding it under 5k rpm is one of the difficult things that I had to do since the bikes builds up rev's pretty fast. You can ride it comfortably in 70s and 80s in the6th gear with 5k on tachometer. Every time I ride it, I feel it's not meant to be ridden slow.
Having owned the FZ before I can comfortably say that the seating position is between the FZ and R15. It's not as  aggressive as the R15, and not as relaxed and straight as FZ. You need to lean forward just a little a bit. However the riding comfort is really good. I am 5'8 and have no complaints of the riding position.
Handling it in the traffic was much simpler than I thought it would be it goes through it almost as easily as I did on my FZ. Slightly tilt your handle and the bike goes there easily. Though I'm not a track rider, I still feel that getting your knee down on a corner would be very easy. Its that reassuring and good at handling.
Overtaking other vehicle's on the road is another exciting thing on this bike. No matter what gear you are in, just twist the throttle and it'll take off effortlessly, accelerating ahead and giving you that smile inside your helmet.
The instrument cluster is well placed and readable in day time as well as in rainy conditions. It has only one trip meter and doesn't have a side stand indicator. The console lights up only when pilot lamp is switched on. It's not "always on" like of the FZ or R15. The handle bar can be locked to only one side, left side.
I haven't faced any problems like excessive engine heating. I've not ridden it continuously for long distances, although I already did a fair bit of touring I always take enough breaks. Only time I felt the engine getting heated up was in stop and go traffic. During this, the radiator fan blows the hot air to your legs.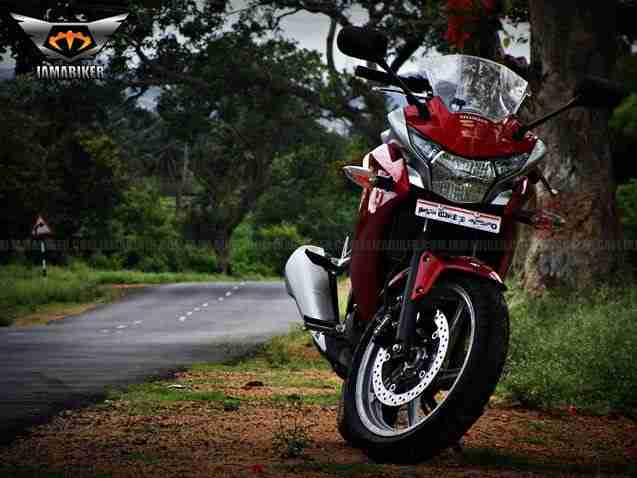 Suspension is soft and good to keep the odd pothole from hurting your back. I felt that the front ones dive's a bit too much. But the rear suspension is perfect. My FZ had a ground clearance(GC) of around 160 mm and it used to hit on the speed breakers quite often. The CBR has a GC of around 145 mm. I've been traveling the same roads and till date no speed breakers have hit the bottom part of the bike. I also did a bit of off road and still did not have any issues with the ground clearance.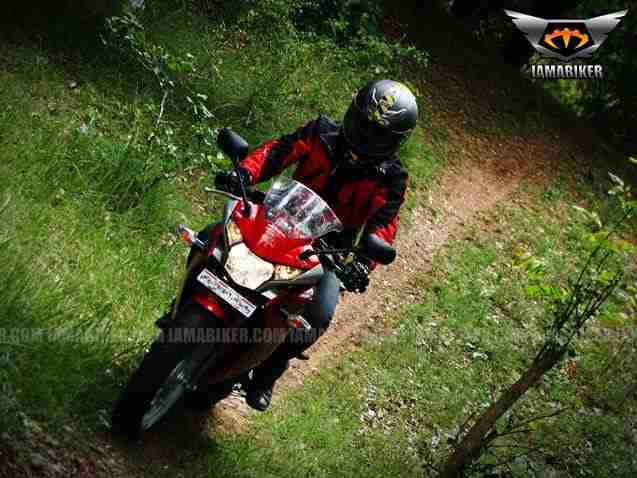 During the run-in period, bike was ridden mostly below 5k rpm and between 70 and 80 kmph. However I've occasionally taken it upto 6k rpm. After around 800 kms on the odo, I had touched 137 kmph at around 9-10k rpm effortlessly. It accelerates very quickly in the 2nd gear and above.
I was getting around 32-35 kmpl fuel efficiency during the run-in period. I refill when only the last bar on the console remains. The last bar indicates 3.5 liters and I have been using only 91 octane fuel.
I did the  first service at 935 kms. Oil filter and engine oil were changed. Engine oil is fully synthetic with the grade being 10w30 from Honda. Total cost of first service was 1175INR. Engine became lot smoother after the service. Also there is an improvement in the exhaust sound but then that could be because I'm able to rev it above 6k rpm now ;)  and after 6k rpm, it sounds really awesome.So far I've onlymanaged to rev it upto 10k rpm and no top speed checks yet.
Its been quite a beautiful journey so far and I feel as the kilometers go by the bike getting better. Its been quite an experience and as far as I am concerned the bike has not just met my expectations but exceeded it by quite a lot.