Ultraviolette Automotive, a trailblazer in sustainable mobility and a visionary driving force behind state-of-the-art mobility solutions, has unveiled its most advanced electric motorcycle model – the F77 Space Edition. With exclusivity at its core, the Ultraviolette F77 Space Edition is limited to a mere 10 units, making it a coveted item for collectors and an ultimate representation of innovation.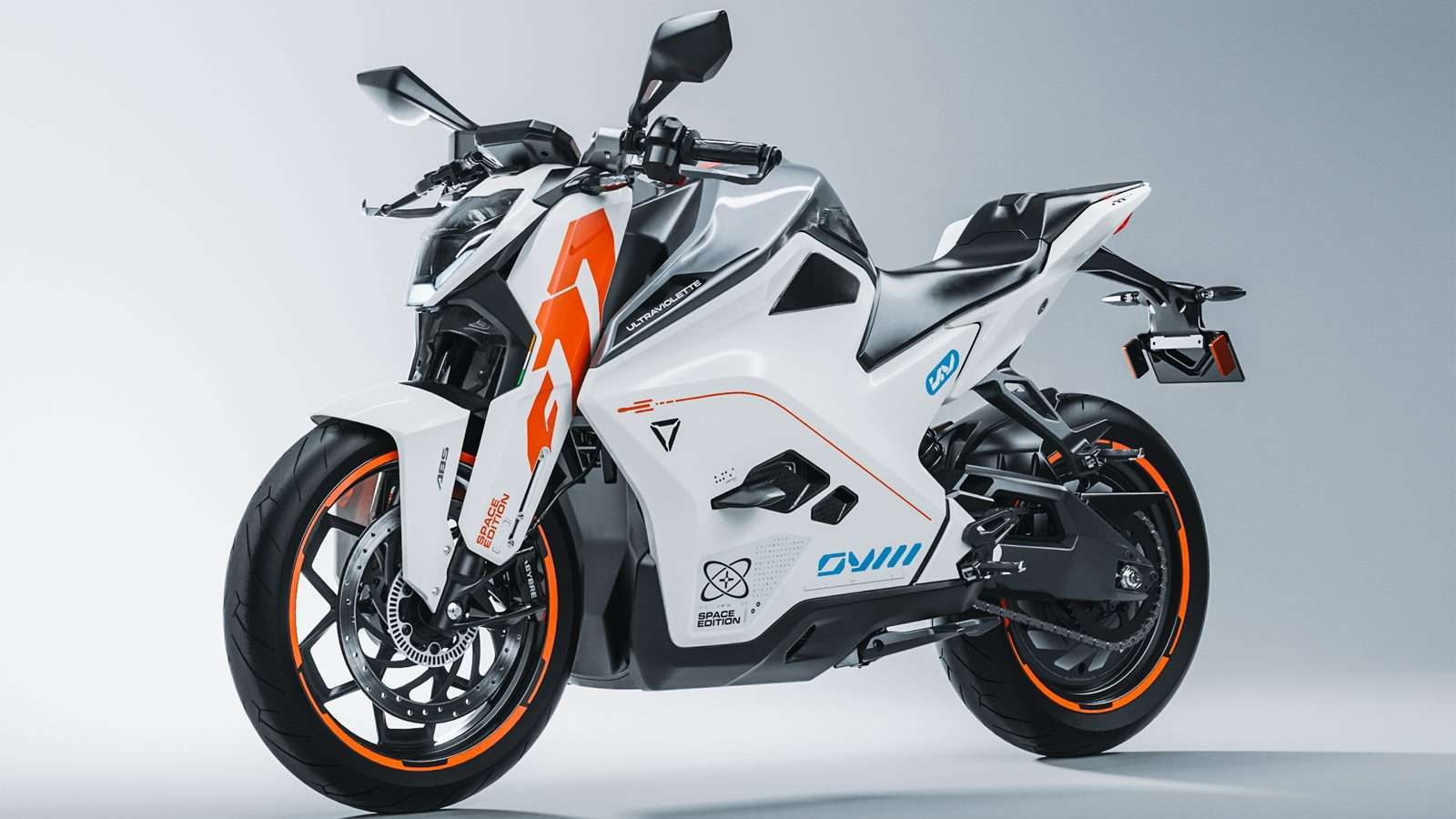 In the form of the F77 Space Edition, Ultraviolette pays homage to India's remarkable journey into space and its significant contributions to the aerospace realm. This special edition masterpiece combines cutting-edge technology with aerospace-inspired design, underscoring Ultraviolette's unrelenting dedication to innovation and excellence, aligned with the principles of the aerospace industry.
The Ultraviolette F77 Space Edition revolutionizes electric mobility through a range of outstanding features designed to enhance the ownership experience:
Aerospace-Grade Aluminium: The Ultraviolette F77 Space Edition boasts precision-machined aerospace-grade aluminum, seamlessly blending artistic form with engineering function. Utilizing Aluminum 7075, a high-strength alloy renowned for its impressive strength-to-weight ratio and tensile strength akin to many steel types, while remaining substantially lighter. Its exceptional attributes make it a staple in applications like aircraft structures and defense systems, particularly in aerospace and military sectors.
Aerospace-Grade Paint: Shielded by remarkably durable aerospace-grade paint, the Ultraviolette F77 Space Edition introduces a new level of resilience and safeguarding. Designed to withstand the harshest conditions, this paint ensures superior corrosion protection, resistance to UV rays and fading, chemical resilience, and thermal stability. Its sleek finish maintains the motorcycle's appearance even under challenging circumstances, contributing to enhanced efficiency by reducing aerodynamic drag.
Aerospace-Grade Aluminium Key: The key of the F77 Space Edition serves as a testament to meticulous craftsmanship, sculpted from a single piece of aerospace-grade aluminum. Beyond its practical function, this masterpiece encapsulates Ultraviolette's aerospace-inspired DNA.
Avionics: Equipped with cutting-edge aircraft electronics-based technology and interfaces, the Ultraviolette F77 Space Edition includes multiple fail-safe systems for the battery. Similar to aircraft systems, it can measure Roll, Pitch, and Yaw through a 9-axis Inertial Measurement Unit (IMU).
Distinctive Design: Showcasing a fresh paint scheme and graphics, the Ultraviolette F77 Space Edition stands as a visual testament to its advanced technology and dynamic performance. It also pays tribute to India's space accomplishments through its design.
Narayan Subramaniam, Co-Founder and CEO of Ultraviolette Automotive, expressed, "We're thrilled to introduce our latest creation, the F77 Space Edition, and eagerly anticipate handing over the keys to these 10 exceptional riders. Ultraviolette is dedicated to consistently pushing the boundaries of science and technology, and the Space Edition exemplifies our commitment. Just as the aerospace industry attains technological pinnacles, the F77 Space Edition commemorates India's celestial journey. The same DNA resonates throughout the Ultraviolette F77 Space Edition – infused with aerospace-grade attributes and a distinctive design ethos – reaffirming our unwavering commitment to shaping the future of electric mobility."
Niraj Rajmohan, Co-Founder and CTO of Ultraviolette Automotive, added, "The Ultraviolette F77 Space Edition has been meticulously crafted to deliver an unparalleled riding and ownership experience. Our focus remains on translating technological excellence into tangible excitement. The F77 Space Edition mirrors this commitment by offering not only a highly distinctive experience but also showcasing the potential of electric vehicles in redefining transportation's future."
Following the swift sale of the 77 Limited Edition units within 2 hours, the Ultraviolette F77 Space Edition offers advanced features and exceptional performance metrics. These include an impressive peak power of 30.2 kW (40.5 hp) and a peak torque of 100 Nm. Accelerating from 0 to 60 km/hr in only 2.9 seconds and achieving a top speed of 152 km/hr, the F77 Space Edition seamlessly merges unmatched performance with uncompromised design. Additionally, its remarkable Intelligent Drive Control (IDC) range of 307 km on a single charge solidifies its position as a leader in India's electric two-wheeler sector.
With the introduction of the F77 Space Edition, Ultraviolette is setting new benchmarks in performance electric innovation. With an expanding focus on international markets, Ultraviolette remains committed to delivering top-tier performance while ensuring accessibility.
Prices for Ultraviolette's flagship F77 electric performance motorcycle range start at ₹ 3.8 lakh (ex-showroom, India). The exclusive aerospace-inspired F77 Space Edition is priced at ₹ 5.6 lakh (ex-showroom, India). Bookings for the F77 Space Edition will open on August 22 at 6 PM on the company's official website – https://www.ultraviolette.com/.