TVS has proudly unveiled the highly anticipated TVS X, its flagship crossover Electric Vehicle (EV), enriched with a range of groundbreaking features. Completely designed, engineered, and manufactured in India, the TVS X boasts a potent electric motor and advanced battery technology. This masterpiece not only delivers thrilling acceleration but also promises an impressive range, ensuring both convenience and comfort, making it an impeccable zero-emission solution for sophisticated electric mobility. As the flagship EV from TVS Motor, this innovation not only delivers remarkable performance but also incorporates a series of safety features that set new standards in alignment with its vision of creating an eco-conscious, intuitive, and technology-first product. It is particularly tailored for the young Indian demographic that leads global trends.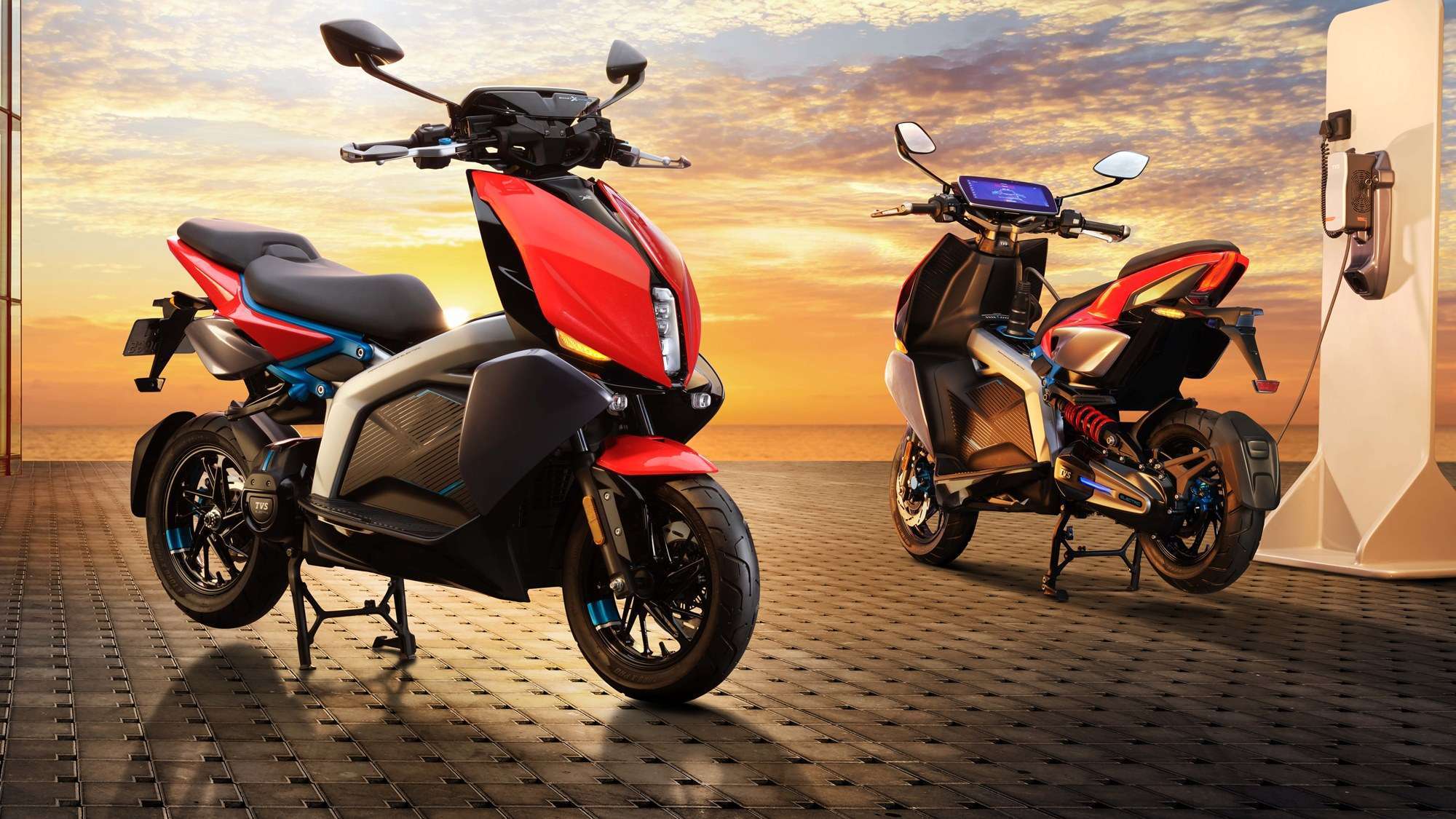 Addressing the launch event, Mr. Sudarshan Venu, Managing Director of TVS Motor Company, expressed, "Our commitment to harnessing technology and innovation for a greener and more sustainable future has led to the creation of this immensely desirable machine. The introduction of the TVS X marks a significant milestone in TVS Motors' journey of presenting a homegrown EV, a vehicle designed for the global citizens who are pioneers and visionaries with a deep appreciation for technology. It is destined to inspire a shift towards premium yet sustainable and technologically advanced mobility solutions. It paves the way for becoming a global standard for a vehicle that is inherently electric. The TVS X embodies innovation with a disruptive mindset. Sustainability is at its core, encapsulating the next era of clean transportation. With its exceptional performance, premium aesthetics, and integrated, intuitive, and personalized experiences, we believe it will redefine mobility on a global scale."
The three defining pillars of the TVS X are:
Design: Ingenious Engineering – An elegantly sleek and aerodynamic marvel:
At the core of the TVS X lies its groundbreaking design, meticulously created with an inside-out approach where functionality drives form. It presents a visually stunning silhouette that has been meticulously optimized for aerodynamics, reflecting the brand's design philosophy of achieving harmonious flow and dynamics. This electric marvel is an embodiment of eye-catching design that evokes awe and wonder in every rider.
Performance: Rider-First Engineering – A powerful and exhilarating rider-machine harmony:
The TVS X is rooted in a "rider-first" philosophy. It has been meticulously developed from the ground up to challenge conventions, engineered to offer riders a telepathic level of handling. Every aspect, from vehicle dynamics, control software, powertrain, the aluminum frame, new operating system, to the robust software architecture, has been built in-house by dedicated design, engineering, and software teams.
The TVS Xleton frame delivers over 2 times the torsional stiffness and more than 4 times the vertical stiffness compared to industry standards, ensuring exceptional agility and unparalleled steering precision. A thoughtfully placed battery unit complements it, managing the center of gravity to provide exceptional dynamics that amplify the rider's sense of control. Uniquely formulated tire compounds for the TVS X enhance grip levels while minimizing rolling resistance.
With a peak power of 11kW, the TVS X holds the distinction of being the most powerful EV in its segment, boasting class-leading acceleration of 0-40 km/h in just 2.6 seconds and a sustained maximum speed of 105 km/h. This thrilling performance is made possible by the PMSM (Permanent Magnet Synchronous Motor) motor, supported by an integrated in-house-developed controller from TVS Motor.
Connected Technology: Revolutionizing Mobility – An integrated, intuitive, and personalized experience:
The launch of the TVS X showcases a suite of software platforms and technologies built on the foundation of the best-in-class open-source framework and components. This ensures that the TVS X is intuitive, scalable, modular, and effortless.
The redesigned rider interface boasts a 10.2-inch HD+ TFT touchscreen, the largest in its class, offering extensive customization options. For enhanced convenience, the expansive cluster, mounted on the forged aluminum handlebar, can be adjusted for tilt, ensuring optimal visibility in all riding positions.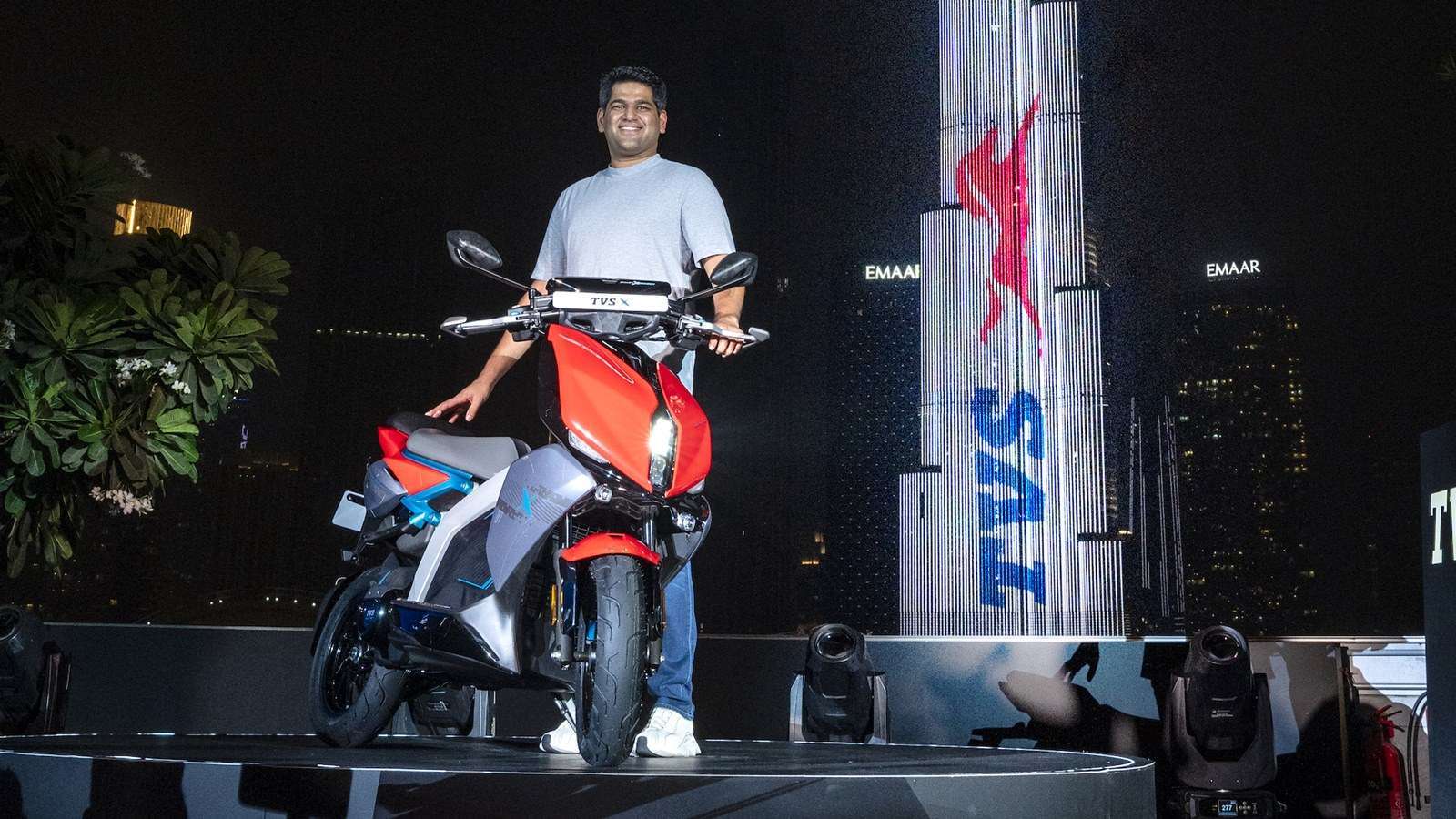 The onboard navigation system, TVS NavPro, built using the next-generation TVS SmartXonnect platform, provides context-aware information to the rider. It incorporates EV-specific routing algorithms that proactively map charging stations along the route, enhancing productivity and offering a hassle-free experience. Furthermore, destinations can be seamlessly synchronized between the mobile app and the vehicle.
The TVS X stands as one of the world's most advanced two-wheelers, offering extensive personalization capabilities. TVS PlayTech offers a wide array of widgets that allow riders to personalize the displayed information, choose themes, or even upload pictures as cluster wallpaper. The TVS X can be unlocked through four unique methods, ensuring convenient access.
A range of immersive features, including Wellness, Gaming, Live video streaming, and internet browsing, cater to various riding scenarios. In addition to enhancing security, the TVS Smart Xhield provides proactive safety features such as crash alerts and tow alerts, offering dedicated assistance. Notably, the cluster allows live vehicle location sharing, setting a new industry standard.
The launch marks a significant milestone in the evolution of electric mobility. With remarkable performance, intuitive technology, and futuristic design, the TVS X is poised to leave an enduring impact worldwide, solidifying TVS Motor's position as a trailblazer in the EV industry. Focusing on key international markets and leveraging its well-established network and strategic partnerships, TVS Motor intends to introduce the TVS X across global markets, offering customers an elevated commuting experience.
Bookings for the TVS X are now open on the official website, TVS Motor TVS-X. Deliveries will commence across 15 cities in a phased manner, starting from November 2023.
The TVS X is available at an exciting introductory price of INR 2,49,990/- (Ex-showroom Bengaluru). It offers the option of portable 950W chargers priced at INR 16,275 (including GST) and a 3kW Smart X Home rapid charger available as an add-on option. Please note that the FAME incentive does not apply to the TVS X.
An exclusive opportunity is presented to be among the privileged owners of the initial 2,000 units of the TVS X, each marked with the coveted "First Edition" emblem. This offer includes a meticulously curated Concierge service and a Garmin Smartwatch, carefully designed to complement the TVS X experience, available at a special price of Rs 18,000.