TVS Motor Company with a focus on nurturing talent since 1982, has partnered with KidZania, a renowned edutainment theme park, to create a unique racing experience for young enthusiasts and riders. The TVS Racing Experience Centre has been launched at KidZania Delhi NCR, offering a state-of-the-art facility to introduce young racers to the world of motorsports. This centre is especially significant as it is located near India's largest race track, the Buddh International Circuit, providing aspiring racers with an ideal platform to enter the world of motor racing.
To enhance its offerings, TVS Racing has also announced the launch of its first virtual championship at KidZania. This two-month-long championship will be based on the participation and performance of young riders in various activities such as racing simulators, assembly zone tasks, and design challenges at the TVS Racing experience centres. The championship aims to provide an immersive and thrilling experience, showcasing the motor racing ecosystem in depth.
With over 40 years of racing heritage and pedigree, TVS Racing initiated the One Make Championship in 1994, which has now expanded to four categories in India. This includes a Rookie category focused on nurturing talent between the ages of 13 and 18. Since 2021, TVS Racing has trained over 50 rookie riders in the country. Additionally, TVS Racing organized the first-ever Asia One Make Championship in 2022.
To introduce and promote racing culture among young minds while dispelling myths and stereotypes about motor racing, TVS Racing has created a tailored and curated experience zone for new riders aged between 4 and 16 years. The TVS Racing experience zone at KidZania offers interactive learning areas, knowledge sharing sessions, and a mini track race arena.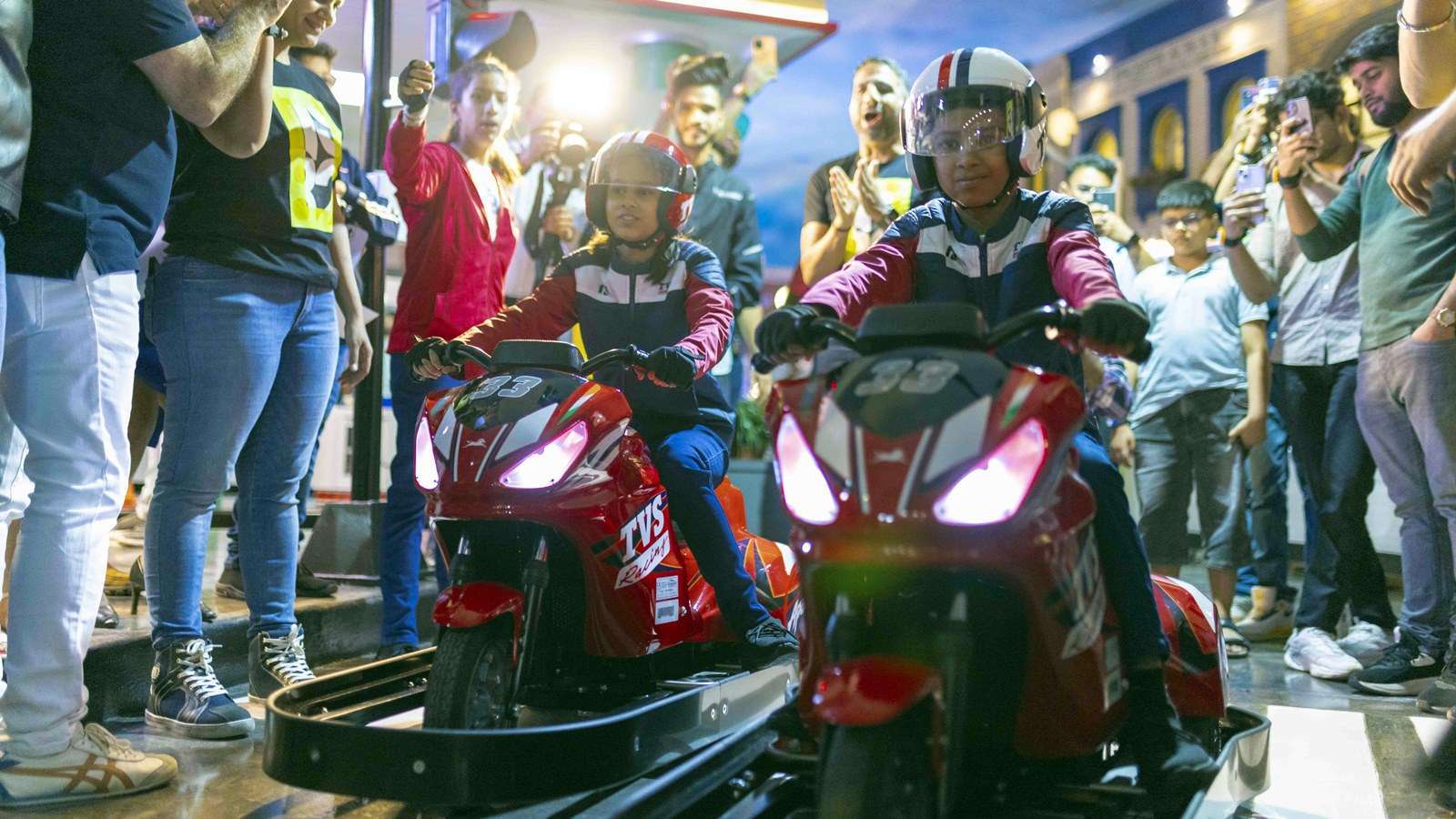 Mr. Sudarshan Venu, Managing Director of TVS Motor Company, expressed his excitement about the partnership with KidZania, stating that TVS Racing has been championing racing in India for over four decades. He emphasized the company's commitment to expanding safe and thrilling racing experiences to customers worldwide, and the joy it brings to kids through the partnership with KidZania.
Vimal Sumbly, Head Business – Premium at TVS Motor Company, highlighted the success of the experience centre in KidZania Mumbai and the anticipation surrounding the launch at the Delhi NCR centre. He emphasized TVS Racing's role in promoting two-wheeler racing in India and stated that the unique experience would create lasting memories for children while inspiring and nurturing their passion for racing. The aim is to provide a fun and interactive experience for children to learn and enjoy the world of motor racing in a safe environment. As part of this initiative, TVS Racing has launched its first-ever TVS Racing virtual championship at KidZania, allowing children to explore the world of motor racing in-depth.
Rahul Dhamdhere, Chief Marketing Officer of KidZania India, expressed delight at the partnership with TVS Motor and the launch of the experience centre at KidZania Delhi NCR. He highlighted the synergy between the two industry leaders in fostering the development of young minds through experiential learning. The TVS Racing Experience Centre aims to inspire a passion for speed, innovation, and sportsmanship, while providing a safe and thrilling environment for children to explore. Through engaging and educational activities, attendees can learn the importance of teamwork, strategy, and discipline in the world of racing.
The TVS Racing Experience Zone at KidZania offers various attractions, including the TVS Apache RR 310 Assembly Arena, the TVS Apache RR 310 Design Studio, the TVS Racing Racer with a simulator experience and a riding license, an exclusive TVS Racing Racer experience on a specially developed motorcycle, riding gear, and merchandise. Additionally, the TVS Racing Virtual Championship will be a two-month contest at KidZania, with the top performers competing in the grand finale, which includes new challenges and themes.
TVS Motor's partnership with KidZania marks its entry into curating an experience zone, aiming to train and enhance the riding skills of young riders while emphasizing that racing belongs on the tracks. This collaboration extends TVS Racing's commitment to promoting motorsports as a safe and thrilling experience in controlled environments for passionate enthusiasts and young riders.