Triumph has just globally unveiled the Speed 400 and Scrambler 400 X: Unleashing Modern Classics for a New Generation of Riders. The India unveil and launch will be on July 5th, 2023.
The Speed 400 roadster and Scrambler 400 X are designed to deliver a fun, agile, and confidence-inspiring ride for riders of all ages and experience levels. With their brand-new single engine platform at the core, these models offer class-leading capability, rider-focused technology, and category-leading quality and detail. Triumph brings its iconic style, quality, and performance to a whole new generation of riders.
Designed and conceived in Hinckley, UK, the Speed 400 and Scrambler 400 X are instantly recognizable with their timeless silhouettes, sculpted fuel tanks, and classic engine profiles, these motorcycles offer the same quality, feel, and presence as their larger capacity stablemates. Merging traditional touches, such as the distinctive finned cylinder head and exhaust header clamps, with contemporary details like the upswept silencer and concealed liquid-cooling, Triumph delivers its unmistakable modern classic style.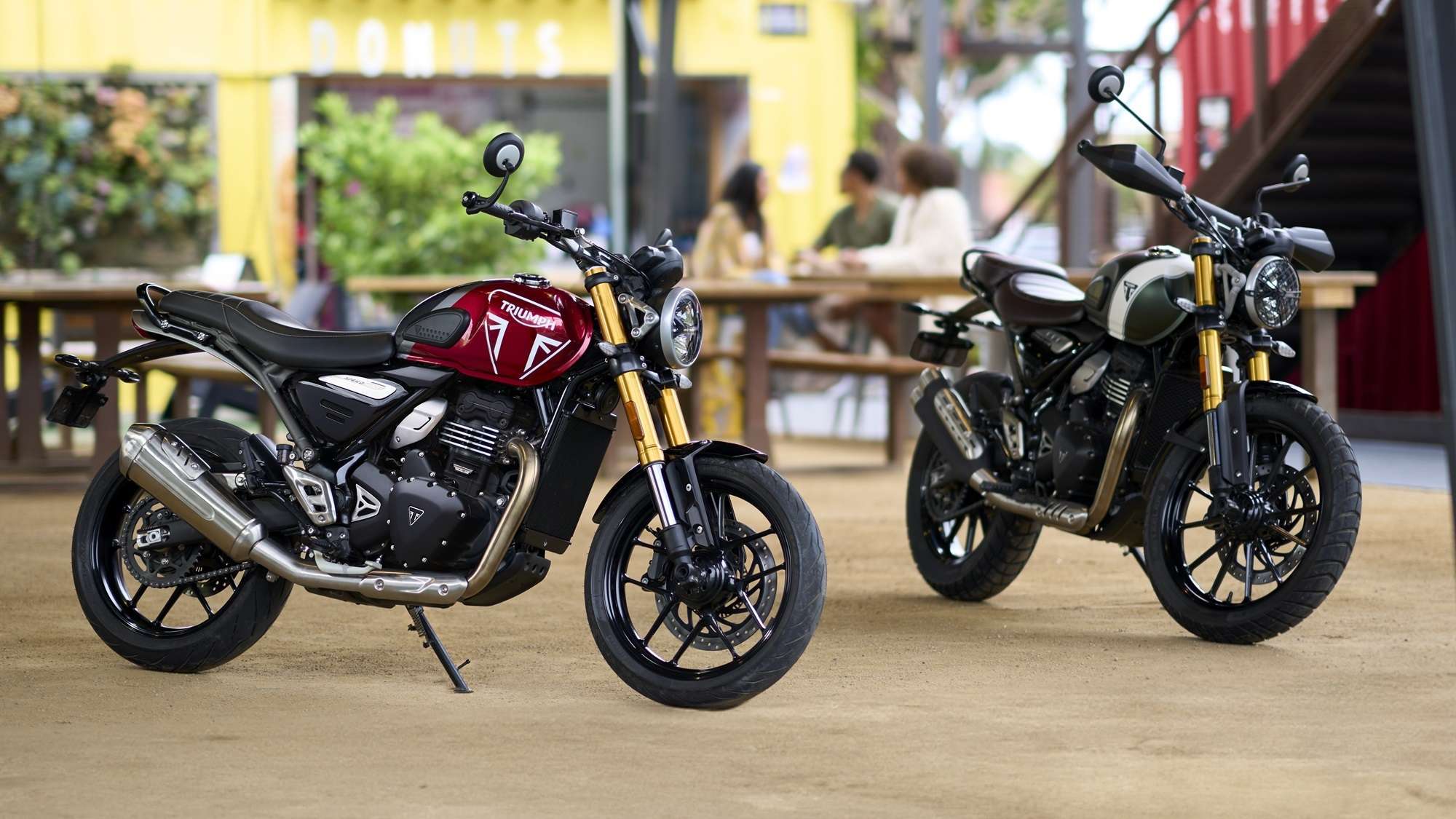 The new Triumph Speed 400 & Scrambler X specifications
398.15 cc fuel injected single cylinder
40 PS @ 8000 rpm
37.5 Nm @ 6500 rpm
Ride by wire
Assist and Slipper clutch
6 speed
17 inch 110/70 front for Speed 400
19 inch 100/90 front for Scrambler 400 X
17 inch 150/60 for Speed 400
17 inch 140/80 for Scrambler 400 X
43 mm USD forks
140 mm travel for Speed 400
150 mm travel for Scrambler X
300 mm front disc for Speed 400
320 mm front disc for Scrambler 400 X
170 kg kerb weight Speed 400
179 kg kerb weight Scrambler 400X
790 mm seat height for Speed 400
825 mm seat height for Scrambler 400 X
13 l tank
Switchable traction control
Dual Channel ABS on both
Switchable ABS on the Scrambler 400 X
The Speed 400 boasts two-tone paint schemes, including Carnival Red, Caspian Blue, and Phantom Black colors, each featuring a prominent Triumph tank graphic. Meanwhile, the Scrambler 400 X exudes an all-road attitude with its stylish color schemes, including Matt Khaki Green and Fusion White, Carnival Red and Phantom Black, as well as Phantom Black and Silver Ice options. With trademark black powder-coated engine casings, gold anodized forks, and high-quality paint, these motorcycles exude premium quality from every angle.
Triumph pays homage to its historic 'Trophy' bloodline with the TR-Series engine. The all-new 398cc single-cylinder engine combines modern classic style with state-of-the-art engineering, delivering class-leading performance, responsive power delivery, and a distinctive exhaust note. Technical highlights include a four-valve, DOHC cylinder head, a perfectly balanced crankshaft for optimal rideability, and a finger-follower valvetrain with reduced friction for impressive performance. The six-speed gearbox ensures precise gear selection, maximizing the engine's torque-rich power.
The Speed 400 and Scrambler 400 X prioritize rider comfort and control with their slim waistlines, accessible seat heights, and low weights. These motorcycles offer Triumph's renowned easy, agile, and dynamic handling. The Speed 400 features 43mm big-piston upside-down front forks, a mono-shock rear suspension unit, lightweight 17-inch wheels, and roadster-specific geometry. On the other hand, the Scrambler 400 X boasts a longer wheelbase, longer travel suspension, a larger 19-inch front wheel, and wide handlebars for enhanced stability and control on different surfaces.
Equipped with the latest rider-focused technology, the Speed 400 and Scrambler 400 X enhance convenience, performance, and safety. Ride-by-wire throttle ensures a linear and intuitive response, while traction control and Bosch dual-channel ABS provide added safety and control. Stylish dual-format instruments feature a large speedometer, digital tachometer, fuel range indicator, and gear indicator for clear visibility in all lighting conditions. The torque-assist clutch reduces effort and improves rider confidence, while all-LED lighting enhances visibility.
Personalize your Speed 400 or Scrambler 400 X with over 25 genuine accessories, ranging from styling and comfort to luggage and security options. Triumph accessories are meticulously designed and developed to ensure a perfect fit and function. Customize your motorcycle using the online configurator or purchase accessories from authorized Triumph dealers. All accessories are covered by the same two-year unlimited mileage warranty as the motorcycles themselves.
Experience unrivaled value with the Speed 400 and Scrambler 400 X. These modern classics offer class-leading performance, exceptional quality, and low running costs. With highly competitive pricing, a class-leading 16,000 km service interval, and a two-year unlimited mileage warranty, Triumph provides an unbeatable buyer proposition. These motorcycles will launch in India next month and will be available in other markets later this year. Stay tuned for pricing details in your market.
Embrace the Triumph legacy and ride with confidence on the Speed 400 or Scrambler 400 X. These motorcycles are your gateway to a new era of modern classics.