Royal Enfield has unveiled an exciting array of enhancements for the Meteor 350. Drawing inspiration from the captivating colors of the sky and the horizon, the Meteor 350 introduces a new line-up named "Aurora," complementing the existing Fireball, Stellar, and Supernova variations. This revitalized Meteor 350 collection caters to riders who yearn for open roads and endless horizons, inviting them to elevate their journeys guided by the ever-changing hues of the sky. Priced attractively, the new Meteor 350 Aurora variant is available for INR 2,19,900. The Fireball variant is priced at INR 2,05,900, Stellar at INR 2,15,900, and the Supernova at INR 2,29,900 (all prices are ex-showroom, Chennai).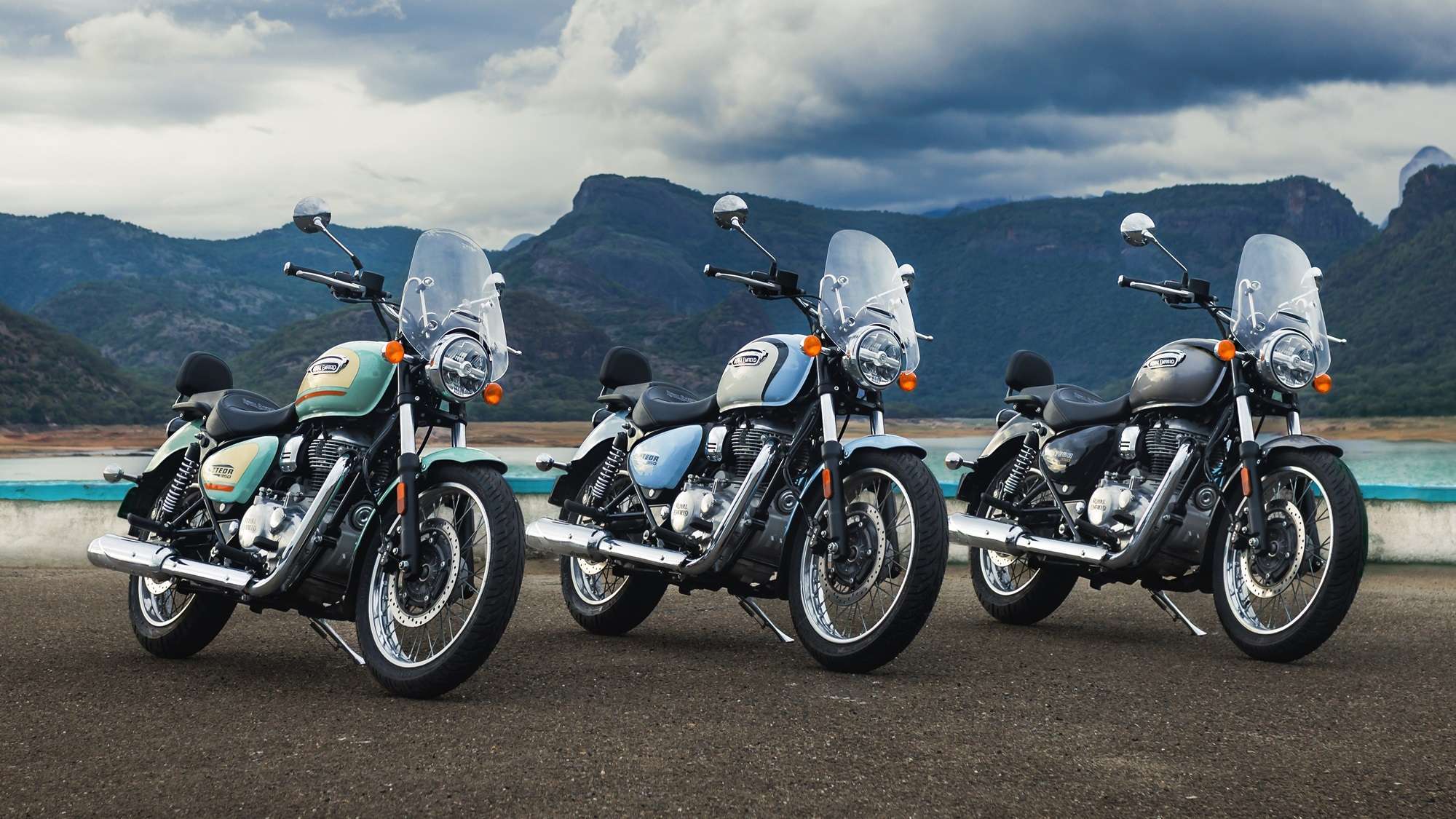 Positioned between the Stellar and Supernova models, the Meteor 350 Aurora introduces a striking palette with Aurora Blue, Aurora Green, and Aurora Black options, perfectly aligning with the easy cruiser's personality. The new Aurora series boasts a distinctive blend of retro-inspired elements, including spoke wheels, tube tires, chrome-finished components like the engine and exhaust system, as well as deluxe touring seats, Tripper navigation, LED headlamps, and aluminum switch cubes. With this latest addition, the Meteor 350 is now tailored for those seeking a vintage-inspired "easy cruiser" from Royal Enfield.
Discussing the fresh features and improvements on the Meteor 350, B Govindarajan, CEO of Royal Enfield, remarked, "As we look back on the incredible success of the Meteor 350 in India and around the world, it's clear that this model has struck a chord with long-distance riders and motorcycle enthusiasts. Its dynamic cruising capabilities and reliable performance have deeply resonated with our riders. The Aurora range is a direct response to our ongoing dialogue with our rider community, where we observed a strong preference for retro-inspired cruisers. The new color options and features are certain to enhance the joy of pure retro cruising for our customers."
In addition to the Aurora variant, the existing Fireball, Stellar, and Supernova ranges have received fresh features and updates. The top-tier Supernova range now offers even more, with LED headlamps, aluminum switch cubes, and other premium enhancements. The Stellar series now includes the Tripper navigation system as a standard feature, while the Fireball is available in an elegant Black as the standard color. Customers can choose from a range of bespoke Genuine Motorcycle Accessories for the Meteor 350 through the MIY modulator.