Honda Motorcycle & Scooter India (HMSI) has launched its latest affordable and fuel-efficient mass motorcycle, the Shine 100, in India, aiming to establish a new paradigm in mass mobility. With this launch, Honda's Shine brand is now entering the 100cc basic mass commuter category, having already established itself as a leader in the 125cc motorcycle segment, thanks to its advanced technology, reliability, and the trust it has earned from customers. The Shine 100 has been developed with 12 patent applications to enhance its reliability. The motorcycle is available in five color options – Black with Red Stripes, Black with Blue Stripes, Black with Green Stripes, Black with Gold Stripes, and Black with Grey Stripes. The all-new Shine 100 is priced attractively at Rs. 64,900 (ex-showroom, Maharashtra).
The Shine 100 is powered by an all-new 100cc OBD2 compliant PGM-FI engine, which is boosted by Enhanced Smart Power (eSP) technology. This feature maximizes energy output by optimizing efficient combustion and minimizing friction, resulting in a smooth and eco-friendly engine. The new engine is lightweight, efficient, and innovative, providing optimum performance, enhanced maneuverability, and class-leading mileage. The fuel pump is located externally, outside the fuel tank, making maintenance easier.
The Shine 100 also features a number of other innovations. The Programmed Fuel Injection (PGM-FI) system uses onboard sensors to inject the optimum fuel and air mixture constantly, ensuring consistent power output, high fuel efficiency, and less emissions. The piston cooling jet reduces friction and maintains the engine's optimum temperature, while the offset cylinder and rocker roller arm further reduce frictional loss. The Solenoid Valve acts as an automatic choke system, ensuring a rich air-fuel mixture and providing the convenience of one-time start at any point in time.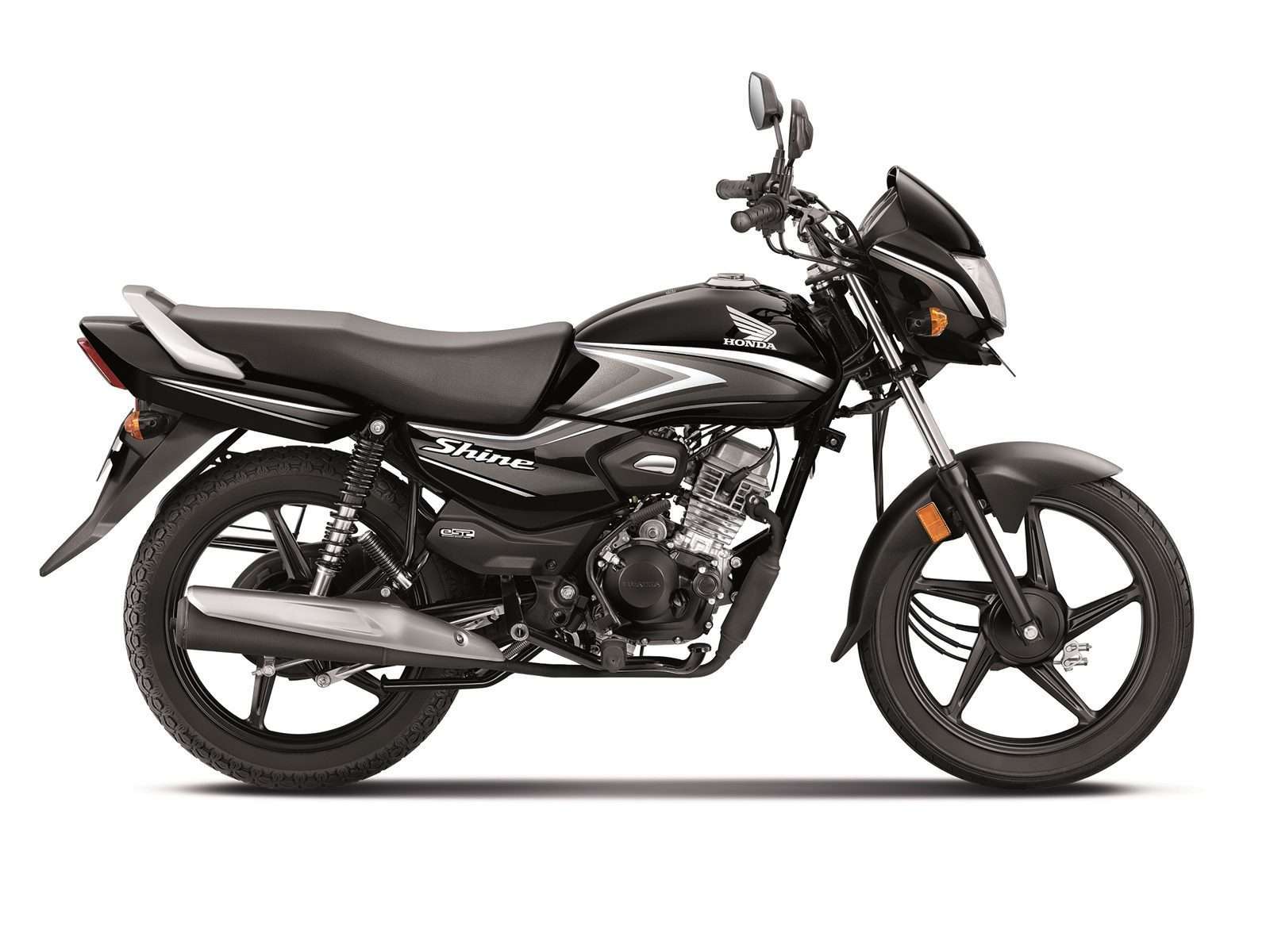 The long and comfortable seat of the Shine 100 provides ample space for the rider and pillion, ensuring unmatched comfort for long-distance rides. The unique tank design and narrow leg opening angle provide excellent knee grip, while the riding position is designed for comfortable family riding and load carrying. The suspension unit is specially developed with a long stroke to manage any road conditions with ease and absorb vibrations on rough surfaces, giving extra stability and confidence to the rider and pillion. The Combi-Brake System (CBS) with Equalizer makes every ride on the Shine 100 comfortable and convenient.
The Shine 100 is built with a lightweight and durable steel frame that contributes to its overall lower weight, providing a soft steering feel and excellent maneuverability. The durable and tough frame is suitable for variable road conditions and can support carrying heavy loads. The small turning radius of 1.9 meters is class-leading in this segment, making it easy to handle the vehicle on narrow roads. The long wheelbase and high ground clearance make the Shine 100 stable at higher speeds and on bad road conditions, inspiring rider confidence.
The Shine 100's enriched design, inspired by India's favorite Shine125, features an overall graphic theme that compliments the elegance of the motorcycle. The front cowl, all-black alloy wheels, practical aluminum grab rail, bold tail lamp, and sleek, distinguished muffler enhance the motorcycle's smooth style. HMSI is also offering a special 6-year warranty package (3 years standard + 3 years optional extended warranty) on the Shine 100.