Aprilia has expanded its sporty lineup to encompass a new market segment, targeting the younger generations and future markets. The RS, once just a concept, now stands as a genuine sports bike, boasting impressive power and a class-leading power-to-weight ratio. It embodies ease and agility, incorporating advanced technology gleaned from elite racing classes, all while maintaining the distinctive and aggressive RS styling.
Aprilia RS 457 specifications
41 mm USD forks with 120 mm travel
Forks are pre-load adjustable
Rear shock has 130 mm travel – pre-load adjustable
17 inch 110/70 front
17 inch 150/60 rear
159 kg dry weight
175 kg wet
46.9 HP
Liquid cooled twin-cylinder
Aluminium frame
5 inch TFT
Bybre 320 mm front / 220 mm rear
Switchable Dual Channel ABS
Ride by wire
3 ride modes
Traction control
Quick shifter as additional accessory
In terms of its framework, suspension, and technology, the Aprilia RS 457 is the embodiment of a true RS. It features a twin-cylinder, liquid-cooled engine with four-valve timing and double overhead camshaft (DOHC), an aluminum alloy frame, and a comprehensive electronic management package with ride-by-wire, adjustable traction control, and three distinct riding modes.
The Aprilia RS 457 aims to establish itself as the new benchmark in technology and style for young motorcyclists worldwide, representing Aprilia's unique take on the sport.
This motorcycle represents a significant milestone for Aprilia, not only in technological advancements but also in its efforts to tap into new markets and cater to the growing global demand for motorcycles that are both accessible and exciting, offering groundbreaking technology and style across a broad spectrum of consumers.
Michele Colaninno, CEO of the Piaggio Group, expressed, "In recent years, the Aprilia brand has undergone a profound renewal, driven by continuous progress in the racing world. The introduction of the 660 family, featuring RS and Tuono models, followed by the Tuareg, expanded our target audience and created a competitive product range. Now, we are poised to take another step towards the future with a remarkable motorcycle developed entirely in Noale, designed to inspire and thrill the younger generation while unlocking potential in new, near, and distant markets. This is a step towards globalizing a brand that has always embodied the perfect fusion of technology, excitement, and forward-thinking."
The RS designation encapsulates Aprilia's interpretation of sportiness. These motorcycles are designed to astonish, incorporating innovations derived from a rich and successful racing heritage that has shaped Aprilia's distinctive motorcycling culture. Aprilia has always been the object of desire for multiple generations, igniting the passion of younger riders with its extraordinary motorcycles. Simultaneously, it has played a leading role in the world of racing, dominating 2-stroke categories, and later establishing its supremacy in SBK competitions and even MotoGP.
With the introduction of the Aprilia RS 660 in 2020, which became the best-selling sports bike in Europe, the brand revolutionized the mid-range sports bike segment, carving out a new niche.
The same winning formula continues with the Aprilia RS 457, a project that originated from scratch, conceived and developed in the same place where all Aprilia motorcycles, including MotoGP machines, come to life. This new offering bridges the gap between the first 125cc engines and the RS 660, completing the RS family, which includes powerful V4 superbikes and, at its pinnacle of technology, the MotoGP-conquering RS-GP.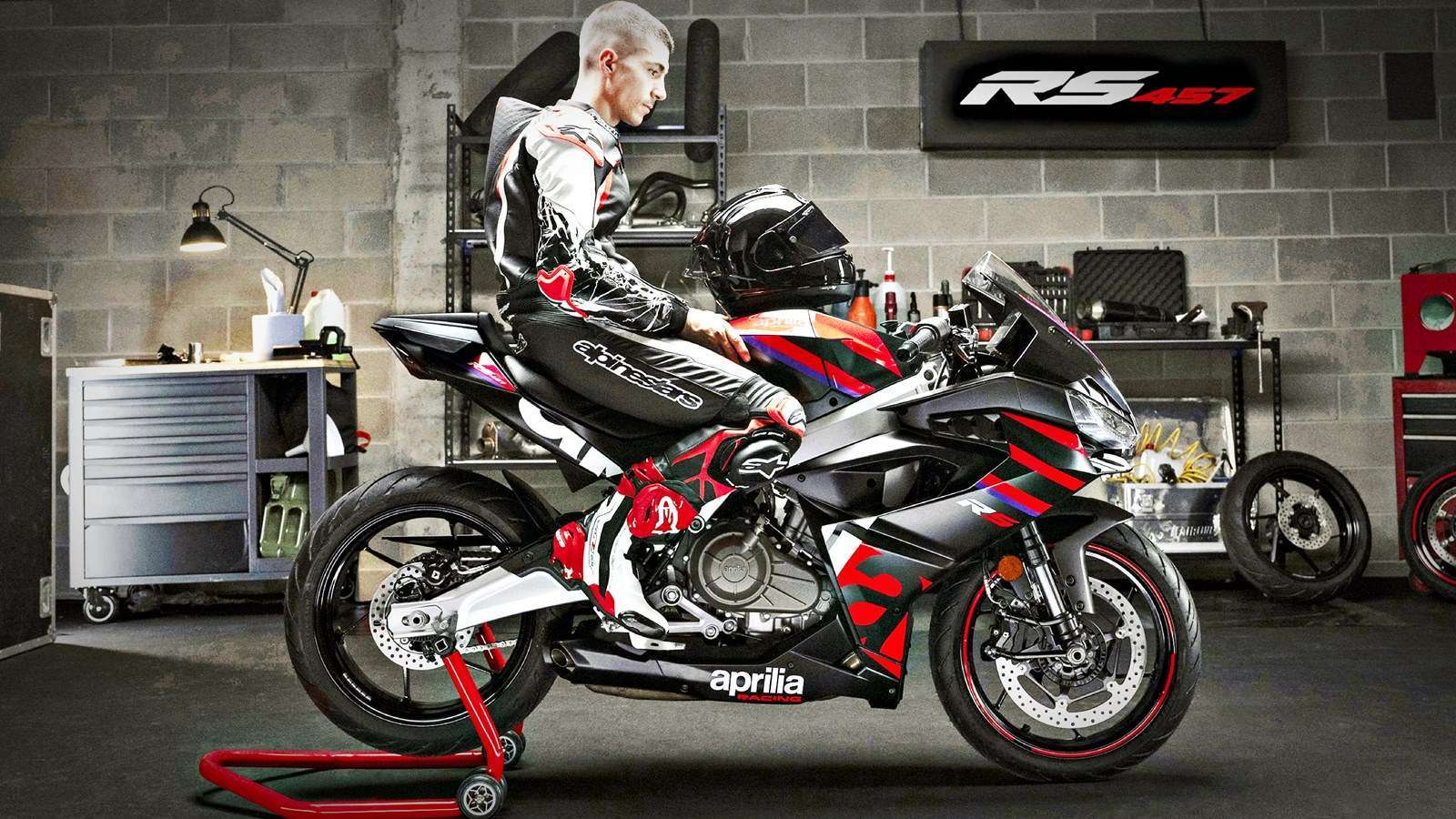 The Aprilia RS 457 speaks directly to younger riders and individuals seeking their first encounter with fully faired motorcycles, leveraging the company's expertise to craft an authentic sports bike. It excels in terms of weight, offering the highest power-to-weight ratio attainable for an A2 license-compliant motorcycle. It boasts nimble handling and an array of technological features, making it the perfect companion for both road and track riding. The ergonomic design includes clip-on handlebars positioned above the upper steering plate, striking a balance between sportiness and riding comfort.
The RS 457's design follows the iconic RS lineage, embracing the super sportbike aesthetics that have left a mark on motorcycling history, from the double front fairing to the underbelly silencer with a 2-in-1 exhaust configuration. The full LED front headlamp incorporates the signature lighting elements found on Aprilia's larger super sports models, and the front turn signals seamlessly integrate with the headlamp's design. The dashboard features a sleek and functional 5-inch TFT color instrument cluster, with backlit handlebar controls.
Under the hood, the Aprilia RS 457 houses a cutting-edge liquid-cooled parallel twin-cylinder engine, boasting double camshaft timing and four valves per cylinder, delivering 35 kW of power, the maximum allowed for an A2 license. Beyond just power, the bike's weight is impressive, measuring 159 kg dry, rising to 175 kg when fueled.
The power-to-weight ratio of the Aprilia RS 457 is unrivaled, thanks to the designers' relentless pursuit of the highest possible performance, which translated into remarkable on-road capabilities during development at Aprilia's headquarters in Noale.
The new engine is complemented by a robust aluminum frame, a unique feature in its segment. Drawing from Aprilia's decades of experience and victories on racetracks worldwide, the crankcase serves as a load-bearing element, ensuring a low weight, dynamic handling, and the riding pleasure for which Aprilia is renowned.
The suspension setup includes a ø41 mm fork with 120 mm of travel and preload adjustability, mirroring the monoshock's capabilities. The latter works in conjunction with the steel swingarm, also adjustable in preload, offering 130 mm of wheel travel. Braking duties are handled by a 320 mm front disc with a ByBre radial-mount 4-piston caliper, while the rear features a 220 mm steel disc. Both are aided by a two-channel ABS system with dual map settings for use on both wheels or exclusively on the front.
The 17-inch sporty rims are shod with 110/70 tires at the front and 150/60 tires at the rear, delivering excellent grip while preserving agility, a hallmark of the new Aprilia.
The electronic suite of the Aprilia RS 457 is tailored to a true sports bike experience, accommodating a diverse range of riders while staying true to Aprilia's heritage. The Ride by Wire system, pioneered by Aprilia both in MotoGP with the RS Cube and in production, manages the engine with three riding modes that influence power, torque delivery, and traction control, with three adjustable levels and the option to deactivate it. Additionally, a quickshifter is available as an accessory.