KTM charges ahead into the model year 2024 with a duo of fresh single-cylinder DUKE models, ushering in greater power, enhanced handling, and a distinct attitude separation among the displacements. In brief, the all-new DUKE lineup eliminates the unnecessary, offering more value for your money. Embracing an unwavering and uncompromising mindset, the entirely new 2024 models mark the most significant transformation for the sub-500 cc capacity DUKE model range since the introduction of the KTM 125 DUKE in 2011. This results in a complete overhaul, introducing new engines, a novel chassis concept, and a fresh design that amplifies the inherently fierce KTM DUKE visual language that riders have grown accustomed to.
For the 2024 iteration, a novel two-part frame configuration takes center stage. Comprising an original steel trellis main frame coupled with an aluminum subframe produced through pressure die-casting, this setup bolsters dynamics by reinforcing torsional rigidity. This, in turn, enhances agility and offers more responsive feedback from the chassis. The package also includes new triple clamps and an adjusted offset, refining handling traits and affording riders heightened control and stability.
Furthermore, the frame is now paired with an innovative curved lightweight swingarm, which contours around a repositioned rear shock absorber. This off-center mounting allows for a larger airbox design while simultaneously reducing overall seat height. Speaking of seat height, the decreased measurement was purposefully integrated into the new DUKE design to grant easier access without compromising stability or handling.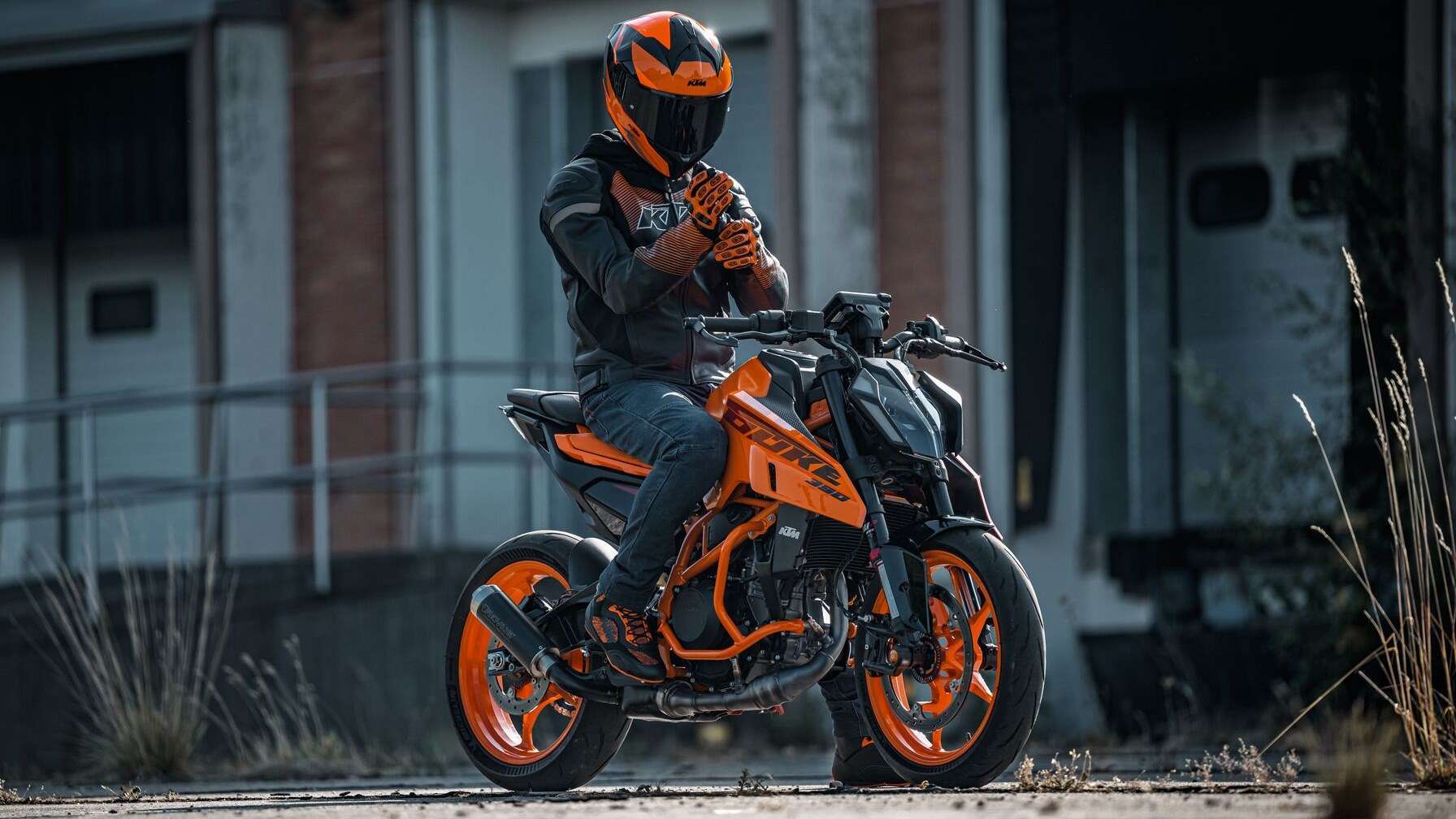 At the heart of the matter lies an entirely fresh generation of compact and lightweight single-cylinder engines. Dubbed the LC4c, this engine lineup consists of a smaller 125 cc variant, a 250 cc option (for specific markets), and a larger 399 cc engine akin to the one found in the KTM 390 DUKE. Drawing from past experiences, these powerplants have been wholly reimagined, sporting optimized cylinder heads, gearboxes, and meeting the stringent EURO 5.2 compatibility standards.
The 2024 KTM DUKE series also establishes a yardstick for real-world technological advancements within the small displacement NAKED motorcycle segment. Across the entire lineup, you'll find the latest version of selectable Supermoto ABS, 5-inch dashboards, and smartphone connectivity as standard features. Additionally, an optional Quickshifter+ can be added for those who desire it.
Injecting more distinctive DUKE characteristics into each division, the 2024 DUKE models stand out with unique identities, complete with new metal fuel tanks and premium surface finishes.
The 2024 KTM 390 DUKE rightfully claims its position as the flagship model, distinguished from the rest of the single-cylinder DUKE lineup by key differences. Signature Electronic Orange and Atlantic Blue color choices command attention, while elongated tank spoilers featuring prominent air intakes, larger radiator covers, and external LED positioning lights complete the ensemble.
Power is amply supplied by an all-new lightweight 399 cc single-cylinder LC4c engine. Not only is it lighter and more potent than its predecessor, but it also meets EURO 5+ standards and introduces a rejuvenated persona to the KTM 390 DUKE.
2024 KTM 390 DUKE
The 2024 KTM 390 DUKE also boasts a 43 mm WP APEX Open Cartridge front fork with 5-click adjustability for both rebound and compression, along with a split-piston rear shock absorber featuring adjustable rebound and preload settings. This ensures that handling can be tailored to perfectly suit the rider's preferences.
As you throw your leg over the seat, you'll be greeted by an all-new 5-inch TFT display offering selectable ride modes. The default setting is the STREET Mode, while RAIN Mode, as the name implies, is selectable in adverse weather conditions for gentler throttle response. Additionally, Cornering MTC comes as standard equipment.
For the first time, the TRACK screen is available on the KTM 390 DUKE, providing access to features like an enlarged RPM display, launch control for precise starts, and even a lap timer, catering to those who crave an exhilarating experience. Unnecessary information is minimized to ensure a focused ride.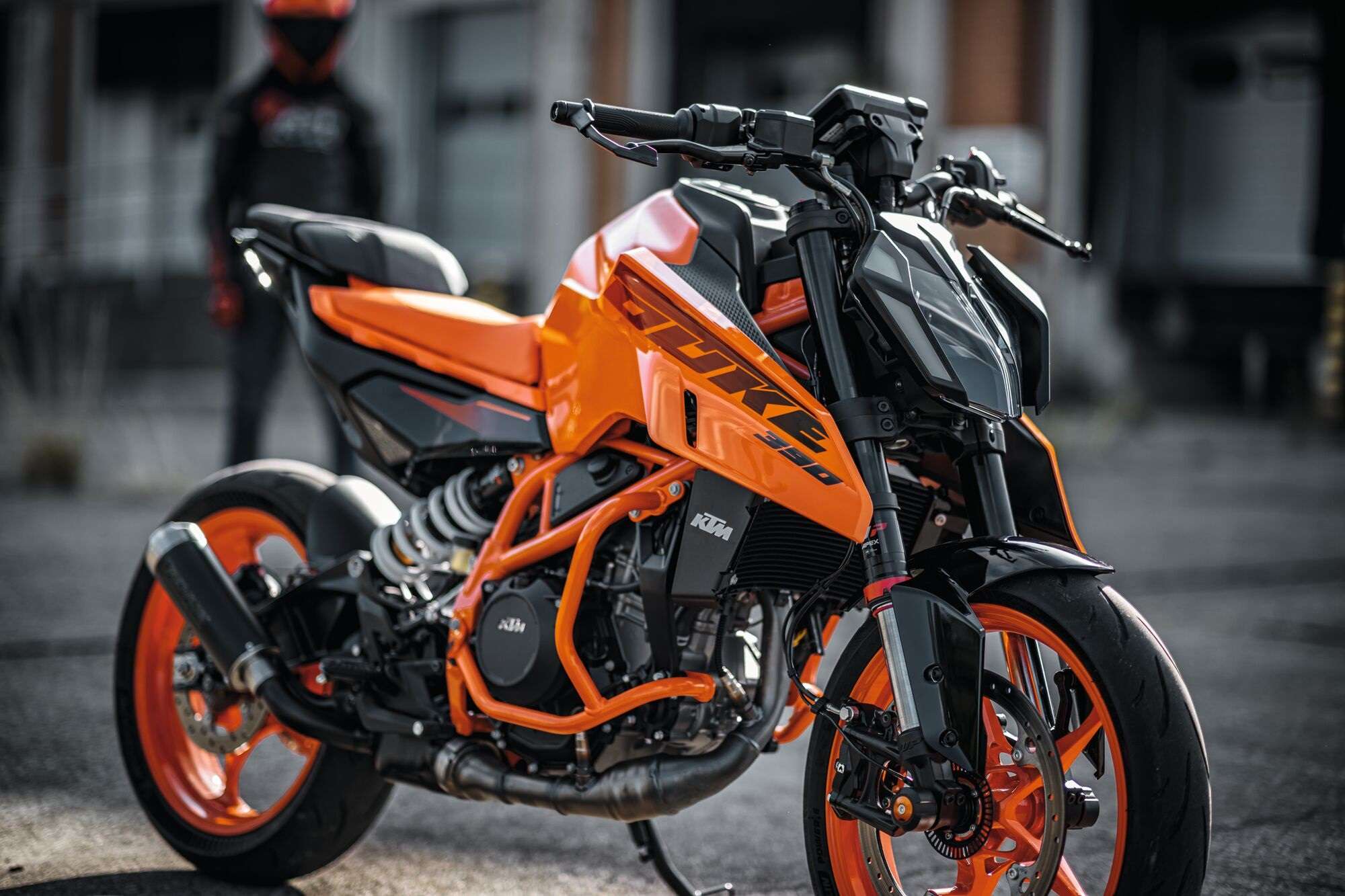 2024 KTM 250 DUKE
The 2024 KTM 250 DUKE casts a slender and compact silhouette, owed in part to its smaller tank spoilers compared to the KTM 390 DUKE. These harmonize with painted headlight surrounds and a lower seat height. Distinguishing itself from the rest of the range are a new 5-inch LCD display, LED headlight, and fresh Electronic Orange and Ceramic White color options.
The 2024 KTM 250 DUKE also boasts an improved power-to-weight ratio over its predecessor, owing to a new Single Overhead Cam (SOHC) design that is lighter and simpler, coupled with ride-by-wire technology and a power assist slipper clutch.
Suspension duties are handled by a non-adjustable 43 mm WP APEX Open Cartridge big piston fork configuration offering 150 mm of travel, along with a WP APEX Emulsion shock absorber equipped with preload adjustability at the rear.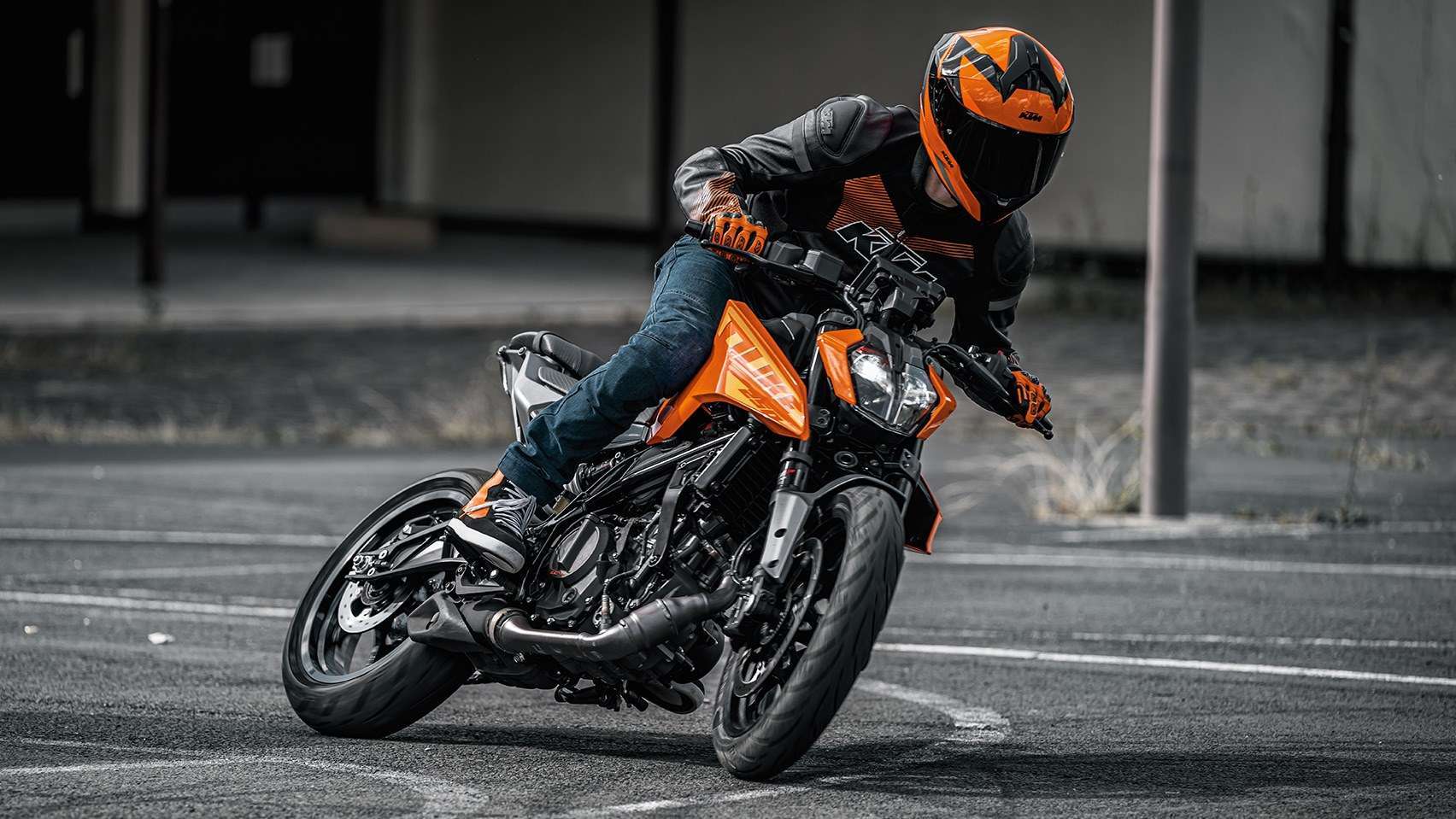 2024 KTM 125 DUKE
While occupying the entry level of the KTM Naked range, the KTM 125 DUKE effortlessly dominates the small capacity engine segment. Boasting a robust 125 cc engine, cutting-edge electronics, and WP APEX suspension, the 2024 KTM 125 DUKE reaches new pinnacles.
From a visual perspective, the 2024 KTM 125 DUKE sets itself apart from its smaller DUKE counterparts through all-new Electronic Orange and Atlantic Blue color choices, a painted headlight surround housing a brilliantly bright LED headlight, and compact tank spoilers.
On the electronic front, the 2024 KTM 125 DUKE shares its 5-inch TFT display with the KTM 390 DUKE, offering the option to select the TRACK screen, along with standard Cornering ABS. A refined ride-by-wire system and Automatic Turn Indicator Reset complete the package.
The 2024 KTM 125 DUKE also incorporates a 43 mm WP APEX Open Cartridge non-adjustable front fork with 150 mm of travel and a WP APEX Separate piston shock absorber featuring tool-adjustable preload.