For 2024, the NK series has undergone a comprehensive transformation with an all-new CFMOTO 450NK. Equipped with a robust 449cc parallel-twin engine platform, updated exterior design, and enhanced functionality, this model introduces novel riding experiences for all riders. It serves as an excellent entry point for those seeking a sporty yet comfortable naked bike, offering effortless handling, comfort, and dynamic engine performance.
2024 CFMoto 450 NK specifications
449 cc parallel twin
46.26 HP @ 10,000 rpm
39.3 Nm @ 7,750 rpm
270 degree firing order
37 mm front USD forks
192 mm ground clearance
14 L tank
320 mm front disc with radial callipers
220 mm rear disc
Dual channel ABS
Traction control
5 inch tft display
165 kg kerb weight
795 mm seat height
Slipper clutch
2024 CFMoto 450 NK Comfort and Handling
Weighing a mere 165 kg, the CFMOTO 450NK boasts one of the most competitive curb weights in its category. This lightweight construction contributes to agile handling, while the seat height of 795 mm ensures accessibility for riders desiring a lower, more comfortable riding stance.
The design, with a wider front and narrower rear seat cushion, enhances rider comfort. Coupled with thoughtfully positioned foot pegs and handlebars, it creates a neutral and comfortable posture that encourages riders to prolong their time on the saddle.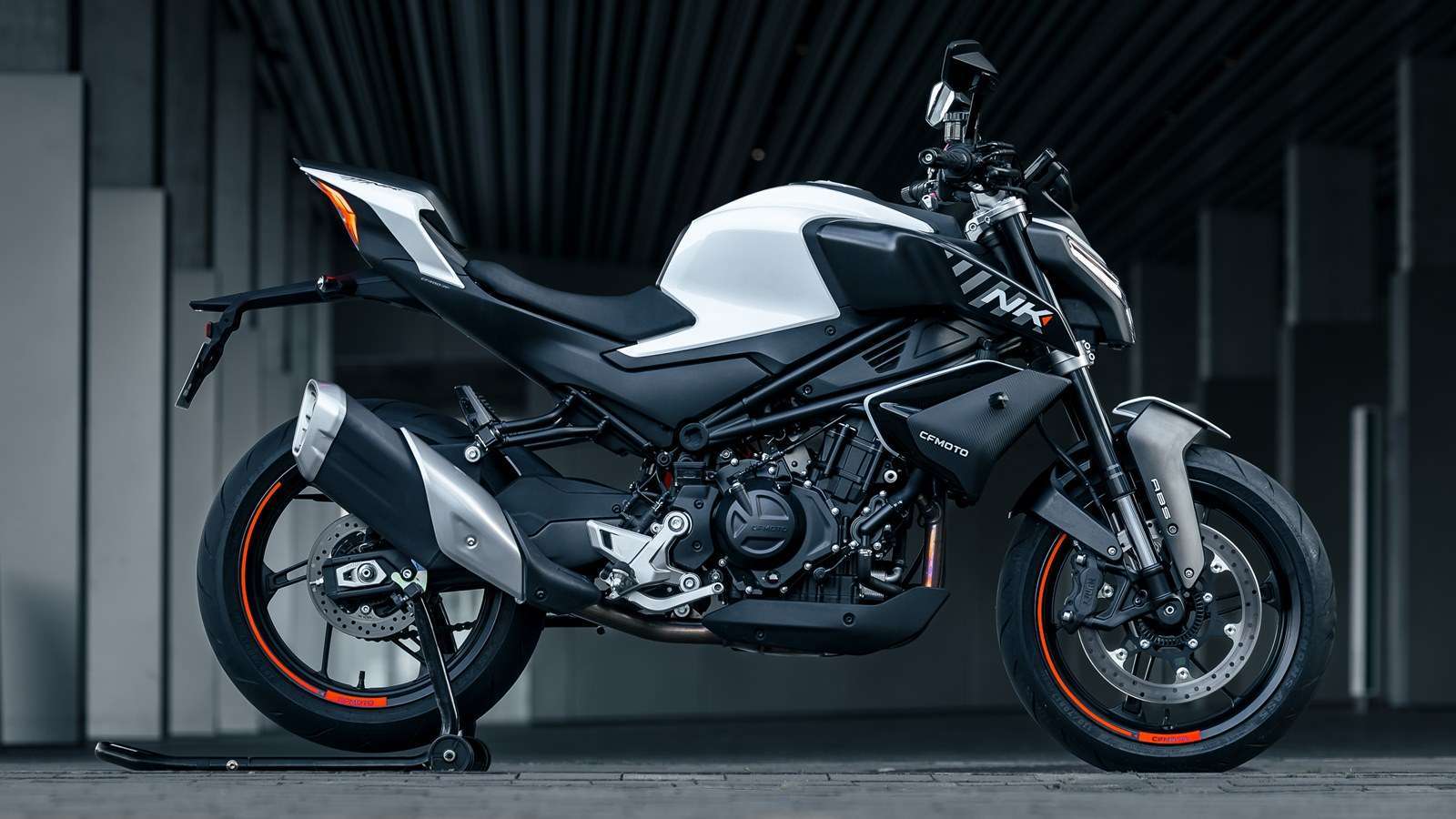 2024 CFMoto 450 NK Engine
Powered by a 449 cc parallel twin-cylinder engine developed and manufactured by CFMOTO, the CFMOTO 450NK generates 34.5 kW at 10000 rpm and 39.3 Nm at 7750 rpm. This power output delivers ample performance along a smooth power curve. The engine's capabilities translate to a noteworthy acceleration of 0 to 100 km/h (approximately 62 mph) in just 4.9 seconds and a top speed of 178 km/h (approximately 110 mph).
The incorporation of a new 270° crankshaft leads to engine characteristics akin to those found in V-twin engines, producing a robust engine sound and impressive throttle response. Additionally, a dual-balance shaft configuration minimizes engine vibration, contributing to a more comfortable riding experience. With a 14-liter fuel tank, riders can enjoy extended ride times between refueling stops, making the CFMOTO 450NK an ideal choice for both daily commuters and recreational riders.
2024 CFMoto 450 NK Chassis, Brakes, and Suspension
In terms of handling, the CFMOTO 450NK leverages premium components to ensure optimal handling and user-friendliness. The front features a 37 mm upside-down fork, delivering confident stability and control with a sporty touch. The rear is equipped with a center-aligned shock absorber that enhances traction during acceleration and offers comfort even on uneven surfaces.
The wheel and tire combination, with a front 110/70 R17 and rear 150/60 R17 setup, further elevates the 450NK's handling capabilities. The inclusion of optimized CST AS5 high-performance tires as standard provides exceptional grip across various road conditions. Braking duties are effectively handled by a 320 mm J.JUAN front disc and a 220 mm HANGTE rear disc, supported by ABS, ensuring precise and controlled braking performance at all times.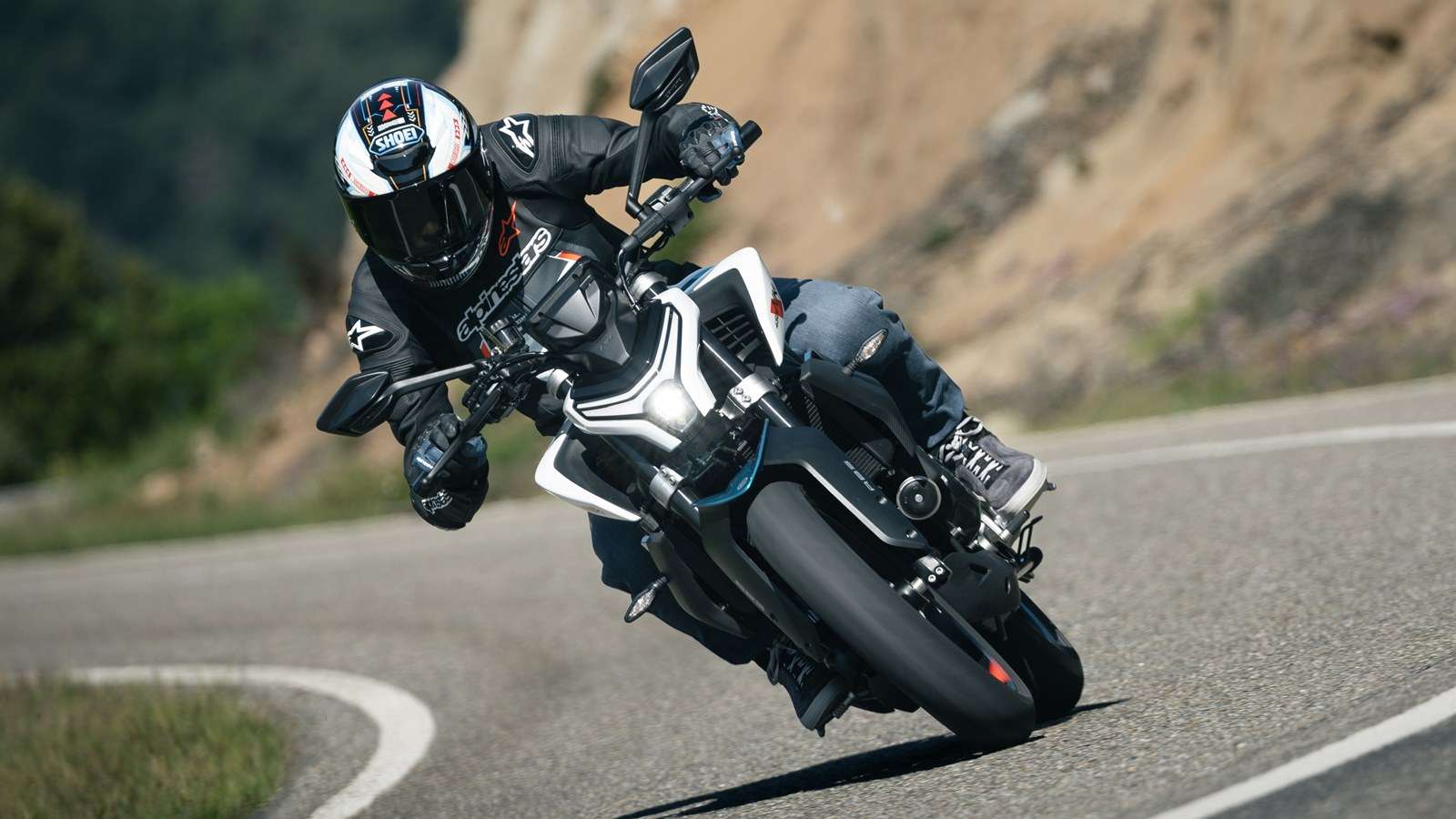 2024 CFMoto 450 NK Rider Assistance
Beneath its sleek and assertive appearance, the CFMOTO 450NK integrates an advanced traction control system for enhanced safety. This system curtails rear-wheel slip in scenarios of low traction. Additionally, a slipper clutch is standard, enabling riders to efficiently manage the gearbox during deceleration without concerns of rear wheel lockup.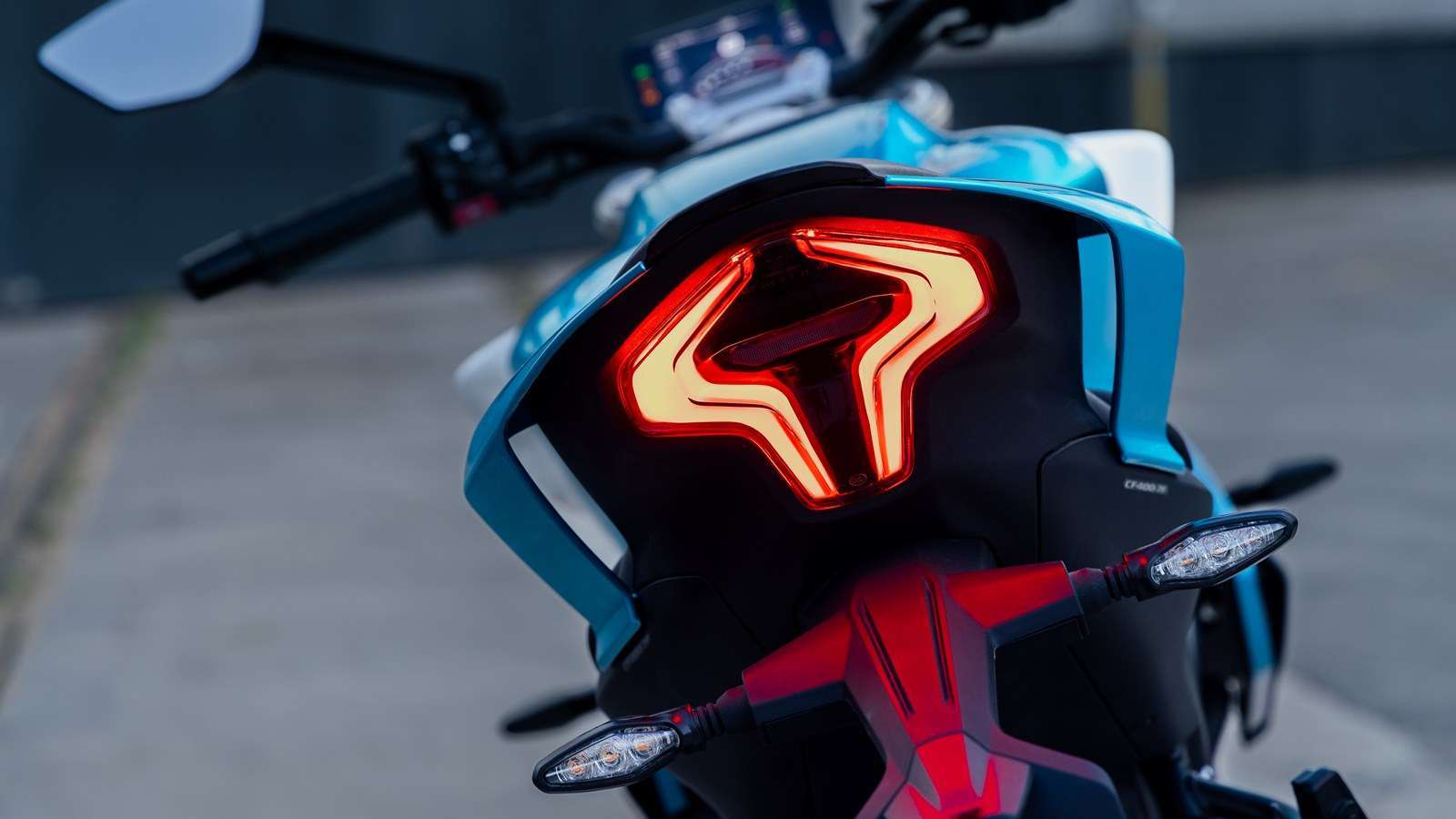 2024 CFMoto 450 NK Connectivity and Riding Experience
The front of the motorcycle features an intuitive 5-inch curved TFT display, offering straightforward navigation guidance and a built-in shift light to assist riders in optimal gear changes. An optional T-box introduces seamless smartphone connectivity, enabling over-the-air updates, anti-theft features, tracking capabilities, and real-time access to vehicle information through the CFMOTO RIDE app. To cater to smartphone charging needs, a Reserve Type C/Type-A charging port can be added for added convenience.