Jawa Yezdi Motorcycles has introduced new colour additions to their motorcycles – the Jawa 42 and Yezdi Roadster with minor mechanical changes to enhance comfort and riding style. The newly launched Jawa 42 Dual Tone and Yezdi Roadster variants look to be interesting.
Both versions are available in four exciting new color options and come with various enhancements, promising an unmatched riding experience. The starting price for the new Jawa 42 Dual Tone is Rs. 1,98,142, while the new Yezdi Roadster begins at Rs. 2,08,829. These bikes are available at dealerships alongside the existing Jawa 42 and Yezdi Roadster models. The Jawa 42 range now starts at Rs. 1,89,142, and the Yezdi Roadster range starts from Rs. 2,06,142 (all prices are ex-showroom Delhi).
2023 Jawa 42 Dual Tone
The New Jawa 42 Dual Tone is a reimagined version of the Jawa 42. This Dual Tone variant boasts clear lens indicators, short-hang fenders, and a newly designed dimpled fuel tank, all complemented by premium diamond-cut alloy wheels. Additionally, the engine and exhaust components feature a Raven texture finish to enhance the contrast of the premium dual-tone color schemes, including Cosmic Rock, Infinity Black, Starship Blue, and Celestial Copper. The seat has also been redesigned to match the new sportier look.
This new variant comes with a redesigned bash plate, new handlebar-mounted mirrors, and fresh handlebar grips. All Jawa 42 models are powered by a 294.7cc liquid-cooled single-cylinder engine, delivering 27.3PS and 26.8Nm of torque. With peak torque available at just 5,750rpm, the 42 is an excellent city bike that performs admirably on the highway. It comes with a smooth six-speed gearbox and class-leading dual-channel ABS for safety.
Mr. Ashish Singh Joshi, CEO of Jawa Yezdi Motorcycles, shared his thoughts on the introduction of these two premium variants, saying, "At Jawa Yezdi Motorcycles, our journey extends beyond motorcycles; it's a story of passion, innovation, and our unwavering commitment to crafting machines that transcend generations. We continuously strive for evolution and innovation to create motorcycles that are not only admired but also cherished and desired. The introduction of the new Jawa Forty-Two and Yezdi Roadster is a testament to our pursuit of excellence and our responsiveness to customer feedback. These motorcycles are our promise to riders that they are part of something enduring and beautiful."
2023 Yezdi Roadster
Yezdi Roadster: The new Yezdi Roadster has been made more touring-friendly with significant changes in the ergonomics department. Notable changes include revised rider foot pegs (moved forward by 155mm) and a taller handlebar. This update reflects the brand's commitment to customer feedback. With this new variant alongside the existing Roadster, customers now have the choice of selecting the rider triangle that suits them best.
Similar to the new Jawa 42, the Yezdi Roadster features design updates such as a sportier knee recess, premium diamond-cut alloy wheels, and a Raven texture finish on the engine and exhaust. It also includes new handlebar grips and handlebar-mounted mirrors, addressing customer feedback.
A significant addition is the new exhausts. Whether it's their curved routing reminiscent of classic Yezdis or the spirited exhaust note they produce, the Roadster is all about enjoying the ride. This new model is available in four new colors, including three dual-tone themes: Rush Hour Red, Forest Green, and Lunar White, as well as a solid theme – Shadow Grey.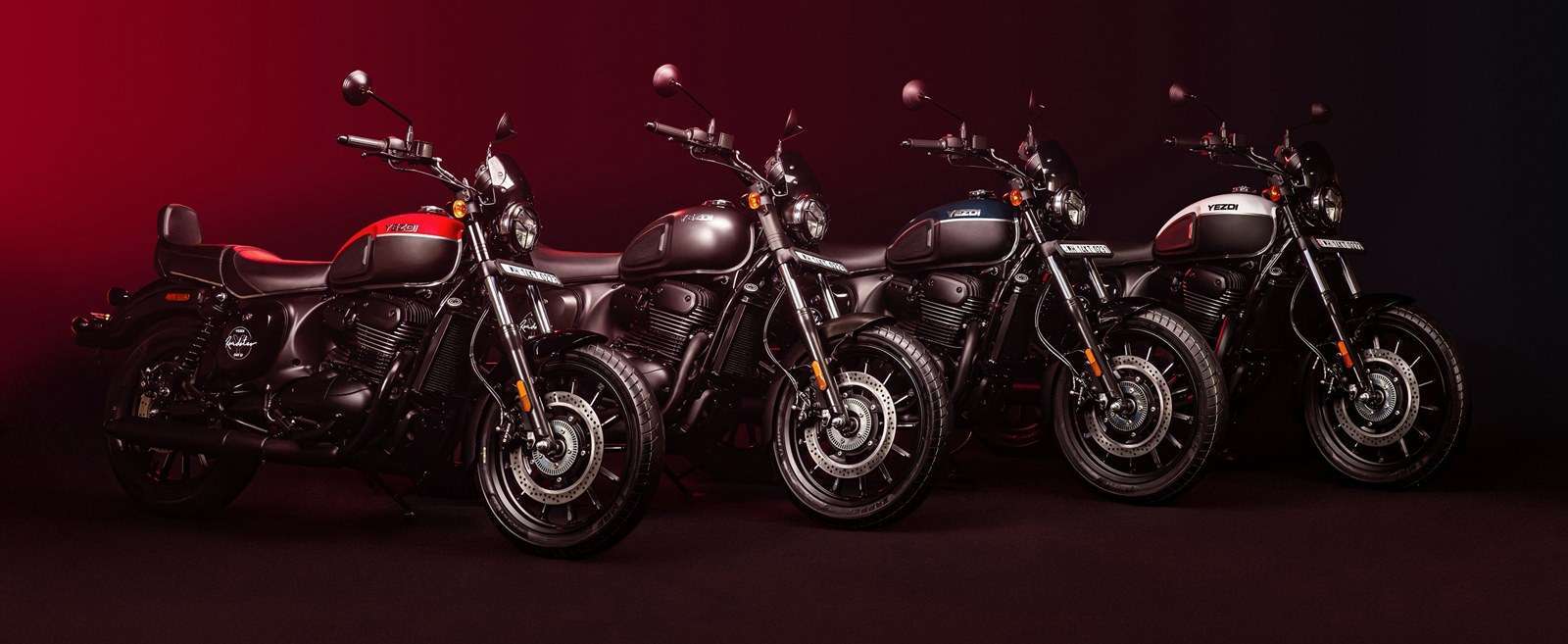 The Yezdi Roadster range is powered by a lively 334cc liquid-cooled single-cylinder engine, delivering 29.5PS and 28.9Nm of torque. It features class-leading dual-channel ABS and boasts a long 1440mm wheelbase for effortless highway cruising.