Moto Morini India has announced its motorcycle range for the Indian, it comprises of X-Cape 650, X-Cape 650X, SEIEMMEZZO 6 ½ Retro Street & Scrambler. The new offerings are an emblem of Made in Italy excellence and prestige that promotes superior products, considerate services, and a unique riding experience. 
Founded in 1937 by Alfonso Morini, Moto Morini is one of the iconic Italian motorcycle manufacturers known for persistence, innovation, devotion, aesthetics, and performance. The brand has a substantial racing pedigree and is renowned for making lightweight, fast race bikes through the 50s and 60s, a DNA that the current generations of these motorcycles inherit. Moto Morini motorcycles are made with love, passion, and an aim to be the best companion to experience freedom during the ride.  
Speaking about the association, Mr. Vikas Jhabakh, Managing Director, Adishwar Auto Ride India PVT. LTD said, "Moto Morini Motorcycles are adored for their, stylish design, eye-catching aesthetics, robust built, and racing pedigree. The brand has received a good response in the European market; we aim to strengthen the brand in India with a similar approach. Additionally, we have seen a shift in the Indian superbike market in last few years, and it is encouraging to see how the segment has matured, giving us confidence that there is a great potential for these product lines."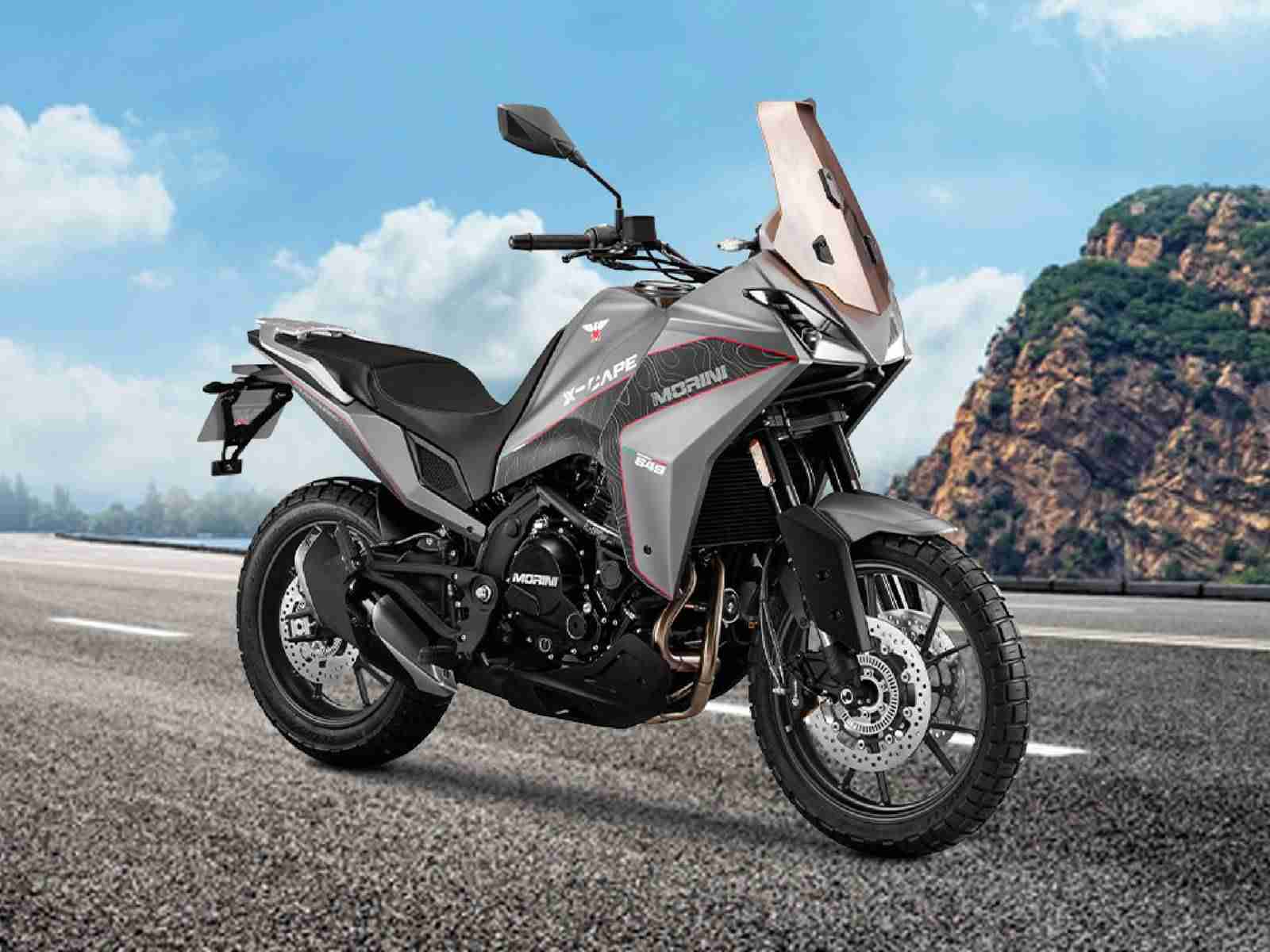 X-CAPE
The X-Cape is Moto Morini's stylish Tourer and Adventure Tourer. That defines a new way of living the motorcycle with versatility, comfort and fun distilled in one futuristic, eye-catching design.
The powerful yet smooth 649cc, in-line twin-cylinders, 4 stroke, 8 valve liquid cooled engine with Bosch EFI produces a massive 60HP@8250RPM and 54NM@7000 RPM. Perfect for those looking for a faithful, untiring companion.
The large 50 mm diameter front adjustable fork from Marzocchi are complimented by KYB rear shock absorbers. These along with 19" Pirelli Scorpion Rally STR tyres, Brembo brakes and Bosch Dual Channel ABS guarantee enormous grip, making the X-cape suitable for twisting mountain passes as well as off road dirt tracks. A huge 18 Litre fuel tank to ensure the no distance is ever daunting.
The large comfortable saddle has enough space for the pillion to share the journeys. Easy to mount as is only 810mm/835mm off the ground, but ergonomically perfect even for taller riders.
The large 7" TFT screen, amongst the biggest on the market. Provides complete and clear access to all necessary information, both on adventure rides and in chaotic urban traffic.
The windscreen is adjustable and requires only one hand, the eagle eye double lens full LED headlights and backlit switch gear, complete the range of a decidedly superior standard equipment which would impress the most ardent adventurer.
SEIEMMEZZO 6 ½
The Seiemmezzo 6 ½ is more than just a motorcycle; it represents a proper family within the Moto Morini world.
Versatile, fun and stylish, a trusted companion for both daily commute and day trips. It is easily able to set itself apart by being stable and easy to ride, typical of the Moto Morini motorcycles.
The SEIEMMEZZO 6 ½ range was born with the aim of satisfying two motorcycle families: those who love naked bikes can find in their favorite playmate in the Retro Street version and those who like attention and style will find company in the Scrambler version's unique design and personality
Powered by the highly acclaimed 649cc, in-line two cylinders, 4 stroke, 8 valve liquid cooled engine with Bosch EFI which produces a massive 55Hp@8250RPM and 54NM@7000 RPM. It has more than enough grunt to keep you engaged in meandering city traffic or twisting weekend rides.
The advance 20Cr-Mo Steel frame, which to look like fish scales under a microscope, provide rigidity and stability. Further complimented by the KYB suspension, Brembo brakes, Pirelli tyres and Bosch dual channel ABS.
The full LED projector headlights with DRL's give the bike a simple and handsome look. While the intuitive instrument cluster with 5" TFT screen ensure a clean and complete display of all pertinent information.
Specification:
X-CAPE 650
ENGINE
Type
Inline Twin cylinder liquid cooled engine, 4–stroke, DOHC, 8-valves
Displacement
649 cc
Power
60Hp@8250rpm
Torque
54Nm@7000rpm
Transmission
6-Speed
Drive System
Chain
DIMENSIONS
L x W x H
2200 x 900 x 1390
Wheelbase
1480 mm
Min Ground Clearance
175mm
Fuel Tank Capacity
18 Litres
Seat Height
810mm
CHASSIS
Front Suspension
Upside down telescopic fork, fully adjustable in preload, damping in compression and rebound
Rear Suspension
Single shock absorber adjustable in preload and rebound damping
Front Brake
Double floating disc, diameter 298 mm, four pistons caliper
Rear Brake
Single disc, diameter 255 mm, double piston caliper
ABS
Dual-Channel
WHEELS
Front Tyre
110/80 -19
Rear Tyre
150/70 -17
Wheel
Alloy
X-CAPE 650 X
ENGINE
Type
Inline Twin cylinder liquid cooled engine, 4–stroke, DOHC, 8-valves
Displacement
649 cc
Power
60Hp@8250rpm
Torque
54Nm@7000rpm
Transmission
6-Speed
Drive System
Chain
DIMENSIONS
L x W x H
2200 x 900 x 1390
Wheelbase
1480mm
Min Ground Clearance
175mm
Fuel Tank Capacity
18 Litres
Seat Height
835mm
CHASSIS
Front Suspension
Upside down telescopic fork, fully adjustable in pre-load, damping in compression and rebound
Rear Suspension
Single shock absorber, adjustable in pre-load, and rebound damping
Front Brake
double floating disc, diameter 298 mm, four pistons caliper
Rear Brake
Single disc, diameter 255 mm, double piston caliper
ABS
Dual-Channel
WHEELS
Front Tyre
110/80 -19
Rear Tyre
150/70 -17
Wheel
Spoke
Seiemmezzo 6 ½ – Retro Street Specifications
ENGINE
Type
Inline Twin-cylinder liquid cooled engine, 4-stroke, DOHC, 8-valves
Displacement
649 cc
Power
55 Hp@8250rpm
Torque
54 Nm@7000rpm
Transmission
6-Speed
Drive System
Chain
DIMENSIONS
L x W x H
2150 x 820 x 1120
Wheelbase
1440mm
Min Ground Clearance
170mm
Fuel Tank Capacity
15.5 Litres
Seat Height
795mm
CHASSIS
Front Suspension
43mm upside-down forks with 120mm travel
Rear Suspension
Adjustable monoshock with 118mm travel
Front Brake
Double Disc
Rear Brake
Single Disc
ABS
Dual Channel
WHEELS
Front Tyre
120/70 – 18
Rear Tyre
160/60 – 17
Wheel
Alloy
Seiemmezzo 6 ½ – Scrambler Specifications
ENGINE
Type
Inline Twin-cylinder liquid cooled engine, 4-stroke, DOHC, 8-valves
Displacement
649 cc
Power
55 Hp@8250rpm
Torque
54Nm@7000rpm
Transmission
6-Speed
Drive System
Chain
DIMENSIONS
L x W x H
2150 x 890 x 1155
Wheelbase
1440mm
Min Ground Clearance
170mm
Fuel Tank Capacity
15.5 Litres
Seat Height
795mm
CHASSIS
Front Suspension
43mm upside-down forks with 120mm travel
Rear Suspension
Adjustable monoshock with 118mm travel
Front Brake
Double Disc
Rear Brake
Single Disc
ABS
Dual Channel
WHEELS
Front Tyre
120/70 – 18
Rear Tyre