We all want many motorcycles and that list is never ending. But dreams apart in the real world we want one motorcycle that we can keep for long, and that one motorcycle should do it all. This one machine should be touring friendly and capable to handle our road conditions, it should be comfortable both for the long haul and the commute and it should be simple to maintain and well made to last a life time. The Suzuki V-Strom 650 XT ABS is a machine that comes with that sort of a promise. Can it be the one?
The V-Strom 650 XT ABS looks like a big bike, not as big as a full-fledged ADV machine, but big enough to stand tall and apart from pretty much anything you see our roads. Hop on to that saddle which is 830 mm off the ground and the V-Strom might make you think it's going to be a handful.
Get going and immediately, you are filled with confidence that you can do with this machine what the guys in all your wallpapers have been doing. It's a very easy to ride motorcycle and you feel that you have ridden it before.
The V-Twin engine has been built and tuned keeping refinement and durability as its top character and that's definitely evident. The engine character is that of a typical V-Twin, with a lot of torque low down. So if you want to have fun you need to keep riding that torque wave as higher up in the revs post 9k RPM there is very little to gain. The 100 cruise is at about 4500 RPM and it will do the 120-140 band effortlessly and still be happy after an 800 km day.
You can take the bike all the way past 180 but the V-Strom is happy at the 120-140 band and quite efficient too in this range returning 25 km to the litre consistently. Couple that with the 20L tank and that's easily a tank range of 400 kms any day.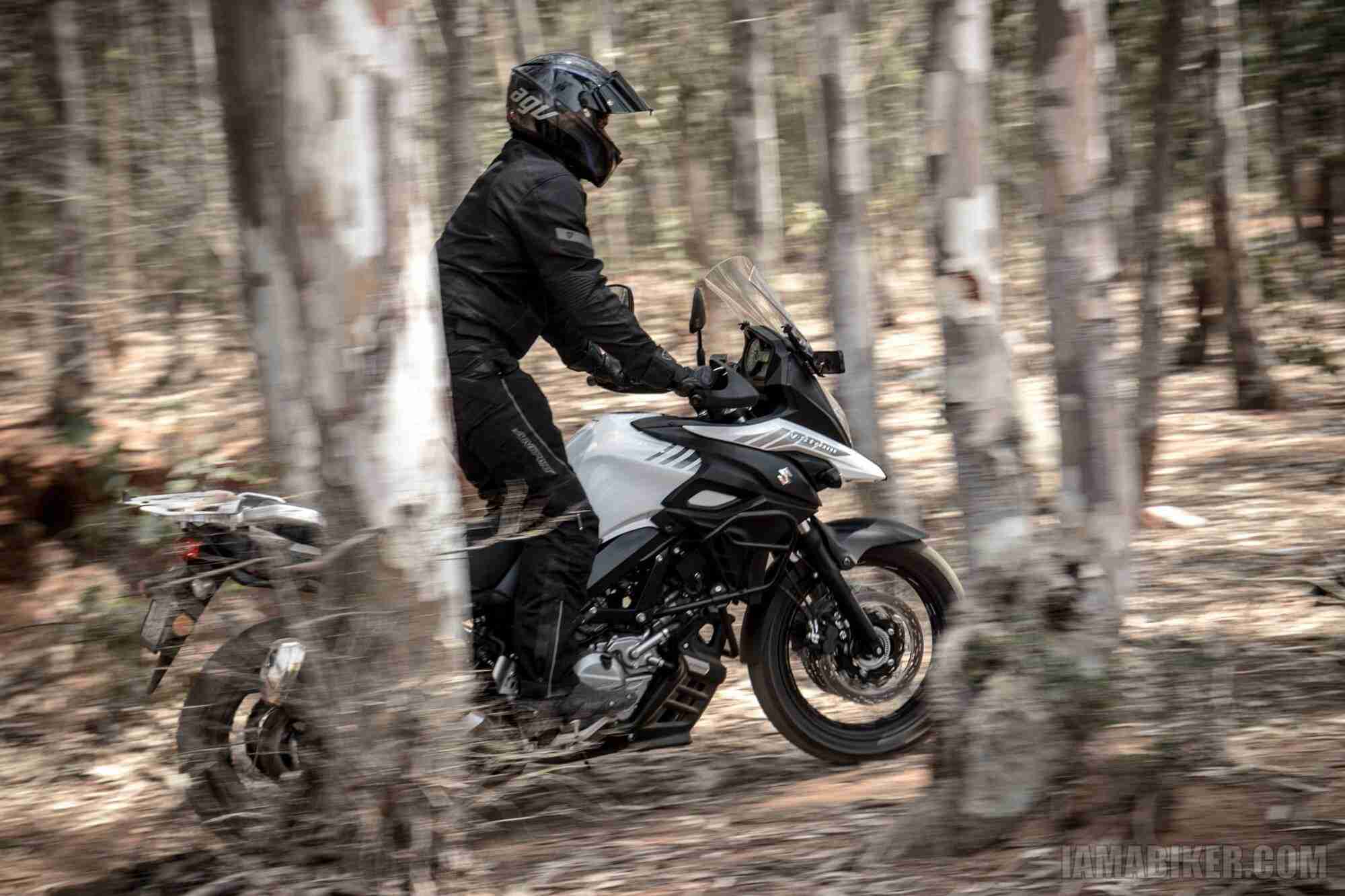 There are 2 levels of traction control available and it can be switched off as well if you want to really kick out that rear wheel. And dual channel ABS comes in as standard and is always on.
Just like the approachable and friendly engine character the V-Strom 650 has easy to ride dynamics as well. There is a bit of a learning curve on how to manage a tall and long machine like this but it is never intimidating.
The riding positing is comfortable, but we felt the reach and width to the handle bars could have been a bit shorter to make it comfortable for riders of all statures. That said, they are quite handy when you are up on the pegs and grabbing the tank by your knees and give you good control.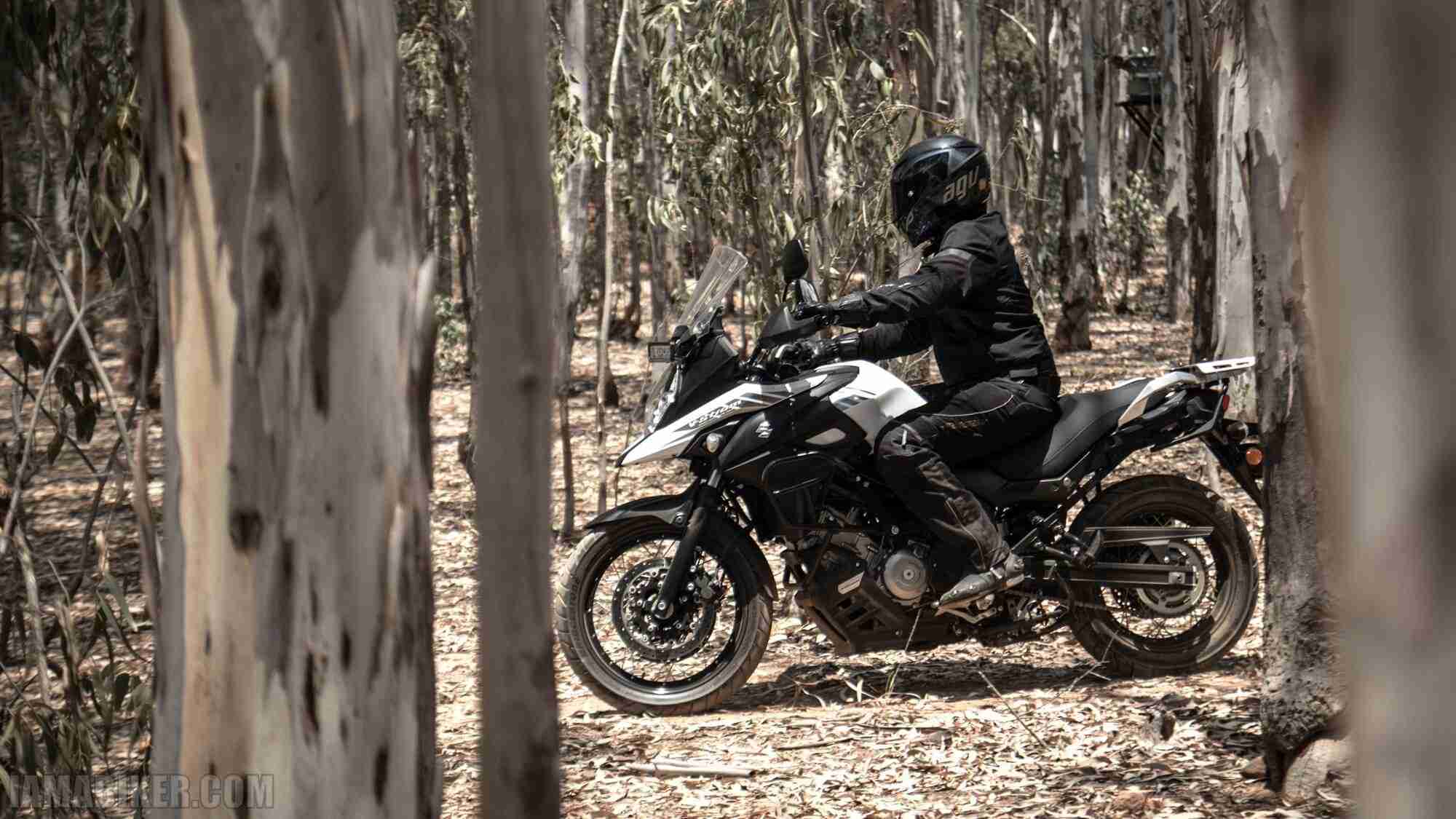 Out on the road the V-Strom 650 is stable and surprisingly agile once on the move. Considering our road conditions, the front suspension could have been a bit softer but it never really is an issue.
Once off the road, one thing that is clear is that, the V-Strom 650 is capable enough to handle pretty much all surprises, but that said it is not exactly an off-road machine. It can handle off-road much better than its only competitor in the Indian market currently but definitely not meant for serious stuff.
A huge plus point of the V-Strom 650 XT ABS is the spoke rims with tubeless tyres, like we said earlier this machine can handle the surprises of our roads quite well and still keep going.
The braking is one place we feel that could use some improvement. We would have loved to see this machine with stronger stopping power at the front. The dual channel ABS does its job well though and you are always in its safety nets.
Another thing that we really loved about the V-Strom 650 is the instrument meter up front. Yes it might not be the most exciting one to look at but it has a ton of information ranging from ambient temperature, to range, battery voltage to mileage and much more.
So, there is the dream and then there is the V-Strom 650, is this the one? It comes mighty close. At this price point there are not many motorcycles that can boast of such quality, versatility and value. It has a proven track record and is a perfect fit for someone that wants a serious machine for touring.
Do let us know your comments and questions below.