Almost all major manufacturers have now a scooter in the 125cc segment and this is where all the battles will be fought this year. And unlike most manufacturers TVS has entered the segment with what is essentially an all new machine, the TVS NTORQ 125.
We just rode this spanking new 125cc scooter from TVS at their factory track and let's start with the bits that are most important, its performance and handling.
The 124.79 cc engine and it's transmission on the NTORQ unlike most other manufactures is not derived from the existing range. This 3 valve engine (2 for input 1 for exhaust) and its transmission has been made to ensure that the NTORQ is a pure bred scooter.
Peak power from this engine lies at 9.4 Ps @ 7500 RPM and peak torque is at 10.5 Nm @ 5500 RPM. And while we expected a quick roll on from stand still, the power delivery is rather linear. But, as the revs build you can actually feel the engine build up its power to give you a strong mid-range that will propel you to speeds northwards of 90 km/h with ease.
We hit a top speed of 97, but numbers like 100 and 101 were also being discussed by fellow moto journos.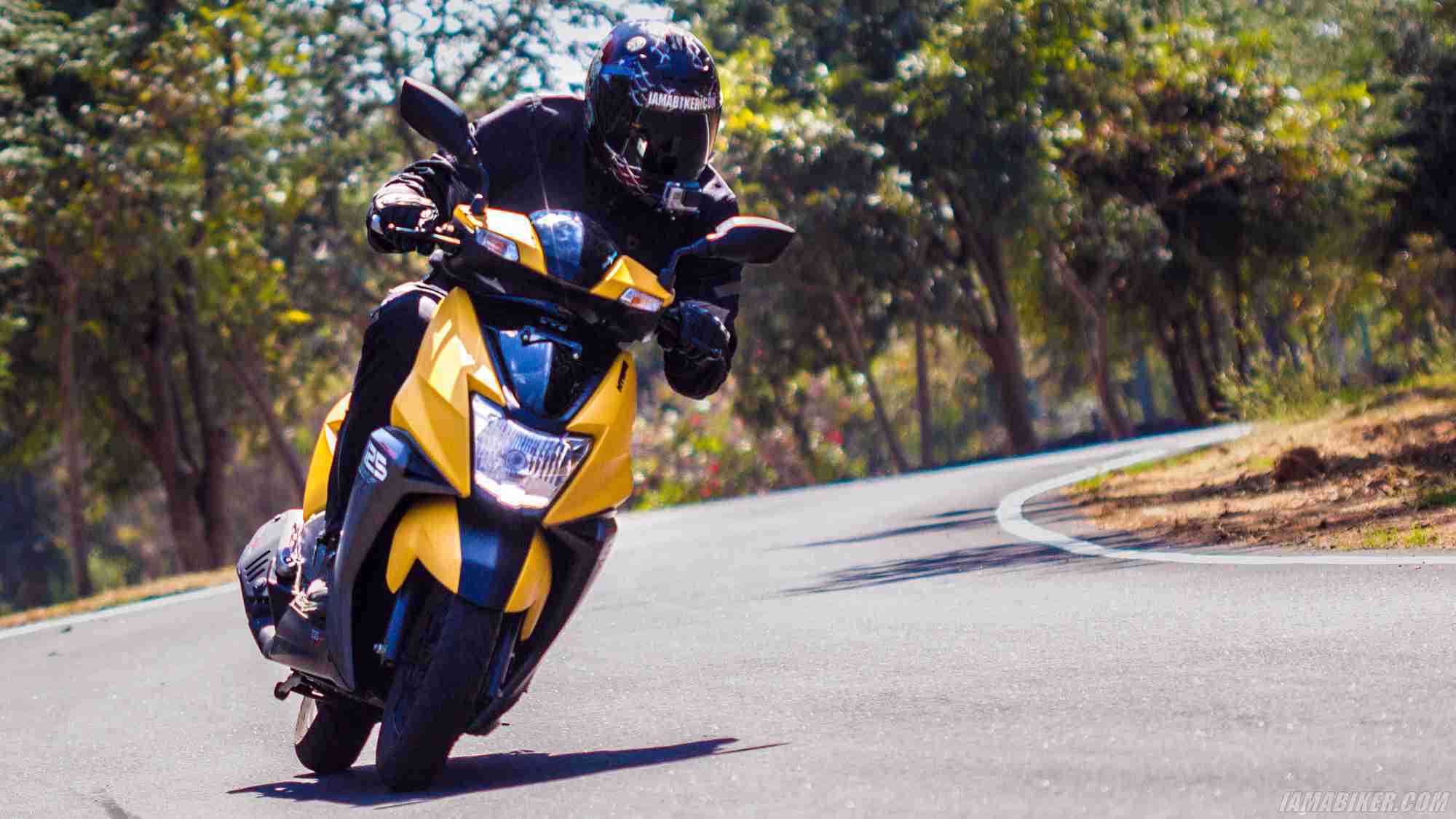 But apart from the usable power-band and the rather friendly throttle the one thing that truly stood out for us is the refinement levels on the engine. The overall feel that you get from the engine every time you throttle is not what you are used to from a TVS. It has a confident well defined feel that does not fade with higher RPMs and couple that with the grunty exhaust sound, you now have a note that you want to hear more of.
Moving on to efficiency, well the track is no place to check mileage but we were keeping an eye on usage, it seems to be on par with the regular 125 cc segment.
Now if you have taken a look at the specifications sheet of the TVS NTORQ 125, there is one number that stands out a bit especially when you compare it with its competition. That number is the kerb weight of 116.1 kg. But if you had ridden NTORQ before seeing that number, you would never have guessed it.
The TVS NTORQ 125 is very light to handle. The front end is high, easily accommodating riders of all height and is extremely light to throw around. This light feel does catch you by surprise at higher speeds especially when you want to change directions. Surprise because it changes so quickly and you are not used to such quick reactions from scooters in this segment.
The overall light feel though is reassured with good tarmac grip from the TVS Remora tyres. These tyres really performed well and stood out as our second surprise.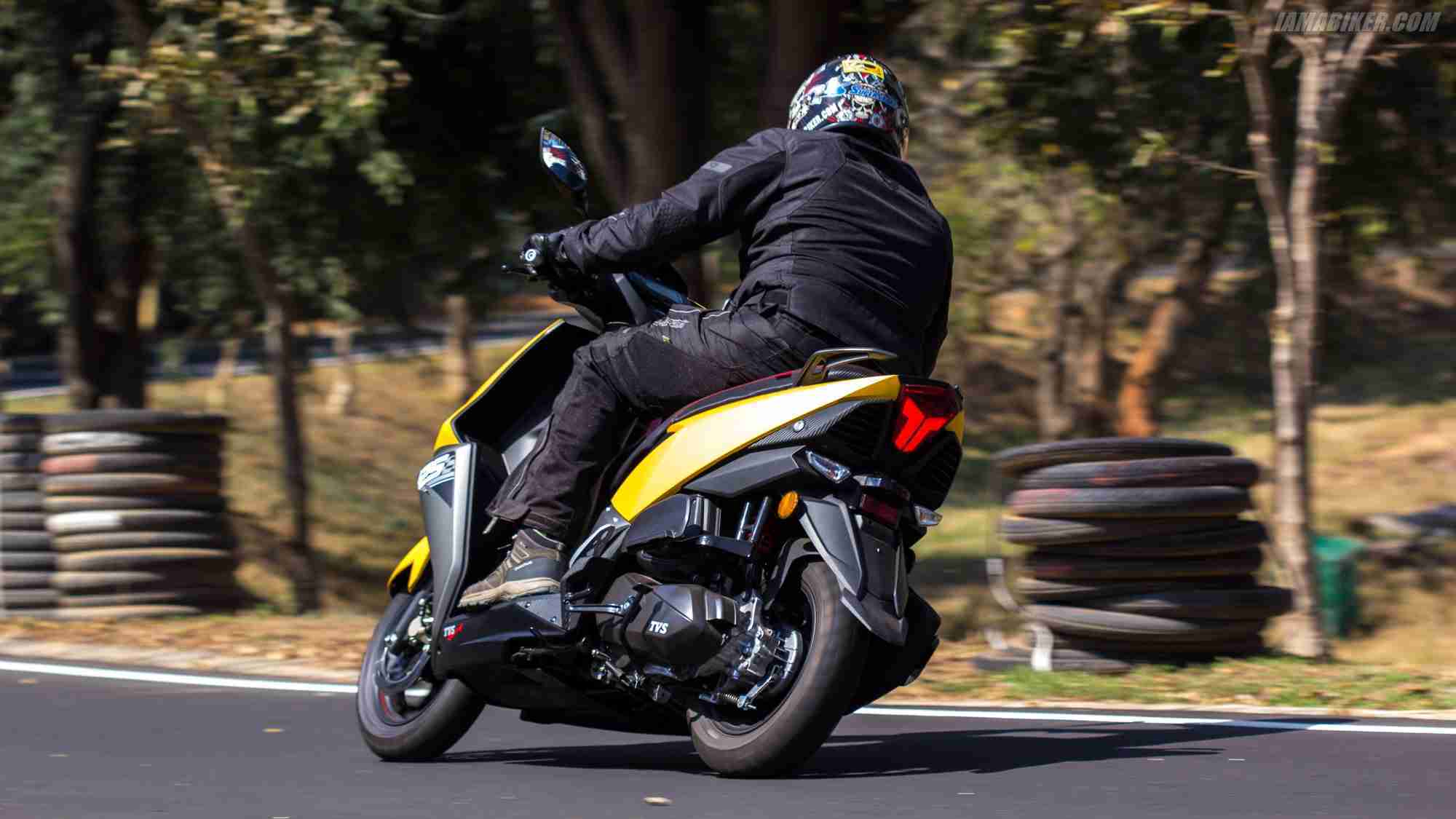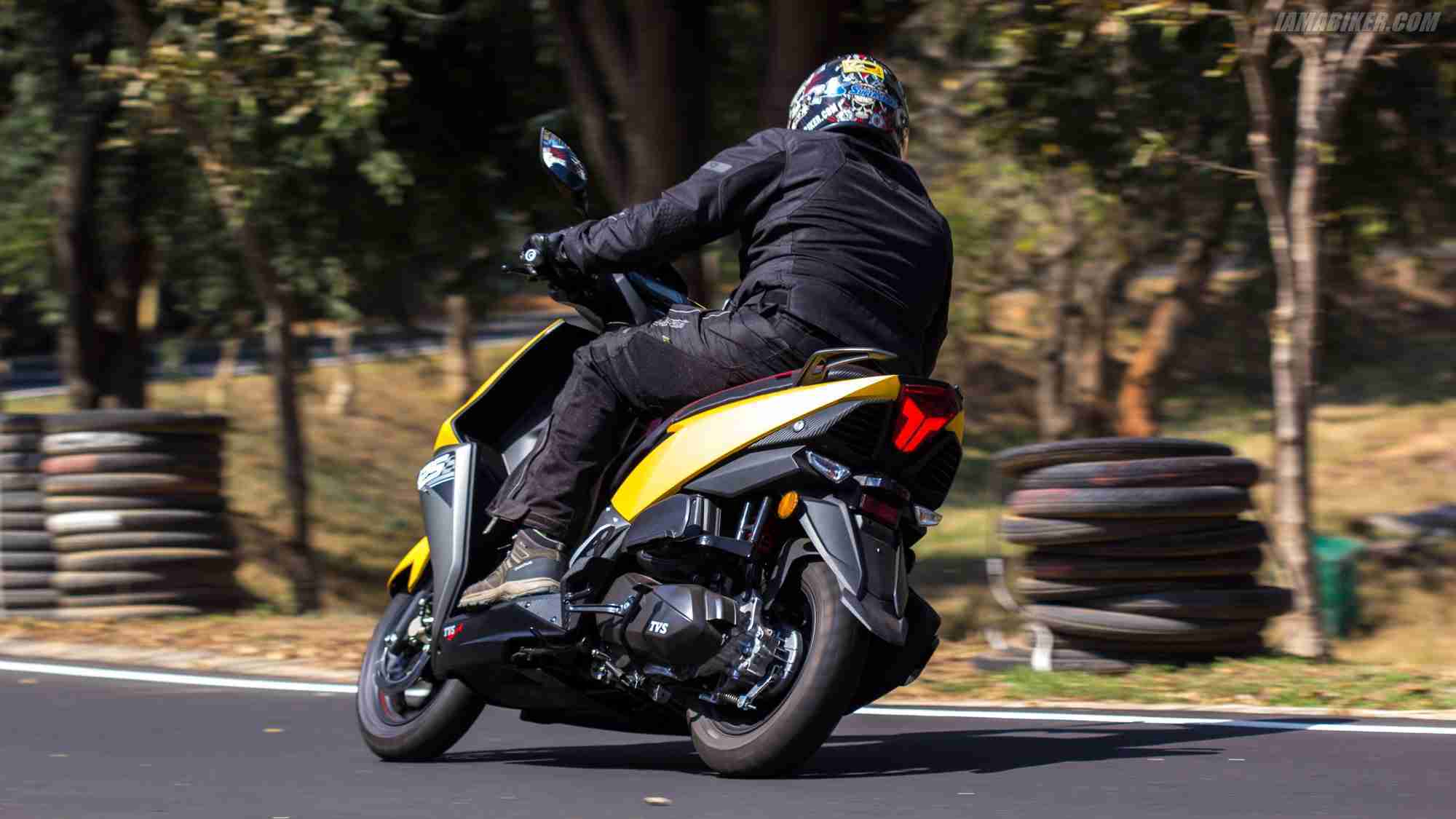 Speaking about the suspensions themselves, the front telescopic suspension is soft, but not incredibly so. But the real hero though is the rear suspension. Unlike the bouncy ones that you are used to, this one actually does do its duty as a suspension and works well with the front and keeps you comfortable.
The third surprise for us came from the front disc brake. The 220 mm petal discs at front, for us, are the best in the business. They work well with the tyres and shed speed not just incredibly fast but also give good feedback. The rear drum brake has a good feel but squeeze it hard in an incredible hurry, and it will lock up. You are best set, balancing it with the front disc to shave off some wheel rear speed, like you should do anyways on every two wheeler.
Now that we have the essentials covered, the TVS NTORQ still has a lot we need to talk about. First and foremost is the LCD panel up front. It is all about information. Apart from the usuals, its shows the engine oil temperature, two trip meters, a lap timer, a top speed recorder and a clock. But pair it with the NTORQ app on the play store and now you have, turn by turn navigation is association with MapMyIndia, incoming call alerts, rider profile, SMS auto reply, incoming sms alert, phone battery status and parked location finder.
Other key features include an engine kill switch, USB charger and an underseat light. The fuel filler cap is an external one with the key close to it. Turn the key right to open the seat and turn it left to open the fuel cap.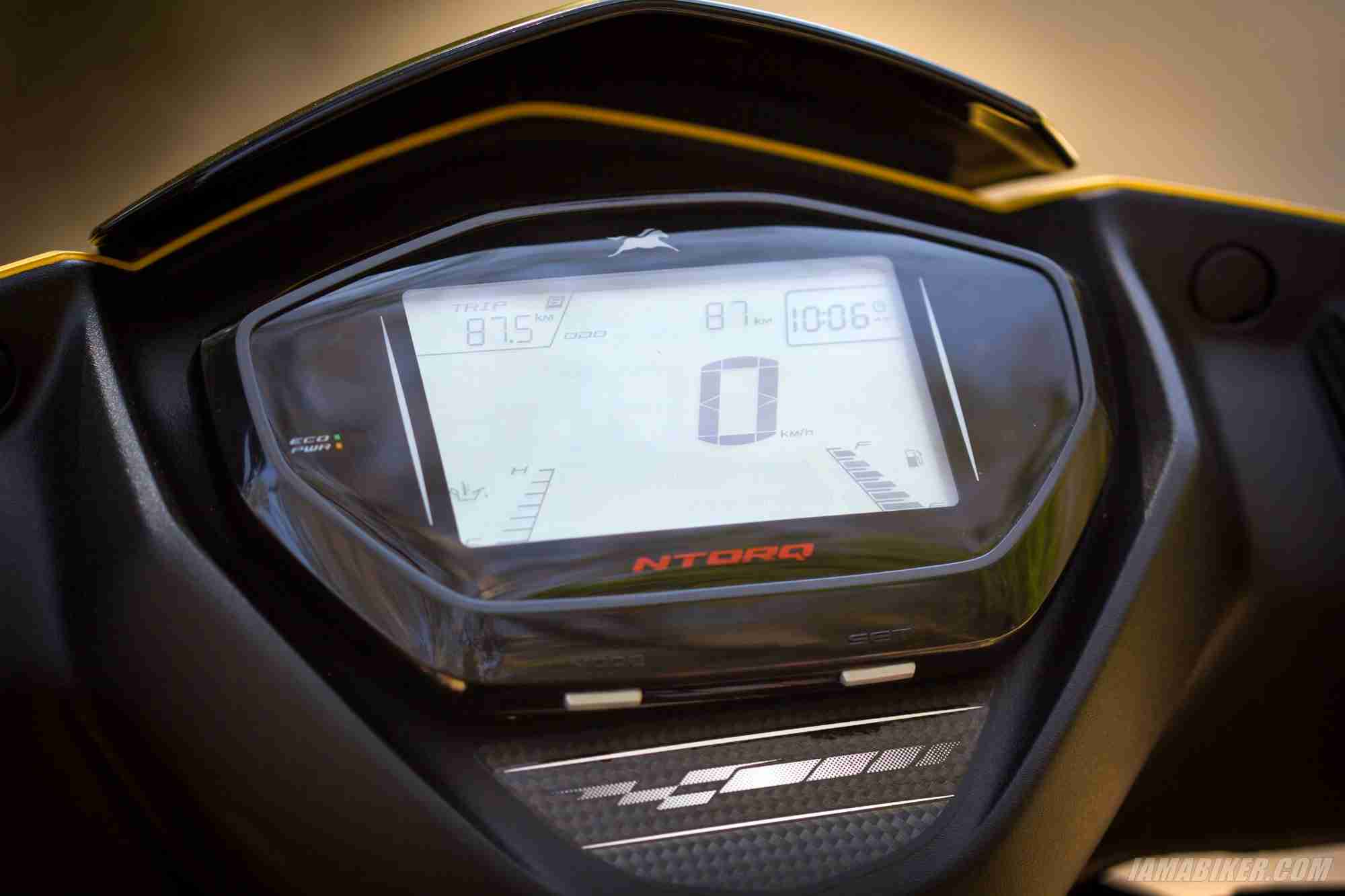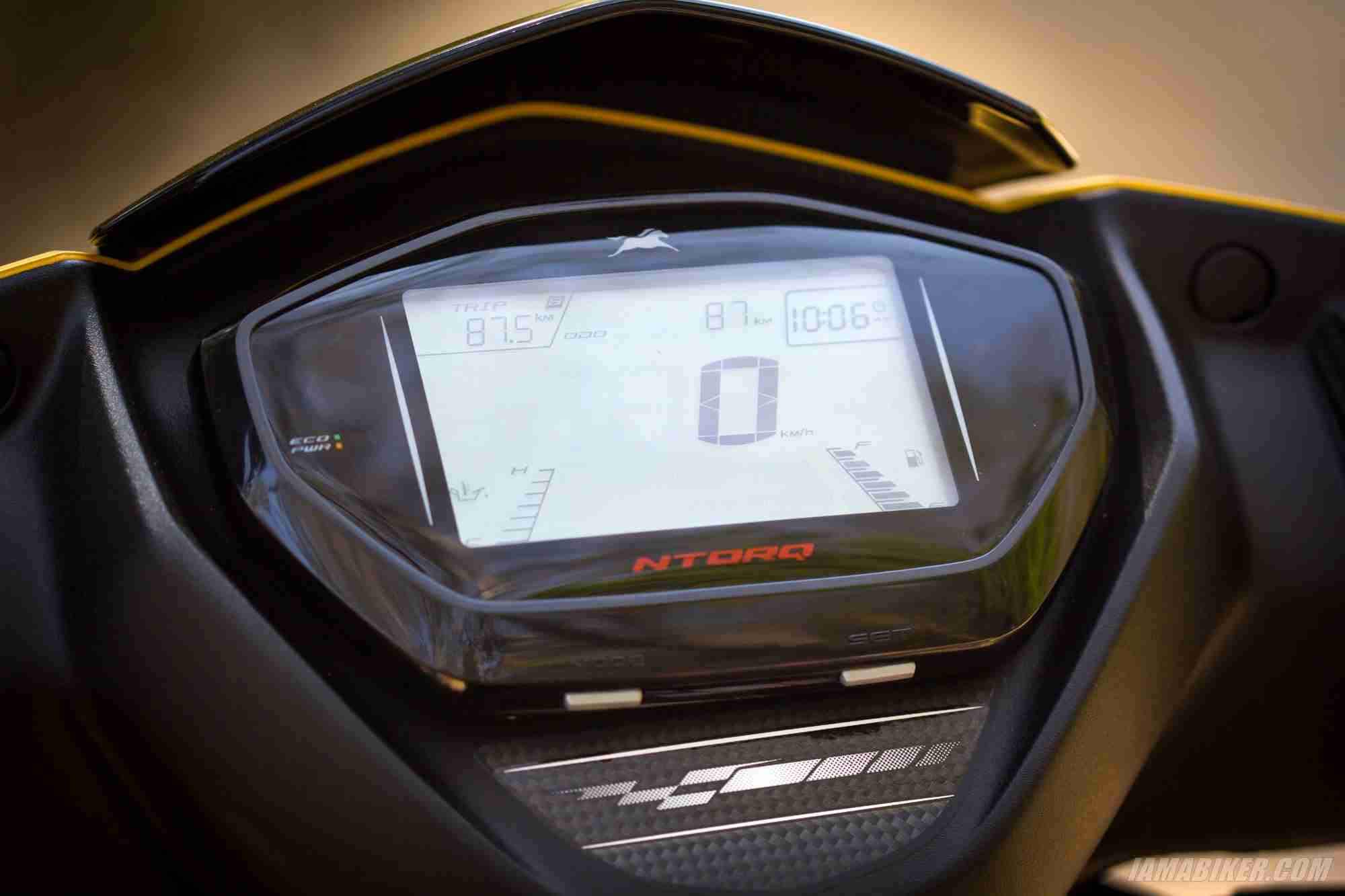 Now coming to the fit and finish on the TVS NTORQ 125, this has to be best made TVS scooter yet. There are a lot of finer details like 3D logo's, different textured bits all around, lovely looking alloys, and beautifully stitched seats that reaffirm the attention to detail given to this machine. We just have to give TVS full marks there.
So it is only all good with the TVS NTORQ 125? Well, no. There are bits we would love different. We would have loved to see LED headlights at front. The underseat storage still does not fit a proper full face helmet and to some the multi-tone multipanel's might seem too busy a design. And we still need to see how it performs in real world conditions to make a final call.
The TVS NTORQ 125 is essentially then, not a sports scooter but a sporty scooter. It's for the next gen that wants a machine that is not a recycled product and is tune with current connectivity and design trends. The visual language on this machine is loud but at the same time will appeal to not just the youth. The overall presence is sporty and totally next gen, but it still manages to cleverly have all the titbits you want from a daily use machine. All this and then you have the excellent pricing (Rs. 58,750/- ex-showroom with 4 colour options) that puts it just a bit ahead of the regular scooter range and right in the middle of its own segment. TVS NTORQ 125 surely has a lot of things going right for it!
TVS NTORQ 125 image gallery