The Apache RTR 160 has been us with us for more than a decade now and for the most part remained the same. One reason for it getting only minor updates is simply because it was pretty good off the shelf. But the world has moved on since and especially in the last few years the demand for sporty motorcycles especially in the entry level segment has really spiked. TVSs' answer to this demand is the all new TVS Apache RTR 160 4V and here is our first ride review of the same.
From the moment you thumb the starter on the 160 4V you immediately notice the difference from its previous version. The engine feels rather smooth at idle and the exhaust note is more refined and muted. Get going and now you notice how the revs now build up easier thanks to the 4 valve setup. The difference between the Fi and Carb version in terms of real world performance is pretty small.
The Fi version as expected has a smoother roll on and is easier off the line, but it is the carb version that is actually a tad bit faster. The 0 to 100 timings for both lie around the 16 second mark.
[youtube https://www.youtube.com/watch?v=j-eIKF0HNtg?rel=0&showinfo=0&autohide=1&autoplay=1&cc_load_policy=0&iv_load_policy=3&modestbranding=1]
Like we said earlier this engine loves to rev and it will rev hard and fast till it hits the limiter at 11,500 RPM. The first 3 gears are short and you will hit the limiter quickly if you are in a hurry, but 4th gear on wards things space out with the 5th being rather tall. There are no vibes as such in the normal riding RPM range but like most motorcycles in this segment you do have some creeping in post 9000 RPM. But you also need to remember that this engine now runs a higher compression than before. Which has resulted in the increased power over the earlier version and why they had to move to the 4 valve setup. The Apache RTR 160 4V will easily cruise in top gear around the 90-100 km/h mark and it accelerates to this number easily too. Post 100 understandably it takes a bit of patience to build up the pace but on a long enough straight 120 should be easily achievable.
The gearbox too is slick with precise shifts up and down and during our entire stint at the TVS facility it threw no surprises. For some thing that feels so racy I guess asking for a slipper clutch in this segment is appropriate right? But this segment is all about the pricing balance, so I guess that will never happen.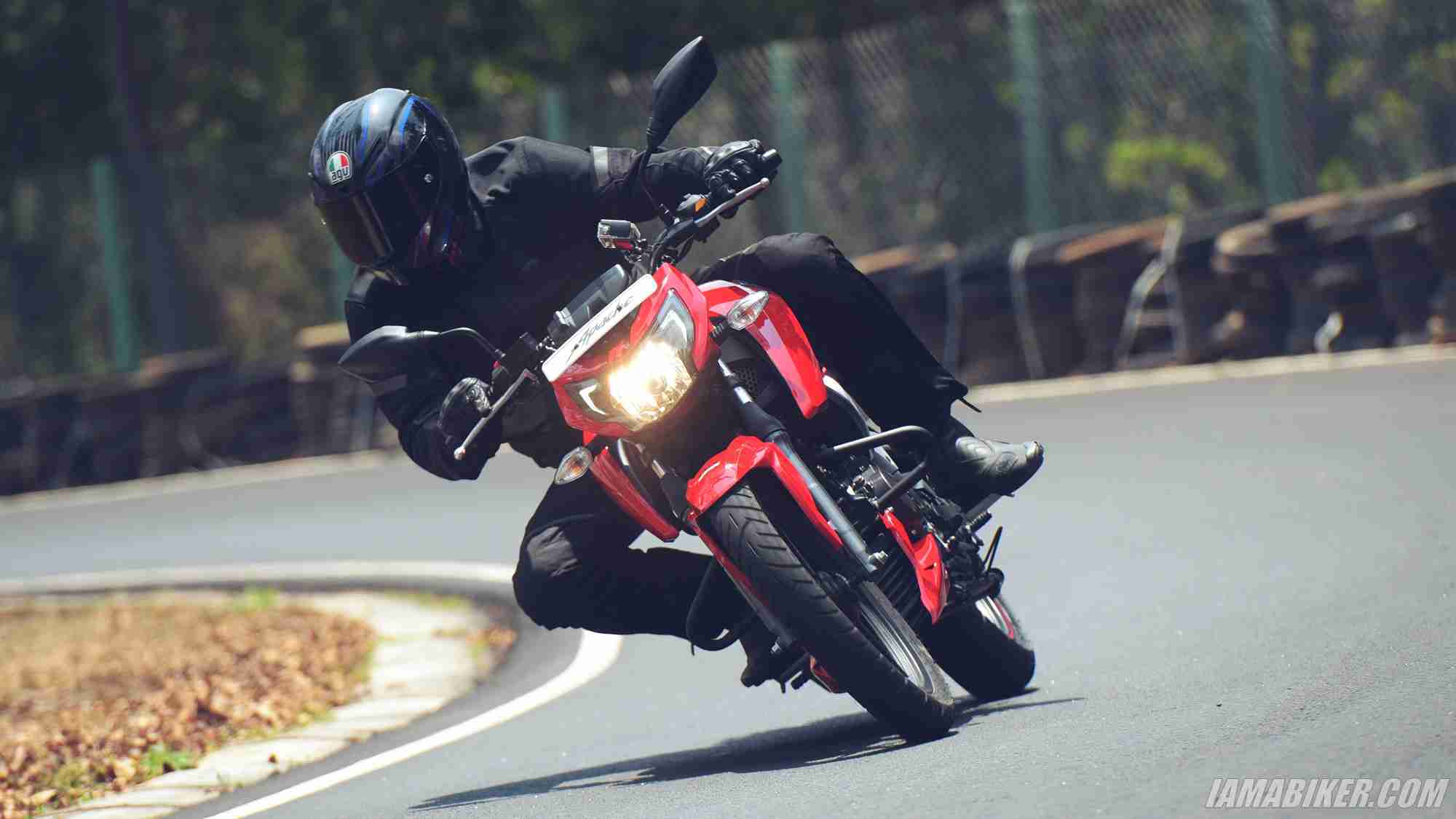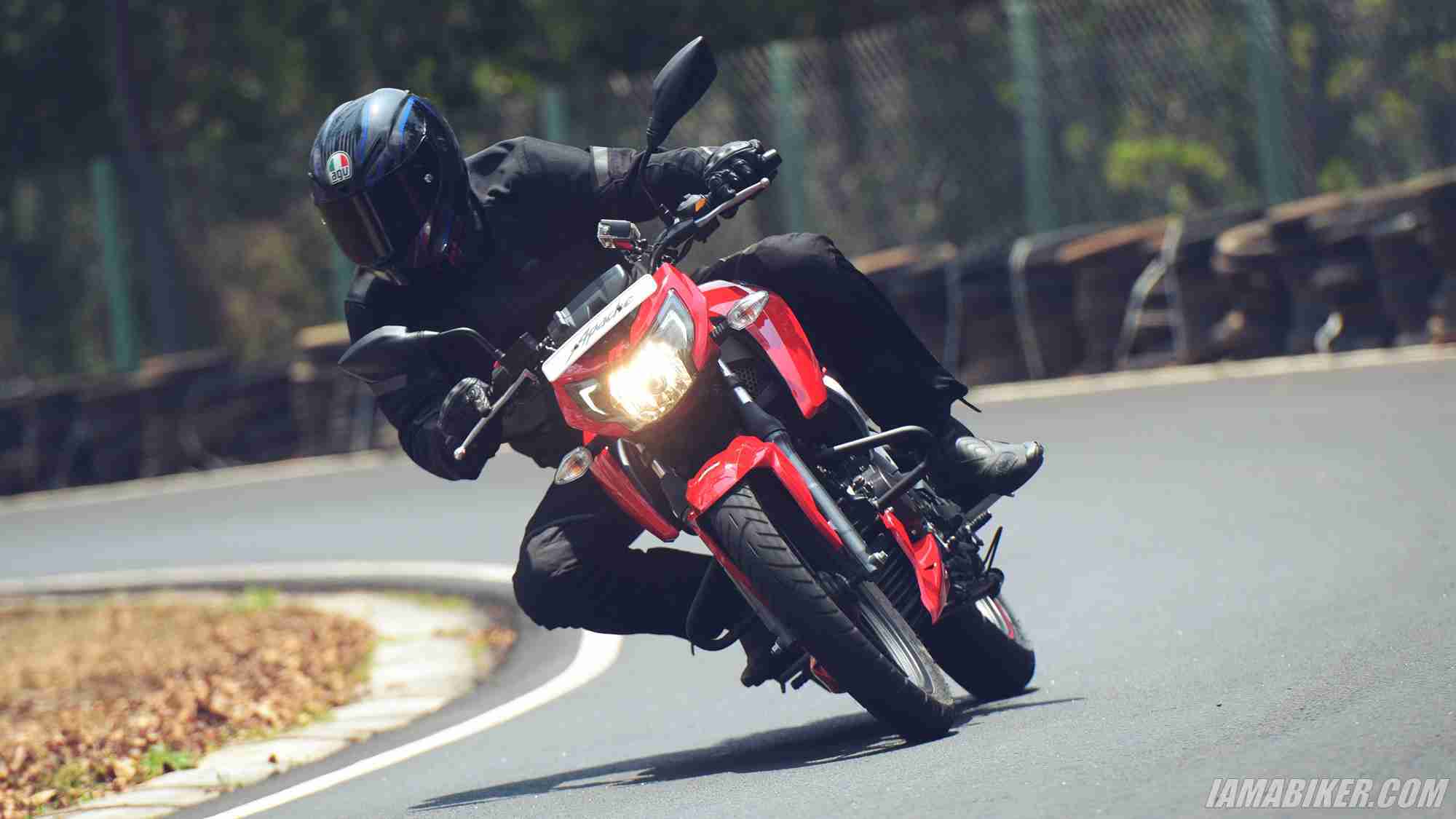 Now, all through its life the Apache's were known for its handling and the new 160 4V quite remarkably takes this game forward. Credit for this goes to the new chassis inspired from TVSs' successful racing machines that have won multiple championships and it shows! The bike now is even more nimble on its feet and much more planted leant over. It feels super light and now turn-ins can be super late and fast. Due to this overall comfortable riding stance which feels very natural even for track riding, it's very easy to move the bike beneath you. This means direction changes and anything associated with the 160 4Vs' handling is very easy and without drama.
The new mono-shock suspension is 7 step adjustable and all through our ride it was at position 3 on both the carb and Fi versions we rode. This meant it was more soft than stiff and surprisingly still held well for our track outing. At a stiffer setting it would probably handle much better especially mid corner. The front though is reasonably soft and should be good for street use. The brakes on the 160 4V probably are the only thing that is not race inspired. But it is however good for the streets, so as expected what you get is a sharp initial bite with a good progressive brake actuation but lacks that feedback that gives you confidence to brake late.
ABS is not yet available even as an option but we expect it to arrive later this year for sure. The stock TVS Remora tyres also make its presence felt and in a good way. They grip pretty well and are a good trade off between grip and longevity. Only on really hard braking did we have the rear locking up in a few instances but the front held solid all through our ride.
The design language of the new Apache RTR 160 4V is unmistakably from its 200 cc sibling. It looks sharp from any angle and you could easily mistake it for the bigger Apache. The biggest and obvious visual changes on the 160 4V are that, it now has a single seat and different rear panels to go along with it, a regular handle bar, thinner front forks and different alloys. But if you look closer the changes between the two are many.
After having ridden the TVS Apache RTR 160 4V one thing is definitely clear. It is a proper evolution of the original 160 and is a sporty motorcycle that is quick and behaves extremely well. Build quality also is very good and is something that is becoming a typical TVS trait. Of course as of now we cannot comment on things like mileage and real world riding feel but from the preview that we had it sure looks like it is one of the best in its segment.