Chasing the dream of winning Asia's top motorsport championship on home-soil, IDEMITSU Honda Racing India team by T. Pro Ten10 Racing made a cracker of a start in the Round 4 of Asia Road Racing Championship (ARRC). It proved to be a historic day with the Indian flag flying high on the podium for the first time.
For 19 year old Japanese rider Taiga Hada – the solo entry of IDEMITSU Honda Racing India in the premier SuperSport 600 (SS600) class, Chennai was sweet start. Earlier, Hada qualified 6th in the grid with the fastest lap time of 01.41.384. Pushing ahead full steam, Taiga Hada made a strong start in race 1 and soon started leading the ranks with Anthony West and his play-off keeping all on toes right till the finish. Gaining the first podium of the championship for the solo Indian team, Hada finished 3rd. Winning 16 points in race 1, Hada is now with 40 points and in top 7 of the championship.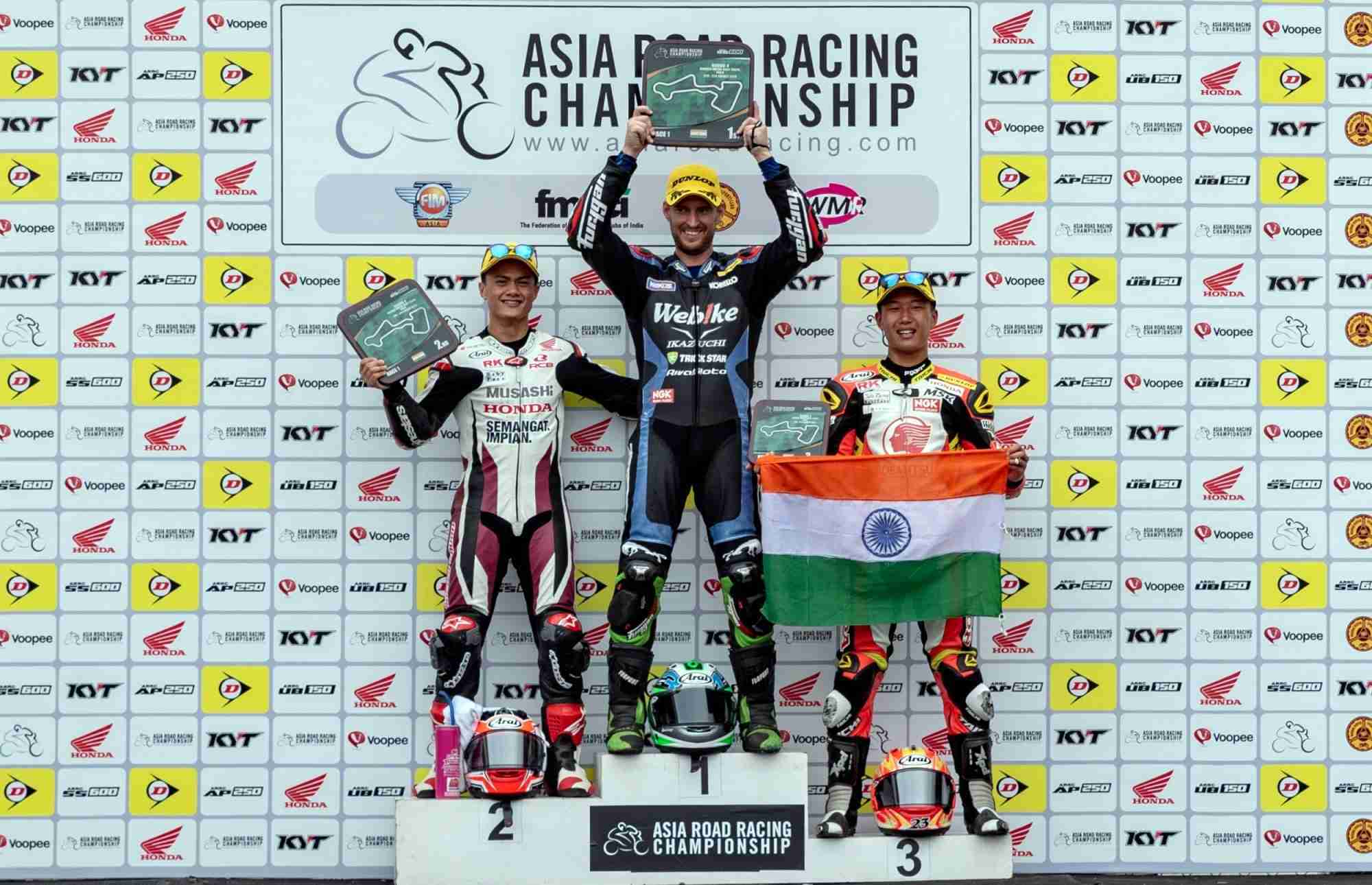 Meanwhile, with 24 riders completing the Asia Production 250 (AP250) grid, Indian boys qualified at 19th and 20th. Race 1 was a mixed bag for the Indian riders. Fresh from leading the national championship and his recent international exposure at Thai Talent Cup, this was the first race for the 20 year old Chennai boy Rajiv Sethu after the full recovery of wrist injury. Picking up ranks in the close contested race, Rajiv quickly climbed up to finish in the top 13, thereby scoring his first 3 points of the season with his best lap time of 1:50:945. Meanwhile, for the rookie rider Anish Shetty the high slide in the 7th lap prevented him from finishing the race.
Sharing his excitement with the Indian team's performance in Round 4 of Asia Road Racing Championship (ARRC) 2018 in Chennai, Mr. Prabhu Nagaraj, Vice President – Brand & Communication, Honda Motorcycle & Scooter India Pvt. Ltd. said, "We are extremely delighted with the performance in home soil. Making us proud, Taiga Hada's first podium and Rajiv Sethu's first points for the season is a major reason to cheer for us. Anish's crash was unfortunate but I am sure he will bounce back stronger tomorrow. The pace has been set today and I am confident that our riders will give us more reason to celebrate tomorrow."
Talking about today's race, RAJIV SETHU – IDEMITSU Honda Racing India team by T.Pro Ten10 rider said, "While I had a bad start today and I was confident of the setup of my bike. Too many riders crowding around me which kept pushing me outside of the racing line. But I kept my cool and kept gaining on everyone. Climbing 6 positions, I am ecstatic to score my first points for the season in front of the home crowd. My recent stint in the Thai Talent Cup has been a game changer, giving me more exposure to the highly competitive international racing. With this huge morale boost I will soak pressure better and push harder tomorrow."
Scoring a morale boosting podium, TAIGA HADA – IDEMITSU Honda Racing India team by T.Pro Ten10 rider said, "Having scored double podiums in my previous outing at Madras Motor Race Track, I am very excited to register one of the third consecutive time. The support from the crowd was electrifying and that inspired me push harder in every corner. This is one of my most favourite tracks of the calendar and I am going to aim for a win tomorrow."