The MV Agusta specials of recent years have been a huge success. That success now continues with the new MV Agusta Brutale 800 RR America. In dealerships as of April 2018, this latest model offers an original, stylish take on a piece of MV Agusta history. The first bike to take the "S America 750" name dates right back to 1975. Its technical features were as advanced as they came for the time: a 75 hp 4-cylinder, in-line, air-cooled engine with dual overhead camshafts.
More than 25 years have gone by before the America tag reappeared on an MV Agusta tank: this was again on a Brutale with a 4-cylinder engine, the special version of which displayed the red, white and blue of the US flag. Then in 2012, the America tag was back again in the form of a new special, a version again developed on the popular 4-cylinder Brutale.
The latest Brutale 800 RR America is equipped with a 3-cylinder in-line engine renowned for its performance, compactness and cutting-edge technology. The special version has been developed on the basis of the Brutale 800 RR. Starting with a complete redesign of the gearbox – now with even smoother, more precise meshing – the bike is brimming with technical up-grades. A new balancer shaft and a redesigned primary transmission, optimised shaping of the intake and exhaust cams plus new valves are just some of the many improvements on this bike.
Electronic engine control has also been upgraded with new algorithms and engine mappings. Traction Control has been refined even further by honing strategies and calibration. Chassis development has also proceeded apace. The engine is now attached to the frame, boosting the overall rigidity of the bike. Another new feature is the rear "cush" drive system, designed to maximise riding comfort.
This numbered Special Edition has plenty of distinctive features, starting with a metallic blue colour scheme that catches the light with shimmering iridescence. The tank sports a star-studded motif, just like the one on the 1973 750 S. Gloss black paintwork enhances many features, such as the front mudguard with MV Agusta logo and the radiator side panel which sports the wording "America Special Edition".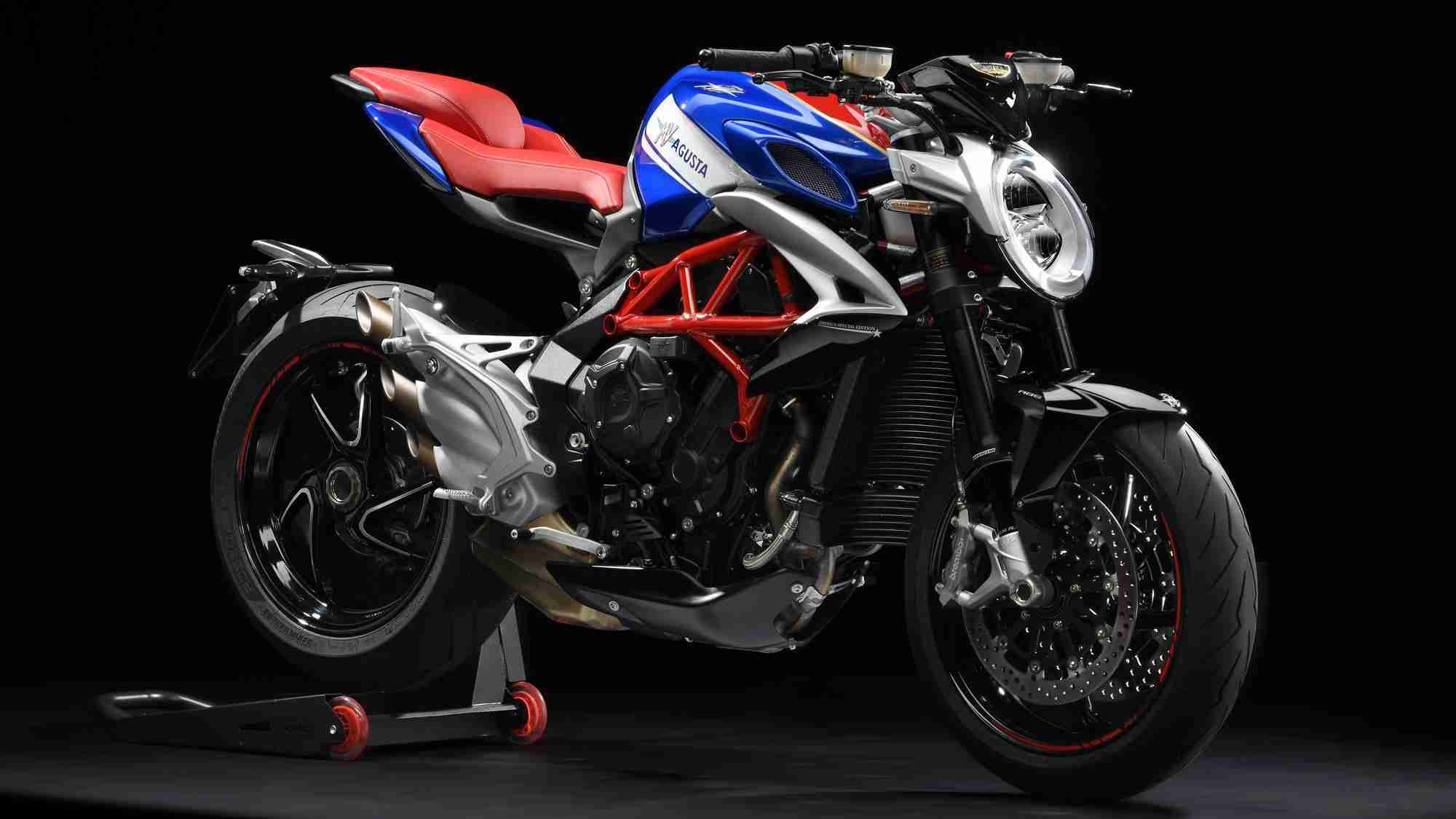 Meticulous finishing is also evident on the seat, which features gilt stitching, specific materials for the rider and passenger zones and comfort-enhancing padding.
To highlight the exclusiveness of the Brutale 800 RR America, each bike features the "America Special Edition" legend and a progressive production number, located on the instrument cluster fairing. This same production number is also on the certificate of authenticity delivered to each new owner.
MV Agusta Brutale 800 RR America image gallery