Motoroyale, Kinetic group's venture of multi-brand superbikes, today announced three further global brand tie-ups, and the launch of seven new superbikes in what can be termed as a historic event. The company announced their first brand association with MV Agusta, an iconic Italian brand in May 2016, followed by an international joint venture with Norton, a legendary British motorcycle brand in November 2017. Now, Motoroyale announces their tie-up with three additional international brands – SWM, FB Mondial and Hyosung.
SWM and FB Mondial are both Italian heritage brands, while Hyosung is based out of South Korea and was first launched in India by the Kinetic group and has a base of 7000 customers. The Hyosung's are built for comfort, speed, quality and a value for money proposition.
Today, Motoroyale unveiled 7 new products from different categories and brands giving justification to its concept of being a one-stop shop for all bike enthusiasts.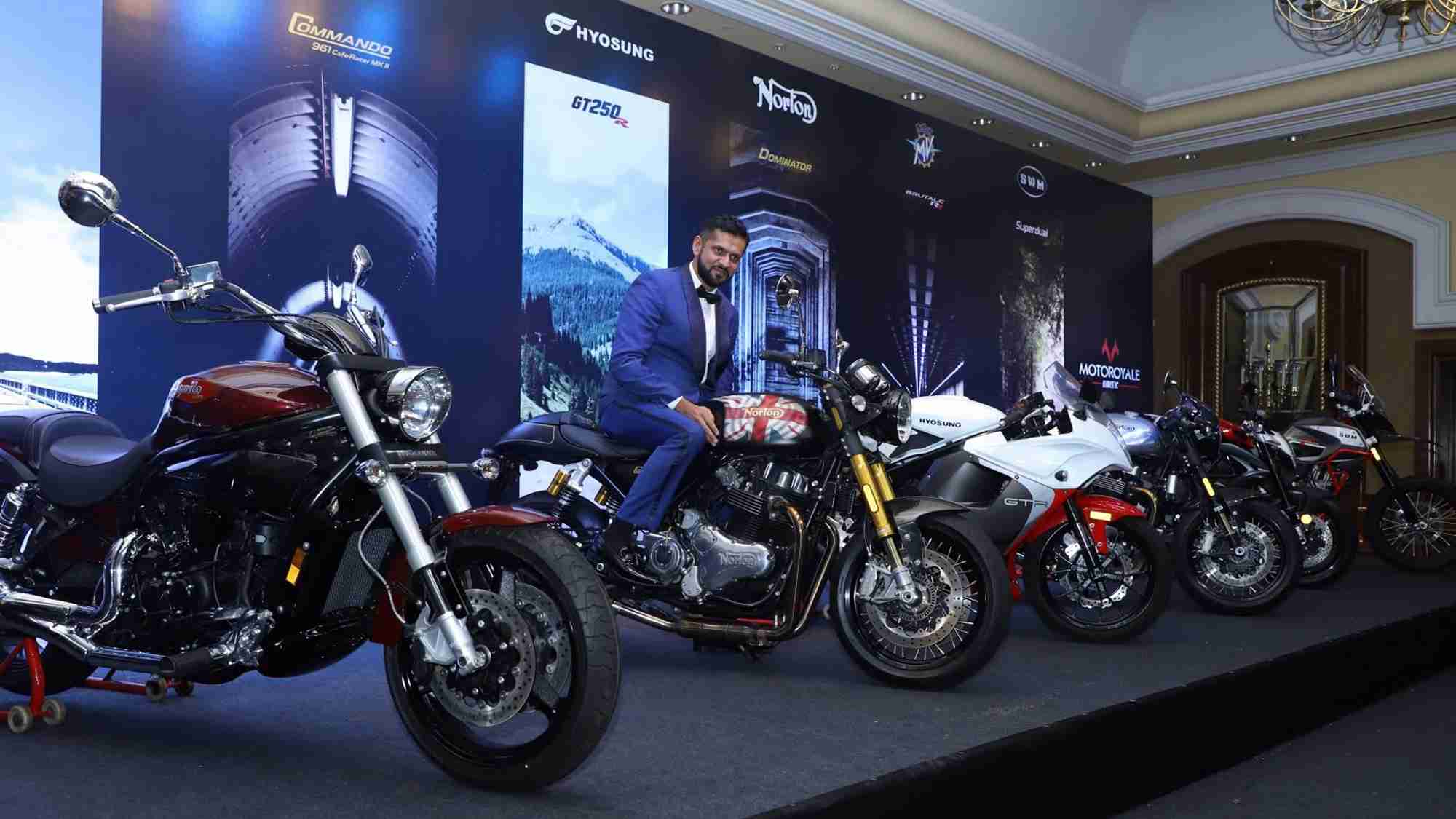 MV Agusta Brutale 800 RR
From the street naked category, the Brutale 800 RR offers the best power to weight ratio in the market, with 140 BHP making it a real monster.
Limited Edition Norton Commando and Dominator
Norton makes the popular Commando and Dominator motorcycles, which are 961 cc, all British marquee classics. Motoroyale announced the 37 units limited edition Norton Commando and Dominator exclusively for India.
SWM SuperDual
Motoroyale launches SWM based in Italy with its first product, the SuperDual which is a true on road-off road motorcycle making it one of its kind.
FB Mondial HPS 300
Motoroyale also announced an all new category of the Hipster, with the FB Mondial's HPS 300, which is a modern retro motorcycle for people with taste.
Hyosung: Aquila 650 and GT 250 R
The Aquila 650 and the GT 250 R completes the range of Motoroyale by offering cruisers and sports bikes at a very attractive price point.
These brands will now be available through Motoroyale, which is part of the legendary Kinetic group, a name that has resonated among Indians for the last four decades, having launched iconic products like the 'Luna' and 'Kinetic Honda'
Ajinkya Firodia, Managing Director, Motoroyale articulated, "A two wheeler is an extension of you, it defines you, and all of us are unique with different tastes, then why should our motorcycle be the same? Hence taking my legacy forward, I envisaged giving motorcycling its real due by not restricting it as a commuter but as a passion. The result of which was Motoroyale, India's only multi-brand superbike company that offers a range of products starting from 250 cc to 1000 cc, covering different categories and genres like cruisers, tourers, supersports, adventure tourers and nakeds. Motoroyale is the heaven of motorcycles which is a one-stop shop for one and all where they will get exotic and never seen motorcycles all under one roof. Each tie-up offers both customers, dealers and the market a unique proposition to cater to the requirements and choices of all superbikers"
The motorcycles will be assembled in India at Kinetic's plant in a dedicated space for Motoroyale stretched over 52 acres in Ahmednagar, that holds a capacity of assembling 30,000 vehicles annually. Motoroyale has set up world class facilities for engine and vehicle assemblies for its various brands taking into consideration the product quality and service.
Motoroyale shall revamp its entire dealership network and has planned launches of all new dealerships in the coming months in October, Thane – Mumbai, Hyderabad, Chennai, Delhi. Followed by Cochin and Bangalore showroom launches in November. Motoroyale is also looking for the correct dealership applicants and plans to open another 6 in the coming 12 months in cities like Pune, Indore, Chandigarh, Ahmedbad, Jaipur, Kolkata and other important markets.