Marc Marquez enjoyed another fantastic race weekend, taking his third consecutive victory this season, the 64th of his career, and his 38th in MotoGP, equalling Casey Stoner's Premier Class GP win tally and extending his own Championship lead to 36 points over second-place rider Maverick Viñales.
The only rider on a hard Michelin rear tyre, Marc managed the race perfectly in every phase, on a track that is usually challenging for him. He kept his cool during the early laps until his tyres were ready, took the lead after the crashes of Title-chase rivals Andrea Dovizioso and Johann Zarco, and eventually built a comfortable gap at the front, which he managed until the chequered flag fell.
Alma Pramac Racing celebrated a spectacular Sunday too, the most beautiful in its history and consolidated its third place in the MotoGP team classification. When Danilo popped the champagne on the podium it was a great party for his team. Petrux's race was superlative: he stayed with the front group in the first two corners and then stuck to the leaders. After the crashes of Dovizioso and Zarco, he tried to chase Lorenzo, overtaking him on lap 11 for P2. Petrux then tried to catch Marquez and 10 laps from the end the gap was 0.4 seconds. However Marquez defended his first place and Danilo controlled Valentino for second place.
Movistar Yamaha MotoGP's Valentino Rossi showed once again you should never count him out for the race, regardless of his starting position. He displayed a competitive pace aboard his YZR-M1 throughout today's entire Grand Prix de France, to take a strong third place on the podium. Maverick Viñales scored solid points with a seventh position result at the end of a challenging weekend and took over second place in the championship standings.
Rossi had a brilliant start, rushing from ninth to sixth place in the first corners. An early faller moved the Italian up another spot as he settled into the leading group. He subsequently lost a place to Danilo Petrucci, but moved back up to fifth when Andrea Dovizioso crashed out of the lead.
Marc Marquez
"I'm particularly happy with this win here in Le Mans, as it's one of the most difficult tracks for us! Today I was the only one on a hard rear tyre, and that made my approach to the race a bit different because I knew it would take a little more time to reach the right temperature. But during the warm-up, I had the opportunity to verify that once the tyre was ready, it was very constant, and I was able to keep a very good rhythm. To be honest, things were a bit challenging at the beginning of the race: Zarco touched me in the second corner and I went a bit wide, then Iannone crashed and nearly hit me, so I lost some more positions. I decided to cool down for a while. When I saw that Dovi and Johann were out, my approach to the race again changed a bit. At a certain point, I had one big moment in turn three, where I had already crashed in FP3, which is why I was being extremely careful there; I think that helped me to avoid a crash in that moment. I'm currently experiencing a very 'sweet' period with my bike, and when you've got that kind of feeling, you also work better; then you ride better, and the bike works better. Things don't exactly become easier when you get into this zone, but they're more 'natural.' Of course it's a very long season, and not all the races will be the same, so we'll just try and keep the momentum."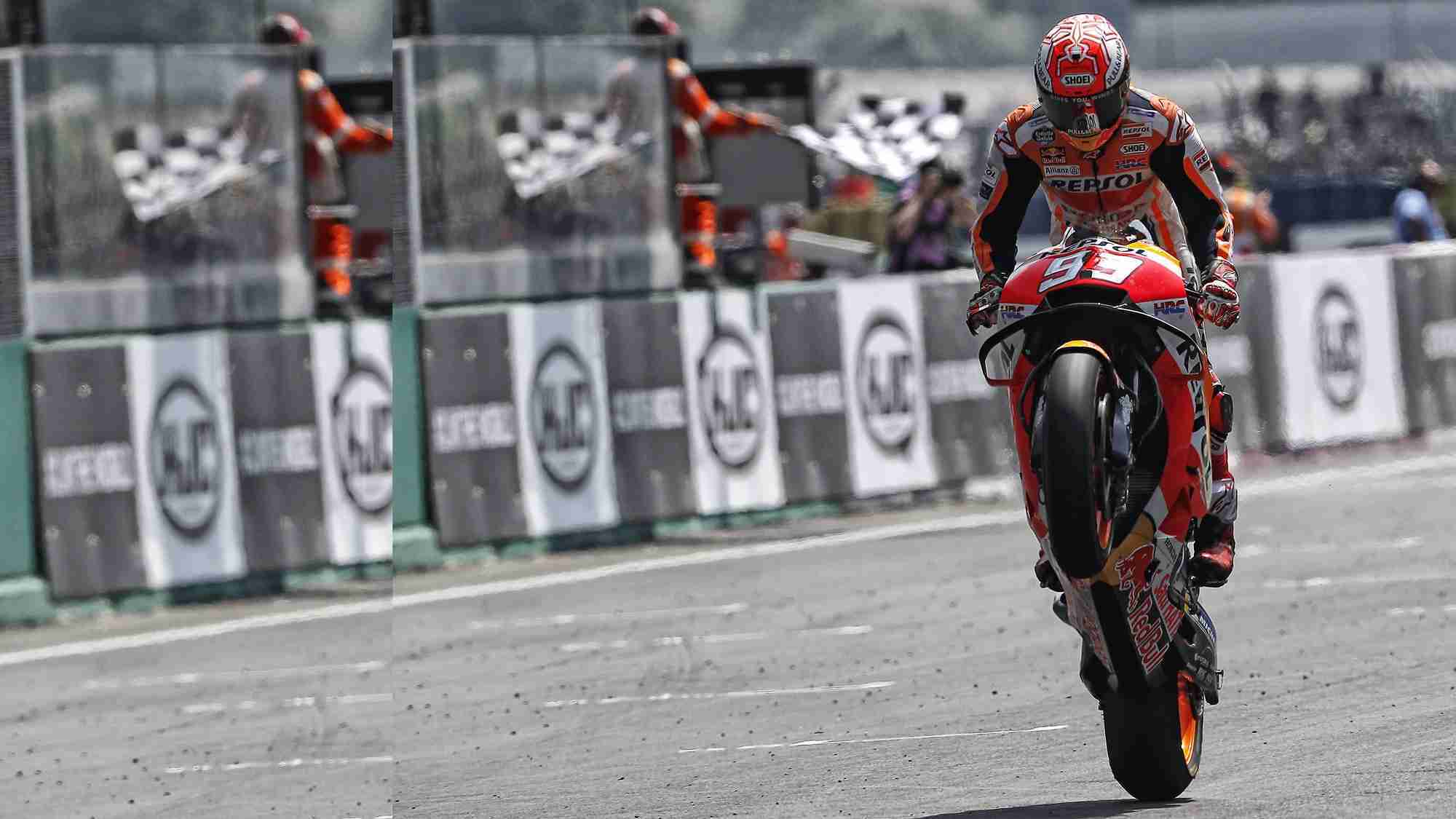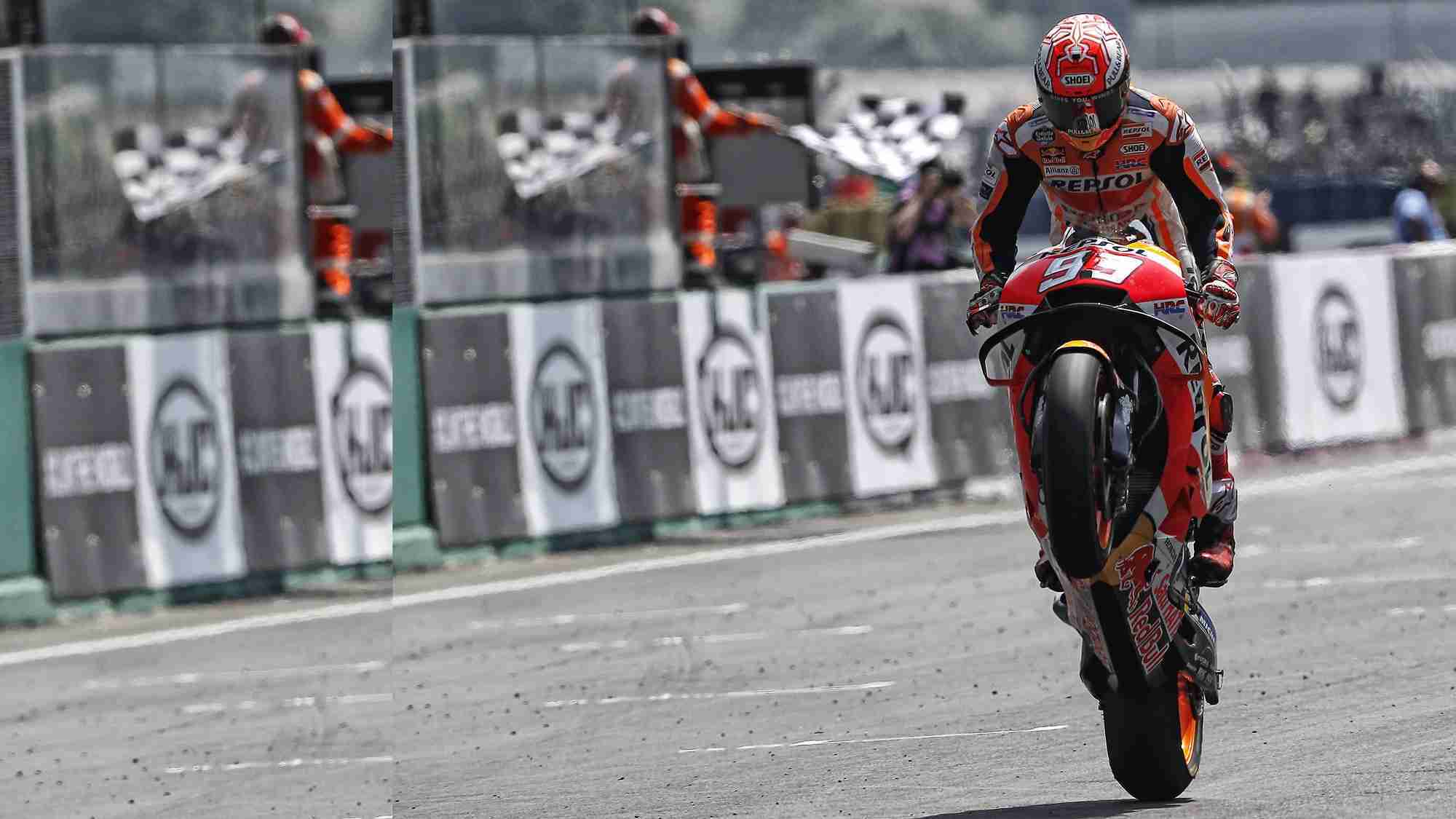 Danilo Petrucci
"It is a great Sunday. I couldn't get off to a good start but managed to stay with the leading group from first lap. I had a good pace and a great confidence. We did a great job this weekend. I am also pleased to have given the team a great satisfaction. See you at Mugello".
Valentino Rossi
Since yesterday, we've worked well. I was feeling quite pessimistic after qualifying, but we made two or three modifications to the balance of the bike that gave me more grip and also made me lose less in acceleration. Already this morning in the warm up I was not so bad, so I thought "I can do a good race", but starting from the third row is always difficult. You have to stay concentrated, but I had a great start and right from the first lap I was able to overtake. I was in the right group. The other positive thing was that after that lap I was fast, I did good lap times and I had a good pace, this is very important. I hope that we can continue to work strongly, like we did today, to further improve the bike.