Kawasaki India has just launched the much awaited Kawasaki Ninja 400 in India for Rs. 4,69,000 ex-showroom Delhi. Clad in sharp new Ninja styling, the new Ninja 400 delivers greater performance than its predecessor care of an all-new engine and chassis that are more powerful and significantly lighter. Not only does the Ninja 400 offer stunning, high-quality looks, its stronger engine performance, light, predictable handling and relaxed, sporty riding position make it both fun and easy to ride.
On the technical front, the Ninja 400's all new 399 cc engine delivers higher performance and ride-ability. The higher performance can largely be credited to the new down draft intake, which is accompanied by a larger airbox offering increased intake efficiency. The smooth response and abundant low-end torque facilitate throttle control for new and experienced riders alike. The Ninja 400 also has a potential to compete with models having relatively higher power and engine capacity. Max Power produced by the engine is 45 Ps @ 10,000 RPM and Max Torque is 38 Nm @ 8,000 RPM and it weighs 168 kg wet.
The Kawasaki Ninja 400 features a trellis frame similar in design to that of the Ninja H2. Kawasaki's advanced dynamic rigidity analysis was used to ensure optimum rigidity with light weight. Apart from this like the Ninja H2, the new Ninja 400 features a swing-arm mounting plate. Allowing the swing-arm to be affixed to the rear of the engine contributing to stability.
Few noteworthy elements like largest brake disc in class, more rigid front fork and sporty riding position which can accommodate a wide range of rider sizes and riding situations make Ninja 400 very unique. Besides a cover for the radiator fan directs engine heat away from the rider, contributing to rider comfort.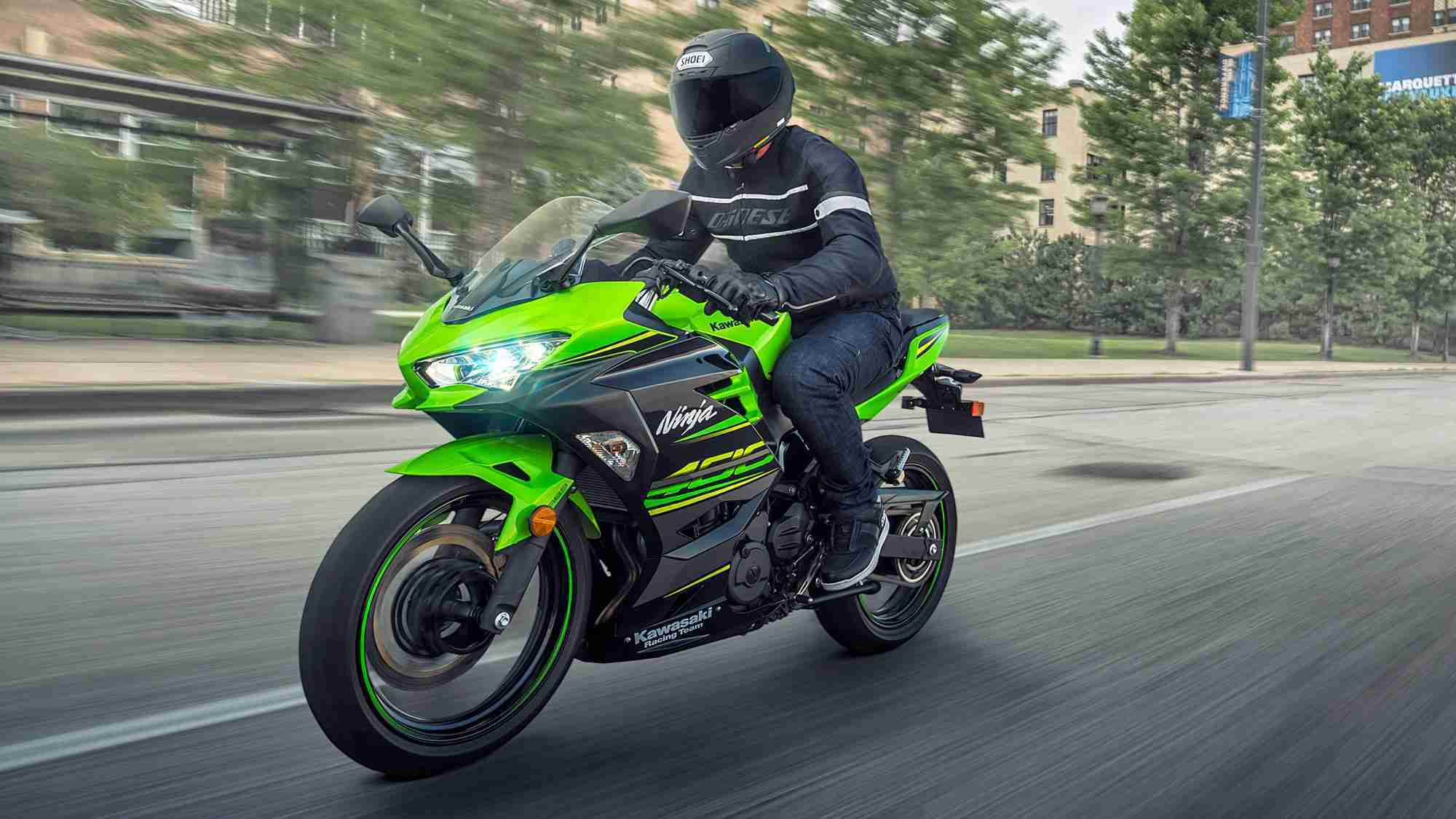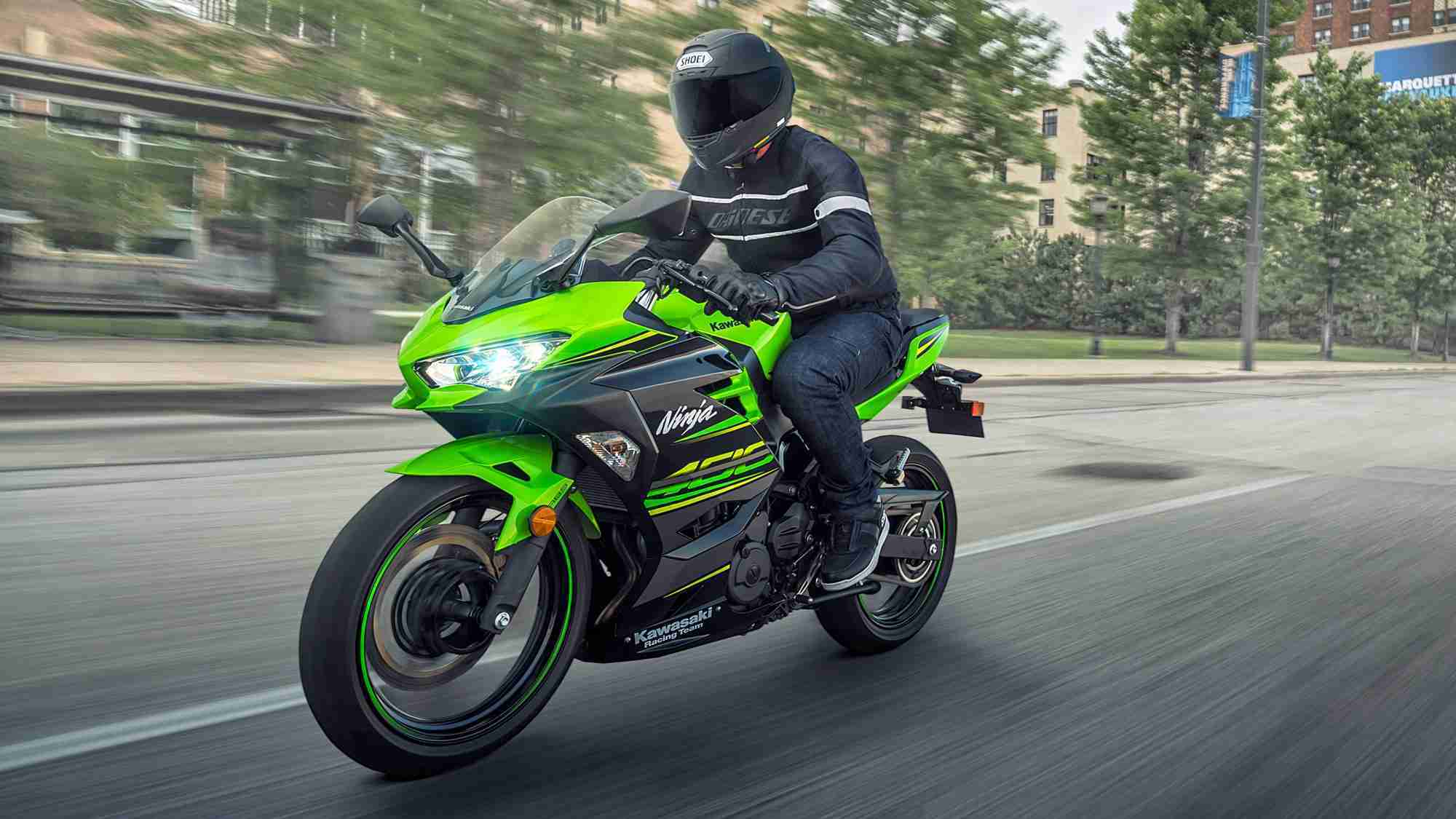 The new Ninja 400 boasts futuristic new Ninja styling inspired by the mighty Ninja H2. Chin spoilers at the bottom of the front cowl were inspired by the Ninja H2 and Ninja ZX-10R. LED taillight design inspired by the 2016 Ninja ZX- 10R contributes to the rear's sharp impression. The Ninja 400 is equipped with the same instrument cluster as the Ninja 650, contributing to the high-grade feel of the tidy cockpit. In a nutshell, Ninja 400 has got many features inspired by its elder brothers.
On the occasion of introduction of Kawasaki Ninja 400, Yutaka Yamashita, Managing Director of India Kawasaki Motors said "Ninja 300 is mainly made for beginners and Ninja 650 is popular among experienced riders. However, Ninja 400 fits the bill for those who are willing to buy a sports bike between 300 and 650cc. With the introduction of Ninja 400 we have created a good family of Ninja series. As of now Ninja 400 will be available in limited numbers, because Ninja 300 is still our flagship model in India and it will be continued along with other Ninja models."
Kawasaki Ninja 400 image gallery
The Ninja 400 will be available in green colour which is a KRT edition and it will be assembled in Kawasaki's factory in Chakan, Pune. Ninja 400 comes in the market with an exclusive launch offer for limited customers if bookings are done in April 2018. Customers can visit nearest dealership for more information.