Going full throttle to expand motorsport in India, Honda Motorcycle & Scooter India Pvt. Ltd. today made a big announcement for the 2018 season. Globally Honda is synonymous with Racing with a glorious history of iconic riders since 1959. In India, Honda 2Wheelers made its debut in motorsports a decade earlier in 2008.
For the first 10 years (2008-2017), Honda 2Wheelers India's motorsport direction was to 'Promote Fun Culture in India' with focus on nurturing, developing and giving professional platforms to Indian riding enthusiasts. And now in 2018, Honda has announced its new direction 'To develop iconic Indian rider for National & International Championships' which encapsulates Honda's aggressive vision to nurture and develop Indian riders of international stature.
Under this new direction, Mr. Minoru Kato – President & CEO, Honda Motorcycle & Scooter India Pvt. Ltd. today announced Honda's latest initiative which kicks-off with the start of 2018 motorsport season this weekend, "Honda 2Wheelers India is proud to announce that for the first time, an Indian team will be participating solo in the 23rd season of Asia Road Racing Championship (ARRC) 2018. It is our next step towards realising the dream to develop iconic Indian riders for both only national but more so international racing championships. My best wishes to the 'IDEMITSU Honda Racing India' by T Pro Ten10 and the two riders Rajiv Sethu and Anish D. Shetty. The motorsport excitement will continue in 2018. Honda will announce a slew of new programs to promote and expand professional motorsport in India."
This is the first time that Honda is promoting Indian riders in an Indian team in international motorsports arena. The IDEMITSU Honda Racing India team by T Pro Ten10 will see two promising Indian riders – second-timer Rajiv Sethu and the rookie Anish D. Shetty battle it out with 23 other Asian riders in the Asia Production 250cc class. The marquee SuperSport 600cc will see the team's third rider, 23-year old Japanese rider Taiga Hada compete with 21 other riders. Hada was overall 3rd in SuperSports 600cc in 2017 FIM ARRC season and is placed 7th in the first qualifying of 2018 season.
Speaking on Indian riders skilling up and going global, Mr. Prabhu Nagaraj, Vice President – Customer Service, Honda Motorcycle & Scooter India Pvt. Ltd. said, "Honda India is making gradual and consistent progress in motorsport and our boys going international is great for the sport. As part of Honda's rider development program, two young talented Indian riders Sarath & Rajiv will be seen in action in Asia Road Racing Championship (ARRC) this year. We are extremely delighted to extend learning curve of Rajiv while giving debut international exposure to the promising rider Anish. We are confident that they will put up a great show and supporting dreams for many more young riders to make a career in racing. With the ARRC returning to India later this year, this will be another great opportunity for the riders as well as the motorsport fans in India."
Sponsored by IDEMITSU Lube India Pvt. Ltd., Honda 2Wheelers India will oversee overall team management of the first ever Indian team at the ARRC. The team's rider management will be undertaken by professional Indian team Ten10 Racing Pvt. Ltd while technical support including bike performance enhancement, modification, data analysis, maintenance and repairs will be looked after by T-Pro Innovation, a professional Japanese team.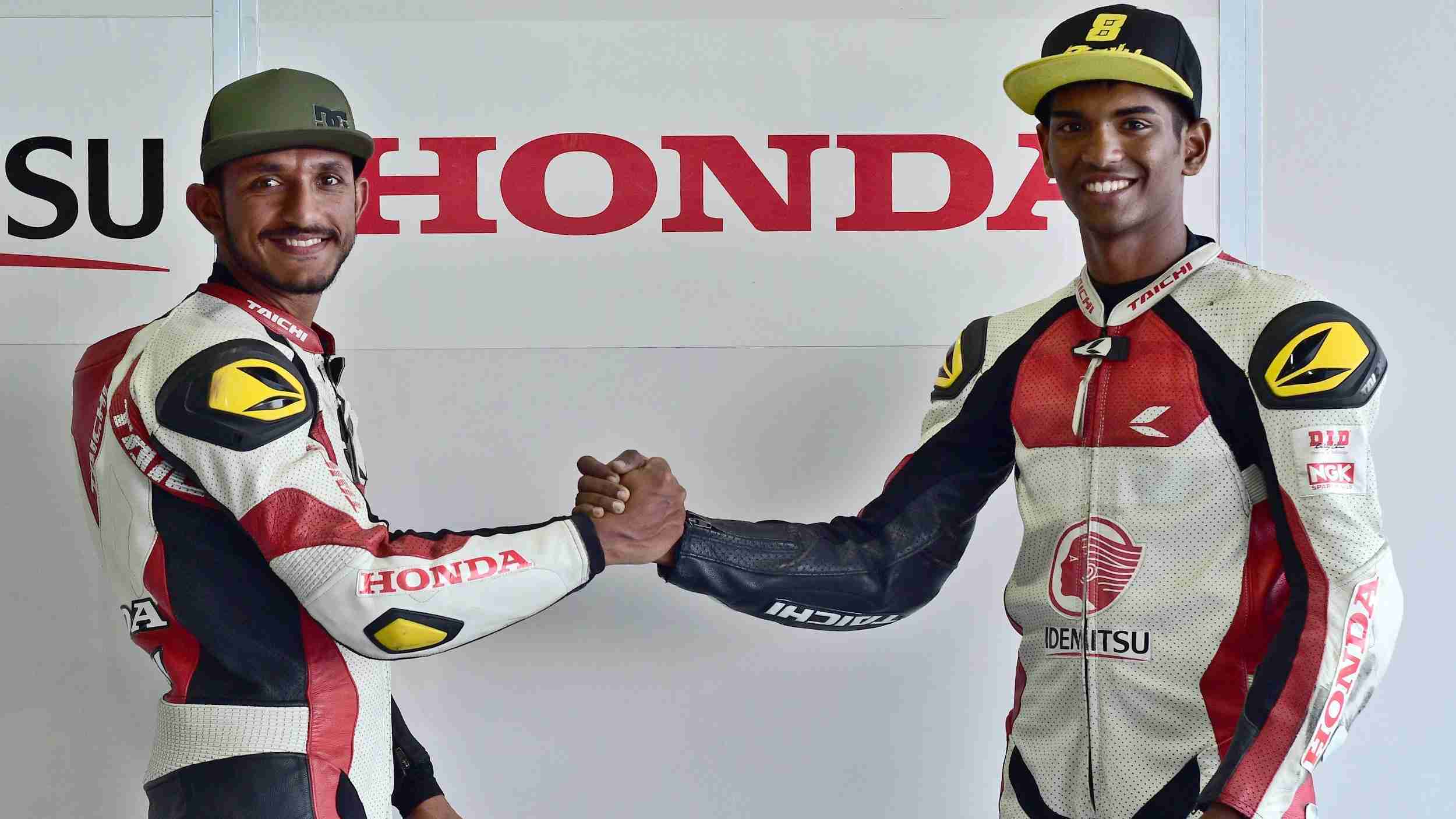 Team & Rider Profiles:
Team

Machine

No.

Rider

Age

Category

IDEMITSU Honda Racing India' by T Pro Ten10

NEW

CBR250RR

 

80

Rajiv Sethu

20

Asia Production 250cc

81

Anish D. Shetty

NEW

24

CBR600RR

 

Taiga Hada

23

SuperSports 600cc
Qualifying 16th position in the inaugural round of the 2018 ARRC season, Rajiv Sethu, the IDEMITSU Honda Racing team rider said "This is my second year at the ARRC, I had an amazing debut and learnings last year. By providing me with this global platform, Honda 2Wheelers has given me wings to achieve my dream of becoming an international Indian motorsport rider. Taking learnings from 2017 season, I have worked diligently this year. I am very excited to be a part of the first Indian team and aim to deliver my best this year for my team and my country."
Also making his debut in Asia Road Racing Championship (ARRC), Anish D Shetty said, "I am elated and honored to be a part of the historical first all Indian team at the 23rd season of ARRC. For any Indian racer, getting global exposure is a big opportunity. Honda 2Wheelers India has made my dream come true. I look forward to ride and learn from the most experienced racers in the world. 2018 season for me is all about improving my riding and presence in international races. This is my first exposure in ARRC and it's a big deal for me. I will do my best to make my team and country proud."