Harley Davidson is on a mission, in the next 10 years they want to add 10 million more riders globally on their machines. And for this they need their machines to be more accessible in all the markets they sell in, and most importantly appeal to a whole new generation of riders. The whole challenge then was to make a machine that's sporty and easy to ride and still remain characteristically a Harley.
The Street Rod 750 from Harley is the culmination of all this. Harley say that there are enough changes on this machine over the Street 750 to warrant it being labelled a new one. Like always lets dive in and find out how it rides. Visually, we must say that the Street Rod 750 looks much better than its sibling. It no longer looks like a cruiser looking to blend in. It has a taller confident presence and your eyes are easily drawn to it.
The 43 mm USD forks up front along with the 300 mm dual disks and the headlight – cowl combo give it a sporty yet familiar retro stance. The flat drag style handlebars with the bar end mirrors that come as stock, add to this look. The revolution X V-Twin engine somehow now feels more visually accentuated. It looks good below the tank that now has been moved forward slightly and then comes the entire rear section that reminds you of Harleys old café racer, the XLCR.
The changes are not just cosmetic though. The V-Twin now has new pistons, updated in-take ports and higher lift cams for better compression. This along with a higher rev limit that now stands at 9000 RPM results in an 18% increase in power and 8% increase in torque.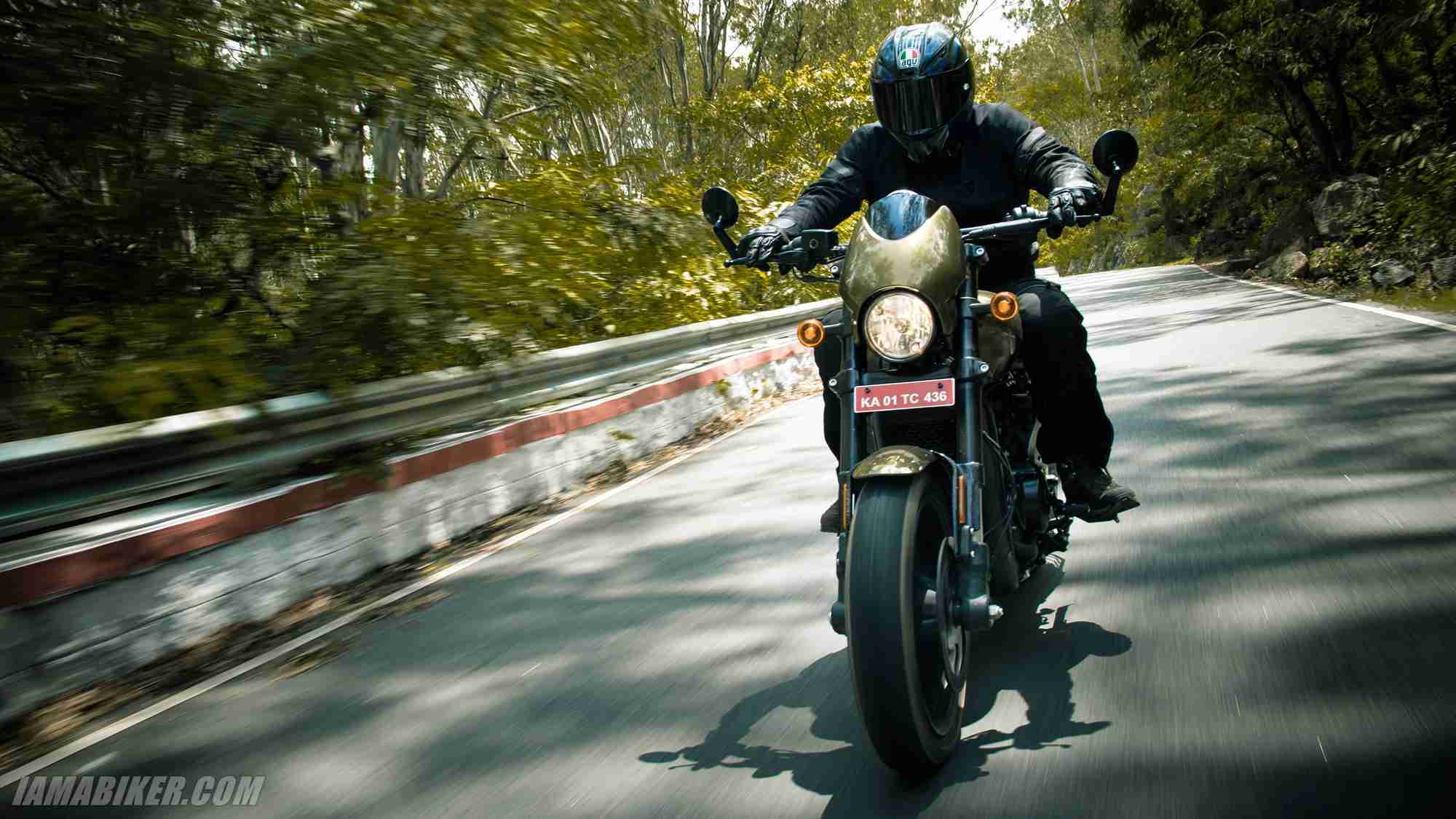 Out on the road, this change was easily noticeable, the Street Rod 750 always felt ready to go. The throttle response and gear box was smooth and it builds pace effortlessly. Low RPM roll on is great in any gear but you have a chunk of torque hitting you in the mid range and always giving you a smile. Keep it in the 3 to 6k RPM range and the Street Rod 750 will reward you with instant torque surges that can get you addicted to it.
The V-Twin is surprisingly refined only losing its composure slightly at high RPMs. Also the typical snatchy throttle response you have come to expect from a V-Twin is now not so evident. This means even in city conditions your right hand is not stressed trying to tame it. Out on the highway you have enough juice to cruise comfortably at 120-130 and it can easily go further. As expected in this sort of a configuration, the second of the twins sits close your thigh, so you do have heat thrown at you.
But wait, if you thought that the engine character was biggest highlight of the Street Rod 750, then you are deeply mistaken.
The Harley Davidson Street Rod 750 is probably the best handling Harley to date. The shortened wheelbase, the steeper rake angle and the new suspensions all add up and make it an absolute blast to ride. Add to this the high ground clearance, the slightly higher seat height and a riding position that's pretty unique to this machine, you are feel very confident not just on the highways, but also pushing it through the winding roads. It feels sporty, flick-able and almost makes you forget that it ever had any cruiser DNA.
The riding position is something that you will need adjusting to. It's not your typical cruiser where your feet are stretched forward. You lean forward a bit to have a good grip on the flat handle bar and your legs are pretty much beneath you on high pegs. This almost sport cruiser-ish rider triangle takes you by surprise especially if you are a taller rider. But on the whole, it's not a deal breaker in anyway. Once you have some kilometres under your belt on this machine, you will start to enjoy it, it almost makes you feel at one with the machine than being on it.
A little bit of travel and softness at the rear suspension would have gone a long way in making it more versatile, but that said both ends are set up right for most situations. The only place the Street Rod will remind you of its cruiser genes is when the speeds are slow and you need to take U turns. But apart from that the whole ride experience has been great.
Another key aspect that has received some much need improvement is the braking department. While feed back could have been better, the ABS backed up system is a vast improvement over the ones on the Street. It now gives you a lot of confidence and this properly backs up the sporty character of the bike. The stock MRF tyres too did a good job of complimenting the new braking setup.
Another key area that has seen positive change is the overall build quality. Attention to detail is impeccable and they only thing that we wish were different is the switch gear.
The vision that Harley had for the Street Rod 750 was to build a machine that would interest the next generation of riders. And if you ask us, they have got it spot on. The Street Rod 750 maybe not be perfect but it has all the right elements that make you take a second look at it. Its skates the fine line between the cruiser world and the sports bike one and pulls it off successfully.
Harley Davidson Street Rod 750 image gallery