Hafizh Syahrin will be the fourth rider in the MotoGP line-up for KTM in 2019. The Malaysian has confirmed a one-year contract extension with his current Tech3 team and will join last weekend's Moto2 winner at the Gran Premio D'Italia, Miguel Oliveira, on the KTM RC16 next season.
The 23 year old rookie, the first Malaysian to compete in the MotoGP category, has caught the eye in his debut campaign. #55 has registered three top-twelve finishes from the six rounds to-date and has impressed the French squad – led by Herve Poncharal – with his adaptation and fast acclimatisation to the demands of the premier class.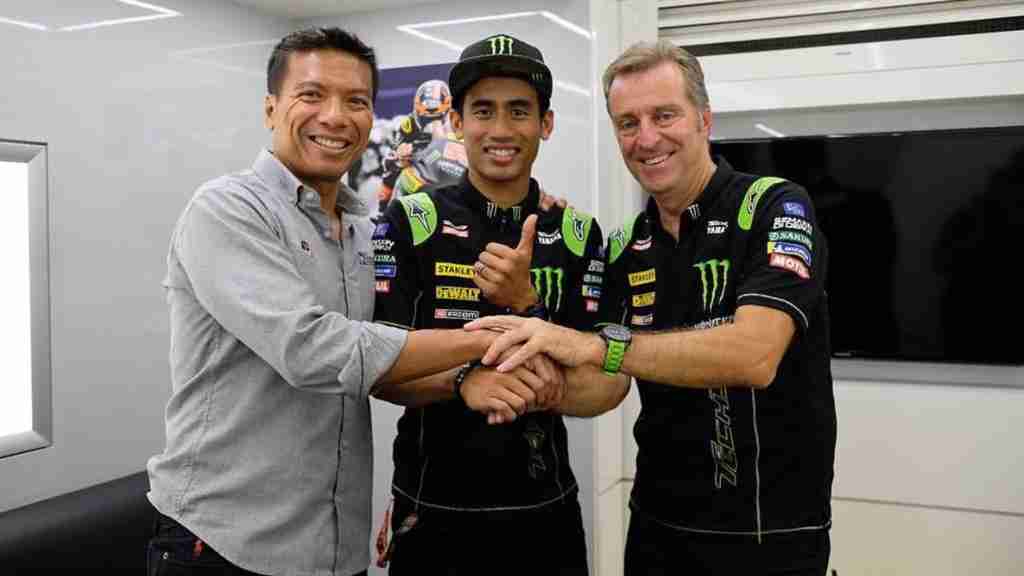 Pit Beirer (KTM Motorsport Director): "We are happy that Hafizh Syahrin extended his contract with Tech3. After his unexpected move to MotoGP he has had a decent season so far and is leading the ranking for 'Rookie of the Year'. Furthermore he is a very professional and friendly young athlete. Together with Miguel Oliveira the rider line-up for our young Tech3 KTM MotoGP Team for the next season is now complete. I also want to express big thanks to Hafizh's manager Razlan Razali for his trust in the newly built structure of Tech3 KTM. We're looking forward to work together in the future."
Hafizh Syahrin: "It's hard for me to talk about this, and to believe it! First of all, I have to say thank you very much to Herve for trusting in me and giving me this opportunity to stay with the Tech3 family and at the same time to join the KTM family. I also have to express a huge thank you to my manager Razlan, who helped me to achieve this dream arriving to the MotoGP class, plus thank you to KTM for believing in Hervé and in me. I will work hard for 2019 and I'll be better prepared. I'm incredibly happy to get this chance."
Hervé Poncharal
"Today is a very special day for me and for the whole Tech3 team! Since Hafizh jumped on our MotoGP bike, it's been like a dream, every single day, because he's been very fast and a lot faster than some people were thinking and we've been very proud of what he did. I know it was a great achievement for a Malaysian rider to be the first one of his country arriving in the MotoGP class, for his first ever MotoGP race, he scored points and since that day he has been consistently battling for the top rookie spot and apart from that, Hafizh is a very special character. He is a very nice young man, very well educated, very humble, very respectful of everything, hard-working, wanting and wishing to learn a lot, which is what he is doing and a very funny guy, too, a fact I like a lot. Everybody who knows Tech3 a little bit, is aware that I always consider my team my family, I always try to have this family atmosphere in the garage. Hafizh fits in very well and he makes everybody laugh. From almost day one we started to work with him, I wanted to give Hafizh a second year, because year one is important to learn, but the second year is maybe even more important to prove yourself. Clearly, for us all to move to our new project with KTM, where we have the insurance that the four KTM on the grid in 2019 will be the same evolution, it's going to be a massive boost for Hafizh. He will be on the same machine like Miguel Oliveira, Johann Zarco and Pol Espargaro and this is a great challenge. I'm very proud to take this challenge together with Hafizh, always with the support of Razlan. I think we got the best rider, we could have picked for our 2019 line-up and I'm quite sure that Miguel Oliveira and Hafizh Syahrin will be a strong package of new talented and ambitious riders. Tonight, we are a happy team, because everything is clear and decided, so welcome for another year, Hafizh!"
Syahrin completes a MotoGP roster that will also include Johann Zarco and Pol Espargaro in the Red Bull KTM Factory Racing team.