Not so long back we finally got to spend time with the TVS Apache RR 310 and this time we had it for over a week. Our first ride experience back in December 2017, only made us want to ride it more. After our TVS Apache RR 310 review at track we knew it was extremely fun at the track, but at the same time it's gearing and tractability was best suited for the road. So this time when we got a chance to ride it again, this time in real world conditions, the expectations were naturally high. There are many questions to be answered and lets dive into the details.
To summarise on the specifications, the Apache RR 310 has a 312.2 cc motor that produces 34 Ps @ 9700 RPM and 27.2 Nm @ 7700 RPM.
While the specifications suggest that the RR maybe a little bit of a handful at lower RPMs, it is actually quite the opposite. In city conditions when the RPMs are typically below the 5k RPM mark, the Apache RR 310 is still your friend.The smooth and sharp gearbox, works flawlessly with you for a very smooth ride. Clearly there are some very thoughtful ratios in this gearbox that allows you to roll around town in top gear at speeds as low as 50-60 km/h.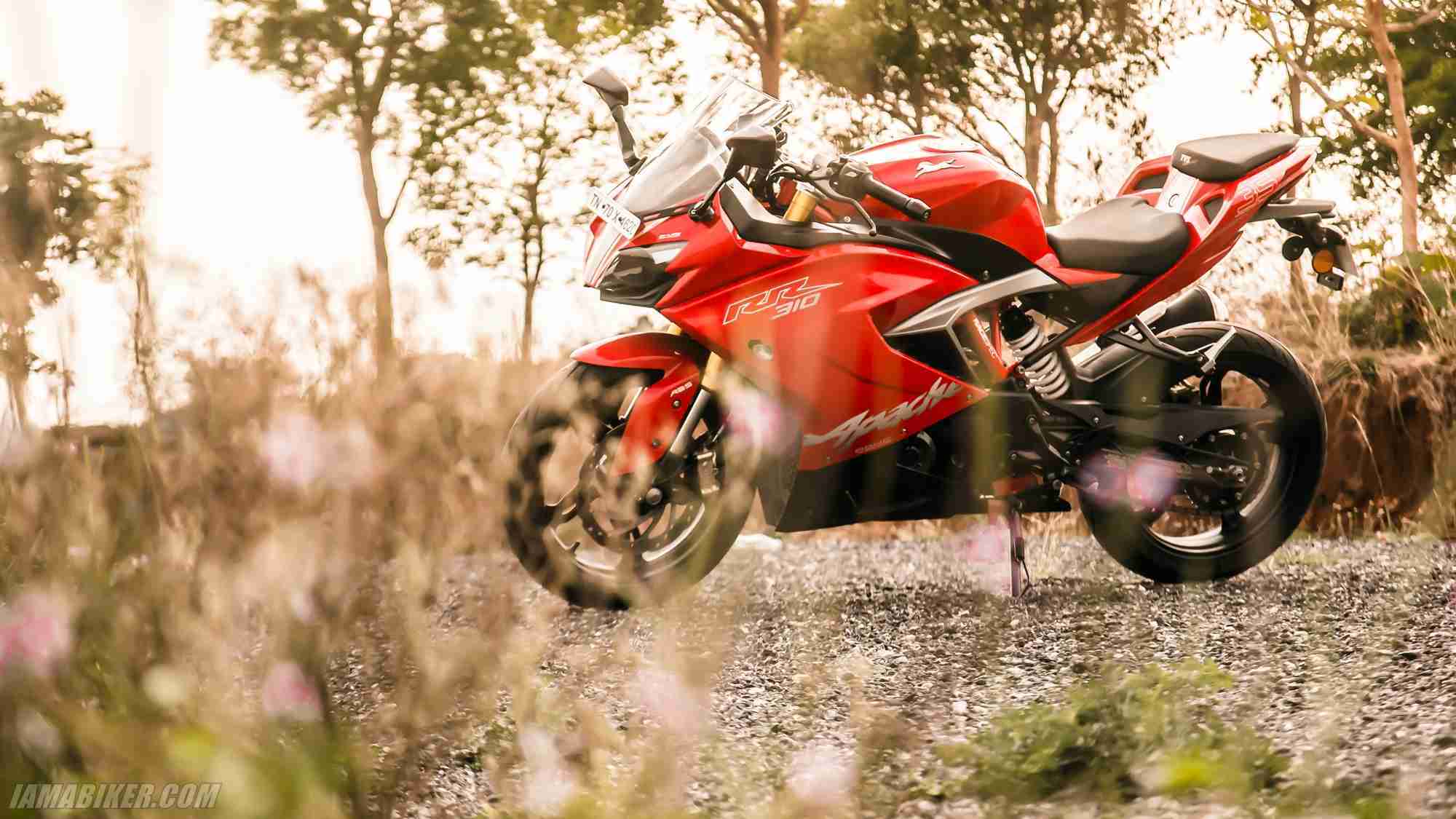 Now while the RR is nonchalant below the 5k RPM mark, pin that throttle and it reminds you of its true nature. While it's not as explosive as some machines in its competitor list, what it does very well is deliver the power to you in a non-intimidating way. The speed and the revs build easily but there is always this sense of calm and control. Out on the highway, it can do a comfortable 120 km/h cruise at about the 7.5k RPM mark with good wind protection and has enough juice left for bursts to 150 effortlessly.
We managed a 0-100 timing of about 8 seconds and a top speed of 160 km/h, but the thing that impressed us the most is its fuel efficiency. Even in the city this motor returned a healthy 30 km to the litre and out of the highway it went up to about 34.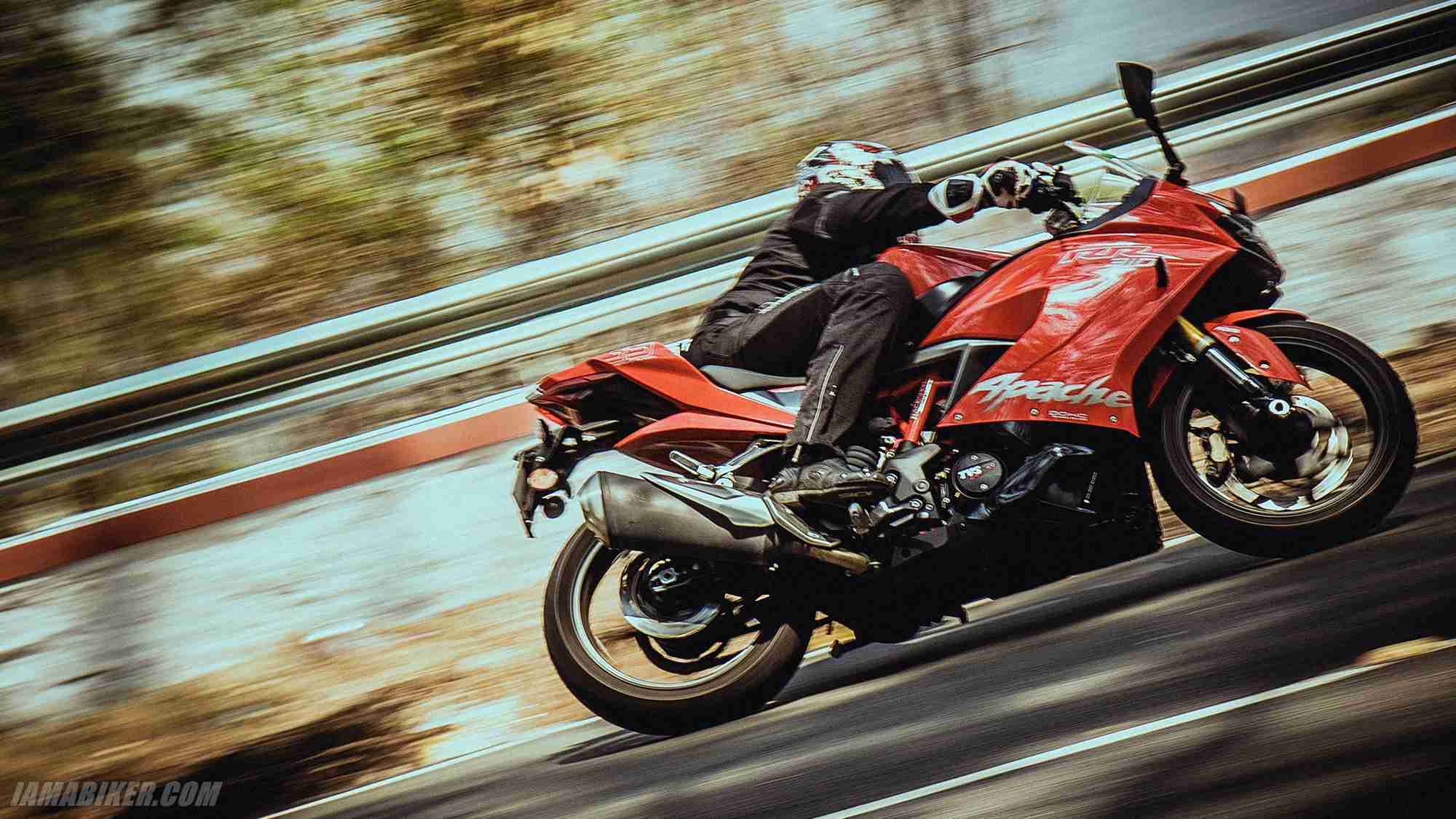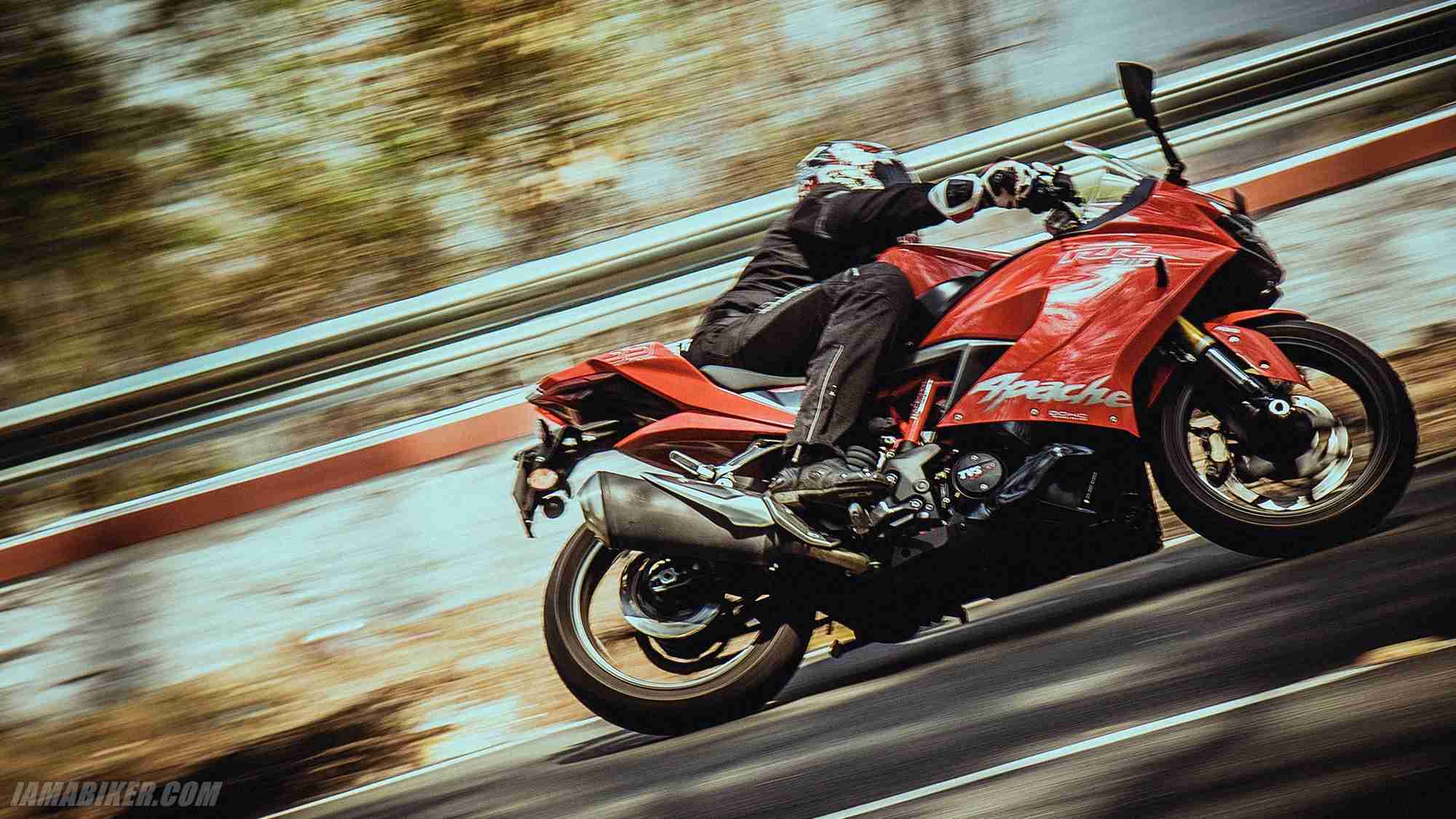 The only real place where we think things could have been better is overall refinement, especially around the 6-7k RPM mark. At this RPM range, you do feel some vibes creep in around the tank and foot pegs.
Now, nothing really needs to be said about how the RR looks. Quite simply put, we loved it then, we love it now and will most likely love it for a long time to come. But a key aspect of this design is the functionality built into it. You almost never feel the engine heat even in slow moving conditions and that by itself is a huge victory when it comes to usability.
Then comes the comfortable rider triangle. Even though the design screams of a pure supersport riding position, what you get is a rather comfortable setup. The foot pegs are not extremely rear set or high up and neither is the handlebar low down. This means while you do have a sporty riding position; it is not one that puts a lot of weight on your palms. The rider also has a lot of space to move around on the seat.
While we were already impressed with the handling of the RR at the track, it does equally well on the streets. It is nimble and feels light to ride and quick to change direction. It also feels planted on the highways and a blast to ride on the twisties. The KYB suspensions too are quite spot on, a bit on the firmer side so as not to compromise the handling, but still quite comfortable.
The dual channel ABS supported braking probably could have used a bit more sharpness and feel especially at the front end. It does scrub off speed fast but it definitely can be better. The stock Michelin tyres are good for road use, but we expect better tyres would do wonders for the handling and braking of this machine.
Coming to the build quality and features, yes there are things that could have been better. But overall the TVS Apache RR 310 is a well-made machine. The fit and finish of the panels and internals are good and it has been neatly put together. The vertically stacked meters at the front have a lot of information and some key features apart from the normal are the top speed recorder, 0-60 timing recorder, range metre and a lap timer.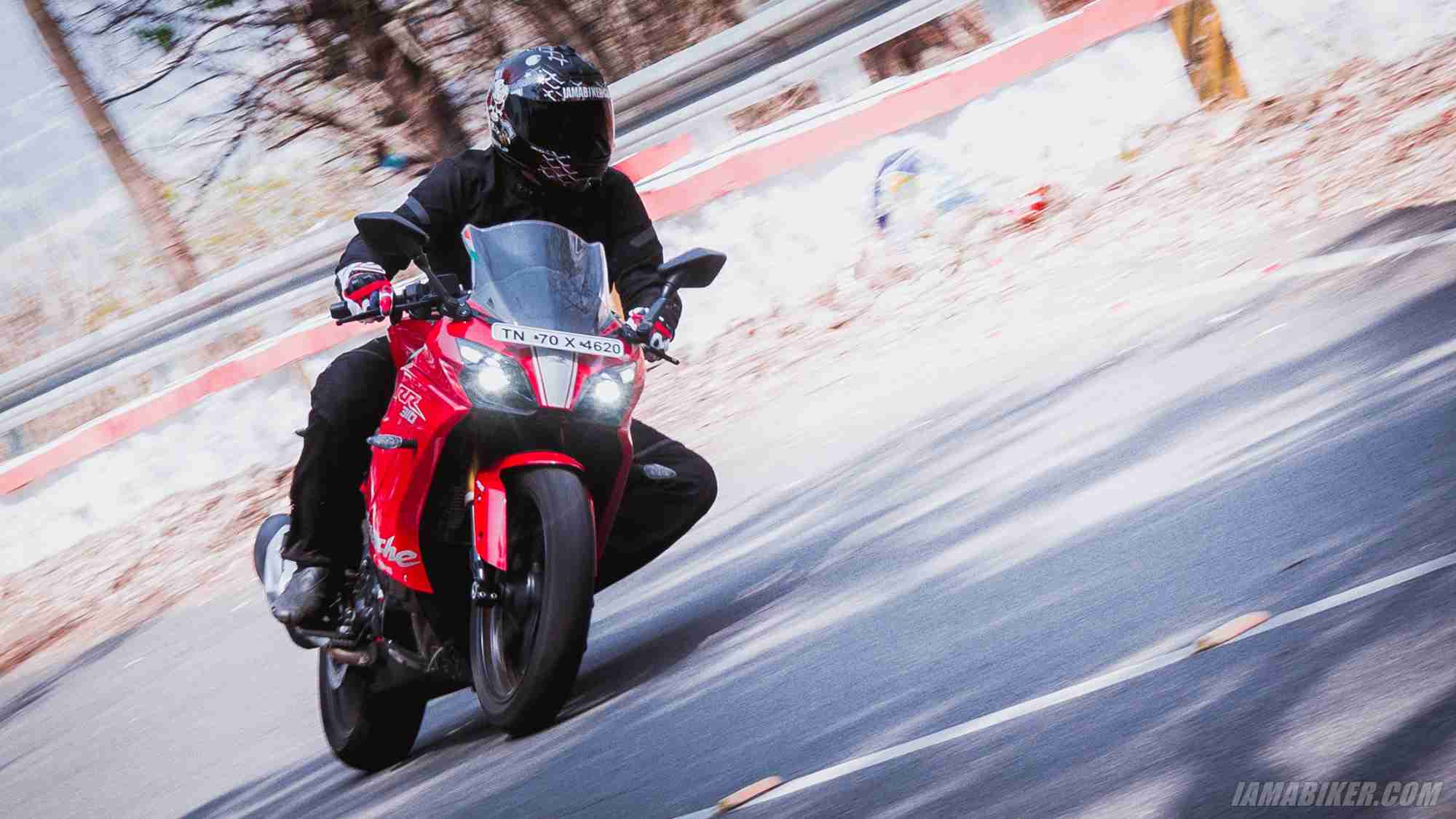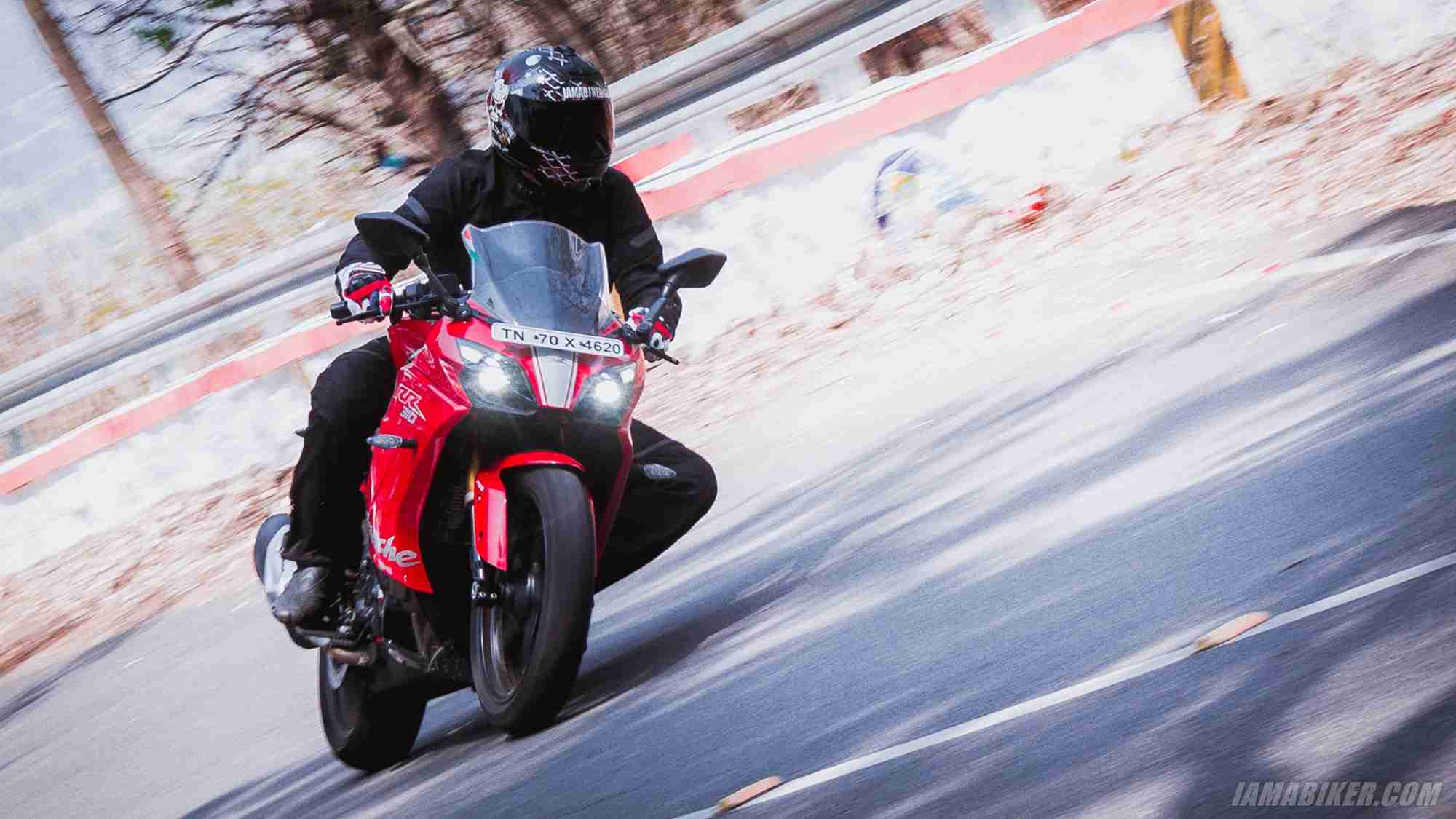 Another key aspect we need to talk about is about the headlights. While we typically have not been fans of LED headlight systems in the past, the ones on the RR 310 have a good throw and are functional.
So, as we expected, while the TVS Apache RR 310 is a whole lot of fun at the track, it is also a machine that can handle its role as your daily ride easily. It essentially is a motorcycle that can take up any role that you need it to take and of-course make you look good while doing it.