Andrea Dovizioso scored a splendid victory in the Grand Prix of Qatar, the opening round of the 2018 MotoGP World Championship held this evening at the Losail International Circuit.
The Ducati Team's Italian rider, who started from row 2, was unable to get a good start when the lights went out and he crossed the line at the end of the opening lap in seventh place. Dovizioso then moved up into the leading group, battling with Marquez, Rossi and Zarco and then took over at the front on lap 18, followed closely by the Spanish rider who tried an attack at the final curve. Andrea once again was able to get through on the inside and taking advantage of the acceleration of his Desmosedici GP18, he crossed the line 0.027s ahead of his Honda rival.
Thanks to today's win Dovizioso has overtaken Loris Capirossi in the list of most victorious Ducati riders in MotoGP with eight wins to his name, and is now in second place in this particular ranking behind Casey Stoner.
Rossi had a lightning fast start from eighth place and stormed to fourth on a perfect opening lap. With a podium place in his grasp, he closed in on Dani Pedrosa and cruised past him at the end of the second lap on the start-finish straight, before making a text-book move, breaking hard into the first corner.
The leading pair, Johann Zarco and Marc Marquez, ran a hot rhythm, but not strong enough to shake off the Doctor. He was a man on a mission, determined not to let them escape and dropping consistent 1'55s laps. With 17 laps to go, the Italian made his move on Marquez, so he could challenge Zarco for the lead, but soon things got tense. At the start of the 11th lap the 39-year-old went wide into turn 1, allowing Marquez and Andrea Dovizioso through, but he didn't let it get to him.
The final five laps were exactly what the fans had hoped for. Rossi fought his way past Zarco for third. The 46-rider threw everything he had at breaking away from chasing riders, which he managed perfectly. However, he was unable to get close enough to battle with Dovizioso and Marquez in the final laps and finished the first race of the season with a well-deserved third place, 0.797s from first.
Marc Márquez rode the entire race between second and third, and tried to take the lead on the last corner, but he ran wide and Dovizioso recovered the position to take the victory by just 27 thousandths of a second.
This is the sixth podium for Marc Márquez in Qatar, where he has been on the rostrum once in 125cc, once in Moto2 and four times in MotoGP.
The MotoGP World Championship will be back on track again at the Termas de Rio Hondo circuit for the Argentina GP on April 8th.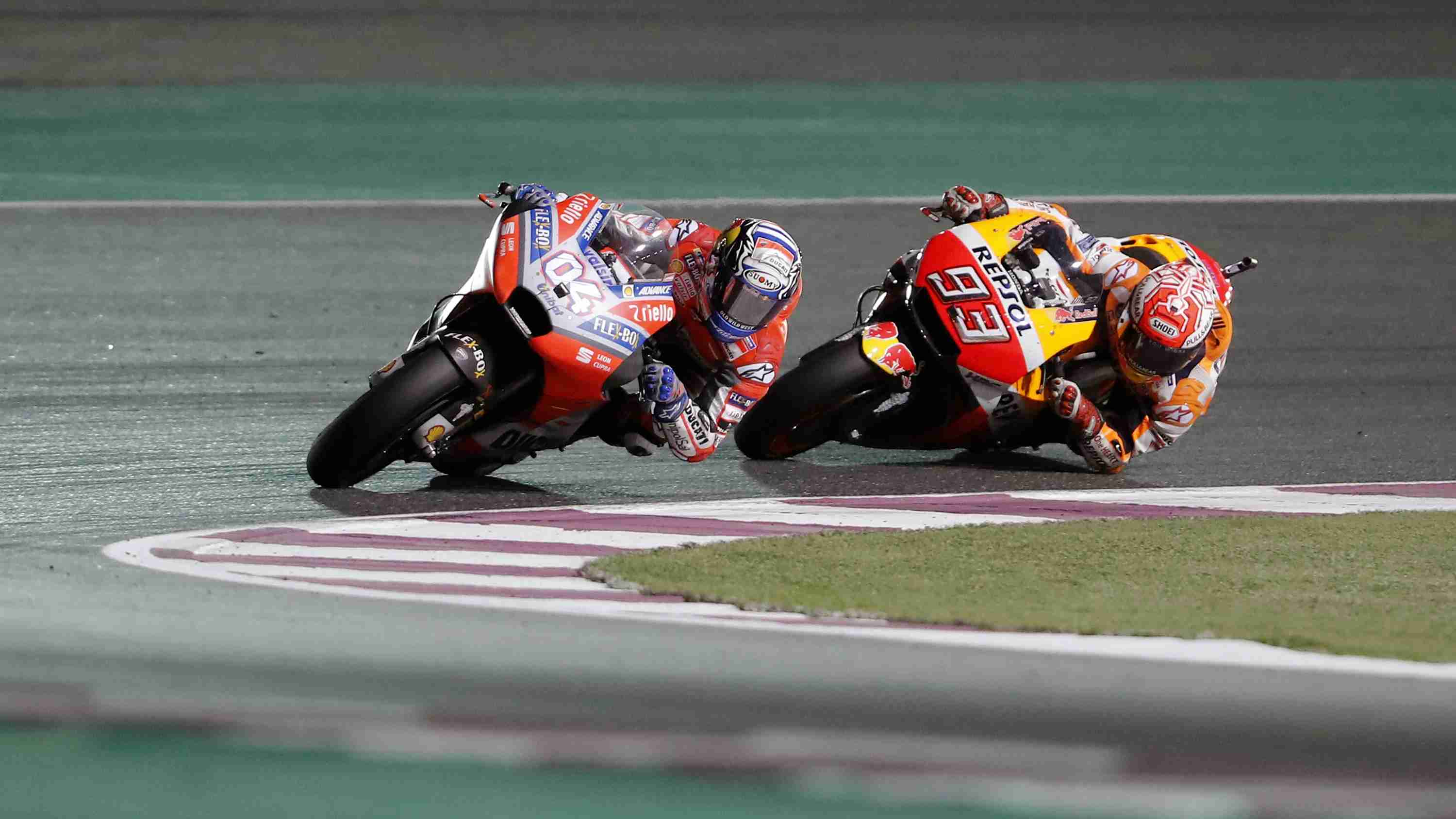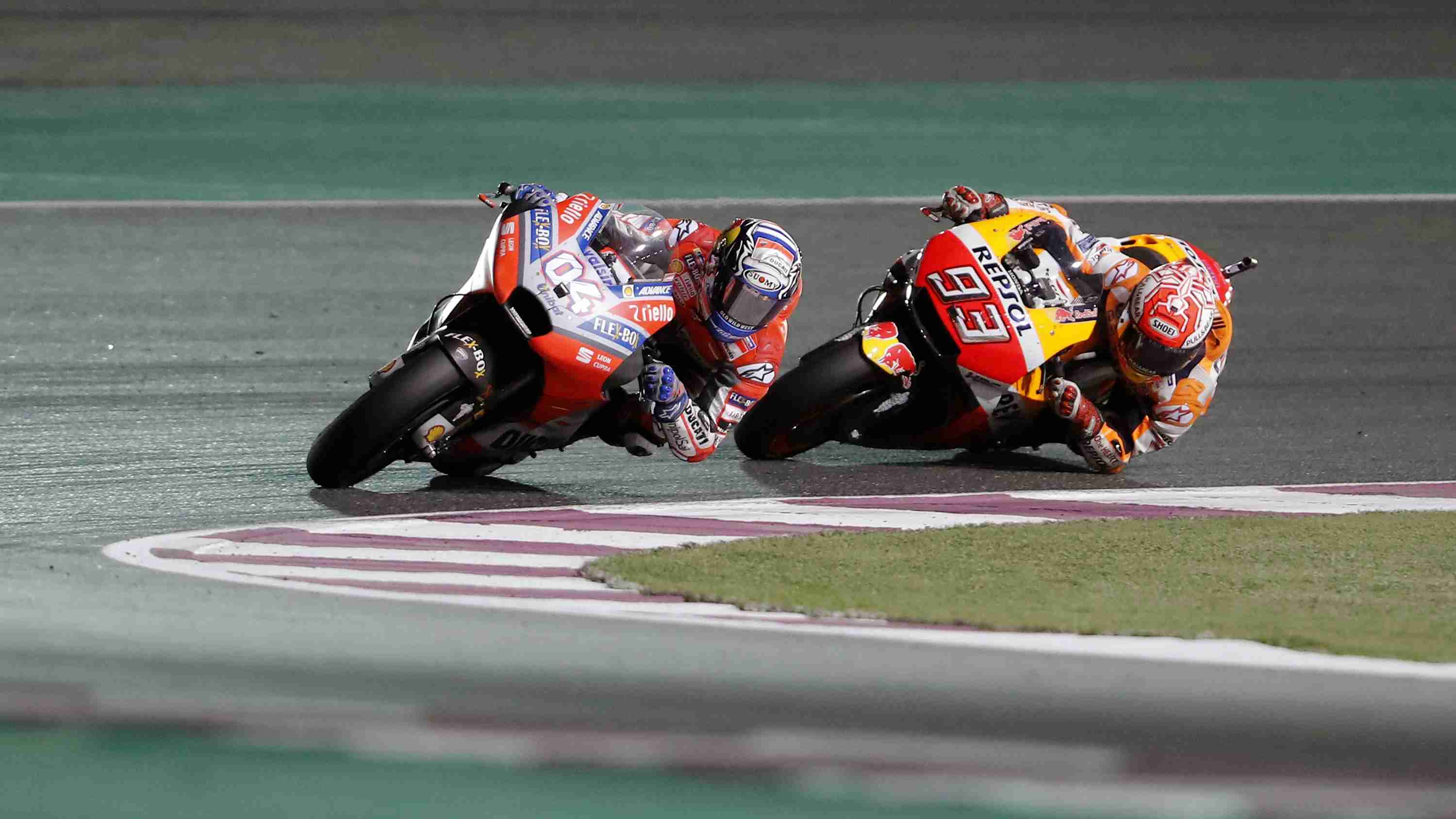 Andrea Dovizioso
"I'm really happy with this win because we have confirmed the improvements made over the winter and I was able to manage the race well, even though I made a really bad start. On the first lap I had to come off the gas, otherwise I would have crashed into Rins I think, but then I began to make up places, trying not to ruin the tyres.. Towards the end, after passing Zarco, I tried to pull out a gap on Marquez and Rossi but I didn't have any more grip and was unable to increase my lead. At the last curve I had to be very careful because I knew that Marquez would try and pass me, and that's how it went. He closed the door on me even more than in Austria and Japan, but I passed him on the inside of the kerb and then took advantage of the power of my Desmosedici to stay ahead. Once again it was a great satisfaction!"
Marc Marquez
"What a race! I'm really happy with our second place finish because this is one of the tracks on the calendar where we struggle most. After the pre-season test we knew what we could expect. With the hard front tyre I was struggling a bit in the left corners but with the medium I wouldn't have finished the race. I tried to pass Dovi in the last corner but he beat me. Honestly, I was expecting that, but I had to try the move anyway, to see if there was any way we could make it happen. In the end, Dovi had something more than me and he deserves this win. Even if he was a bit behind at the start, I was waiting for him­­­–I was waiting for the red! I knew his tactic was to push at the end and when he passed Zarco I said to myself, 'let's go!' I followed him and almost went wide, but it was a great race and a great show. The thing I'm most happy about is that, this time, we were able to stay with him on the straight and this is very good."
Valentino Rossi
"It was a great fight and a great race. Sincerely, last year it was a bigger surprise to me – it was less expected then to arrive on the podium. With the bike from this year I feel good. This time I was more competitive and I knew I could do a good race, but you never know if it's enough for the podium because we were with ten strong riders. I tried to push from the beginning, because I started from the third row and on the first lap I was able to overtake some guys. The other key point were the final laps, when like last year the strongest on the track were Dovizioso and Marquez. I knew they had enough to change the rhythm, but I'm very happy that I could go with them today and arrive at the finish line close to them, at the end. Unfortunately, it was not enough for the victory, but the podium is a great way to start."