Honda Motorcycle & Scooter India Pvt. Ltd. – the 100% subsidiary of Honda Motor Company (Japan), yesterday celebrated a historical milestone as the company's four manufacturing plants in India have together crossed the 35 million two-wheeler mark in total.
Making this milestone an industry first is the fact that Honda is the ONLY two-wheeler brand in India to exponentially grow and cross the 35-million-unit mark in just 17 years.
Honda 2Wheelers India started operations in 2001. It took 11 years to achieve the initial 10 million units cumulative production in India (milestone achieved in 2012). As the only Honda in Indian two-wheeler industry since 2012, Honda grew to meet customer demand and added the next 25 million customers in just five and half years. With this, Honda wing mark family is now 35 million customers strong.
The love and trust of Honda keeps growing as a new customer is joining the Honda family every 5 seconds.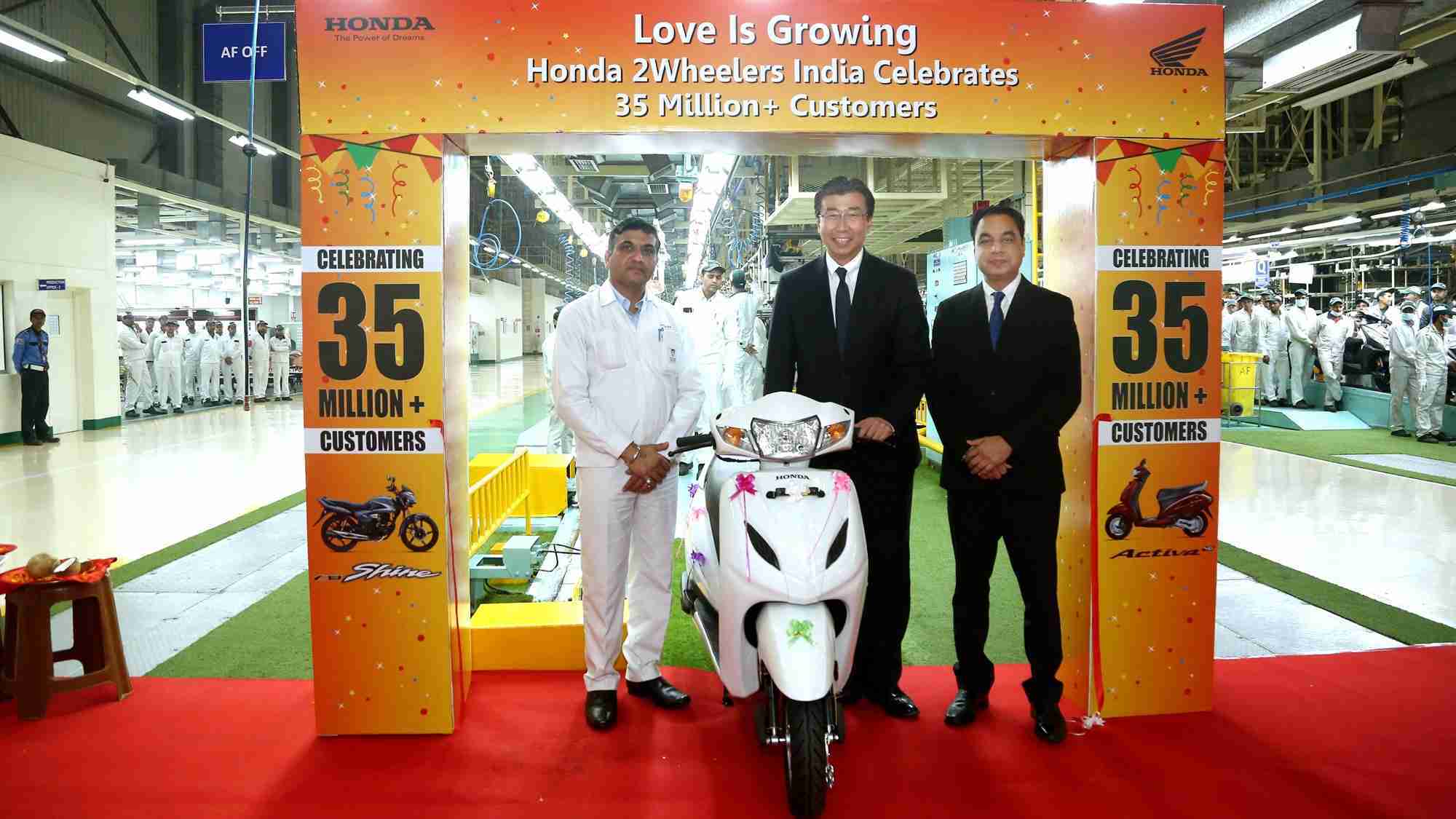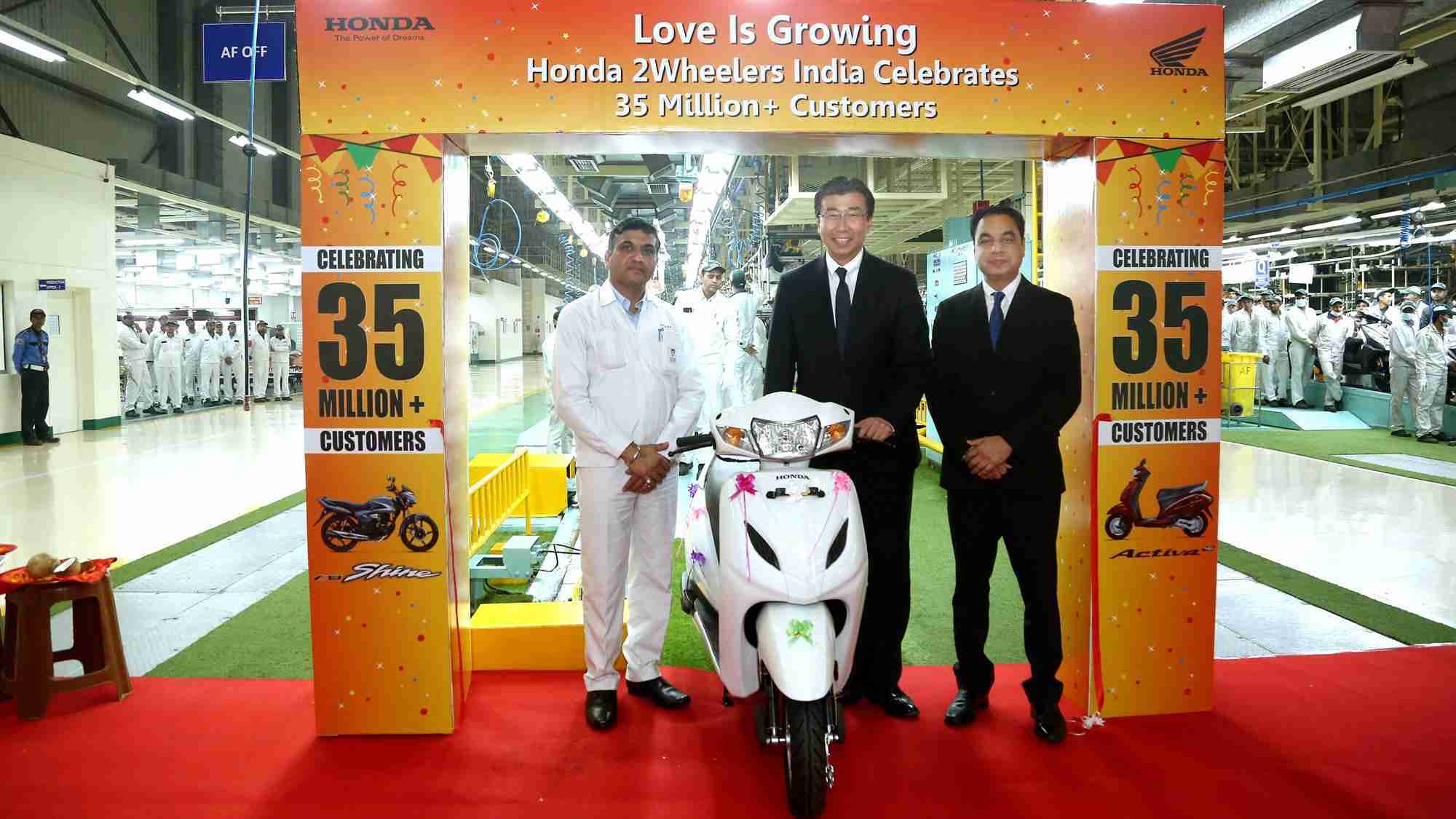 Rolling out the historic 35th million two-wheeler, an 'Activa 4G' from Honda's second plant in Tapukara (Rajasthan), Mr. Minoru Kato – President & CEO, Honda 2Wheelers India said, "Thanks to great support from customers in both India and 68 countries across the world, Honda 2Wheelers India is celebrating our 35 millionth two-wheeler landmark today. Taking forward this love and trust, we at Honda are committed to provide quality products and experiences that make customers' lives more enjoyable."
Elaborating how Honda has changed the way India rides, Mr. Yadvinder Singh Guleria, Senior Vice President – Sales & Marketing, Honda Motorcycle & Scooter India Pvt. Ltd. said, "Since the very start in 2001, Honda 2Wheelers India has led with its challenging spirit. Our first model, a scooter (Activa) activated the slowing scooter market with its advanced features and fresh design and is now leading India's scooterization as No. 1 selling two-wheeler of India. Delighting 35 million customers with 24 products Honda 2wheelers is now reaching closer to them through a network of over 5,700 authorised touch-points. India's Love for Honda's 2wheelers is Growing and we are set to meet the future expectations of our customers."
This landmark marks a new milestone in Honda's longstanding presence in India and emphasises Honda 2Wheeler India's role as the biggest production and sales base for 2Wheelers both for the country and the world. In 2017-18, Honda produced approximately 14.8 million units of motorcycles worldwide (from April to December 2017). Of this, Honda 2Wheelers India accounted for approximately 31% of the motorcycle production and reinforced its position as the biggest two-wheeler production hub for Honda globally. Meeting domestic demand in India remains a priority as a massive 95 percent of the Honda two-wheelers produced in India are sold in the country. Over the years, Honda 2Wheelers India's global presence too continues to grow as products made in India have delighted customers in 68 more countries.
Honda Milestones in India
1999 – Honda Motorcycle & Scooter India Pvt. Ltd. (HMSI) is incorporated
2001 – Starts production at first plant in Manesar, the first model Activa is launched
2002 – Starts exports from India
2004 – Enters the motorcycle market with 150cc CB Unicorn
– Becomes No. 1 brand in scooter segment led by Activa success
2006 – Diversifies in the motorcycle segment with launch of 125cc CB Shine
2008 – Only two-wheeler company to continue to grow double-digit after Lehman crisis
2009 – Introduces Combi-Brake System with Equalizer technology – An industry First
2011 – Inaugurates 2nd manufacturing plant at Tapukara (Rajasthan) of 12 lac units capacity
2012 – Becomes Only Honda in India
– Enters 110cc motorcycle segment with Dream Yuga
– New Technical Centre with integrated SEDBQ function inaugurated
2013 – Inaugurates 3rd manufacturing plant at Narsapura (Karnataka) with 12 lac units                        capacity
– Honda Eco Technology (HET) introduced for improved mileage
2014 – Expands capacity at 3rd manufacturing plant to 18 lac units
2015 – Launches 15 new models in 2015 including first CKD model CBR 650F
2016 – Inaugurates 4th manufacturing plant at Vithalapur (Gujarat) of 12 lac units capacity
– Honda 2Wheeler India sales cross 5 million mark annually for first year
2017 – Expands capacity at 3rd manufacturing plant to 24 lac units, total capacity reaches
6.4 million units annually from 11 assembly lines at four plants
– Iconic Activa becomes India's No. 1 selling two-wheeler and is trusted by 15 crore families
2018 – Achieves historic 35 million cumulative milestone