Choosing one of Europe's premier motorcycle events as the venue for unveiling two important A1 category machines, Kawasaki unveiled the 2019 Ninja 125 and Z125 at Intermot in Cologne on October 2nd. Alongside a customer awareness campaign titled "The Toughest Choice", the two 125 cc machines further enhance the Kawasaki desire to both entice new riders to the benefits of motorcycling while making a Kawasaki the first machine of choice for newbies.
The key takeaways of extensive face-to-face research conducted by Kawasaki's R&D department across Europe showed that design and styling were the top priority with potential owners (both male and female) followed closely by the image and reliability of the brand. This is where these new 125cc machines score high on the scale as they both have styling inspired by Kawasaki models in iconic brand families leading, it is hoped, to a "ladder of opportunity" as riders migrate up the capacity scale as their experience and licence entitlement develops.
Equipped with a single-cylinder, water-cooled engine rated at a healthy peak of 11 kw and offering a maximum of 11.7 Nm of torque, both the Z125 and Ninja 125 deliver strong mid and high-range urge with a typical Kawasaki high revving top end. Both machines also feature sleek trellis type frames providing a slim, compact package that is easy to handle.
Looking forward to owning a motorcycle rather than a scooter, younger riders are matched by a group of more experienced potential owners further up the age scale who declared during research that a 125 cc motorcycle was the perfect balance of power, performance and physical size for their requirements.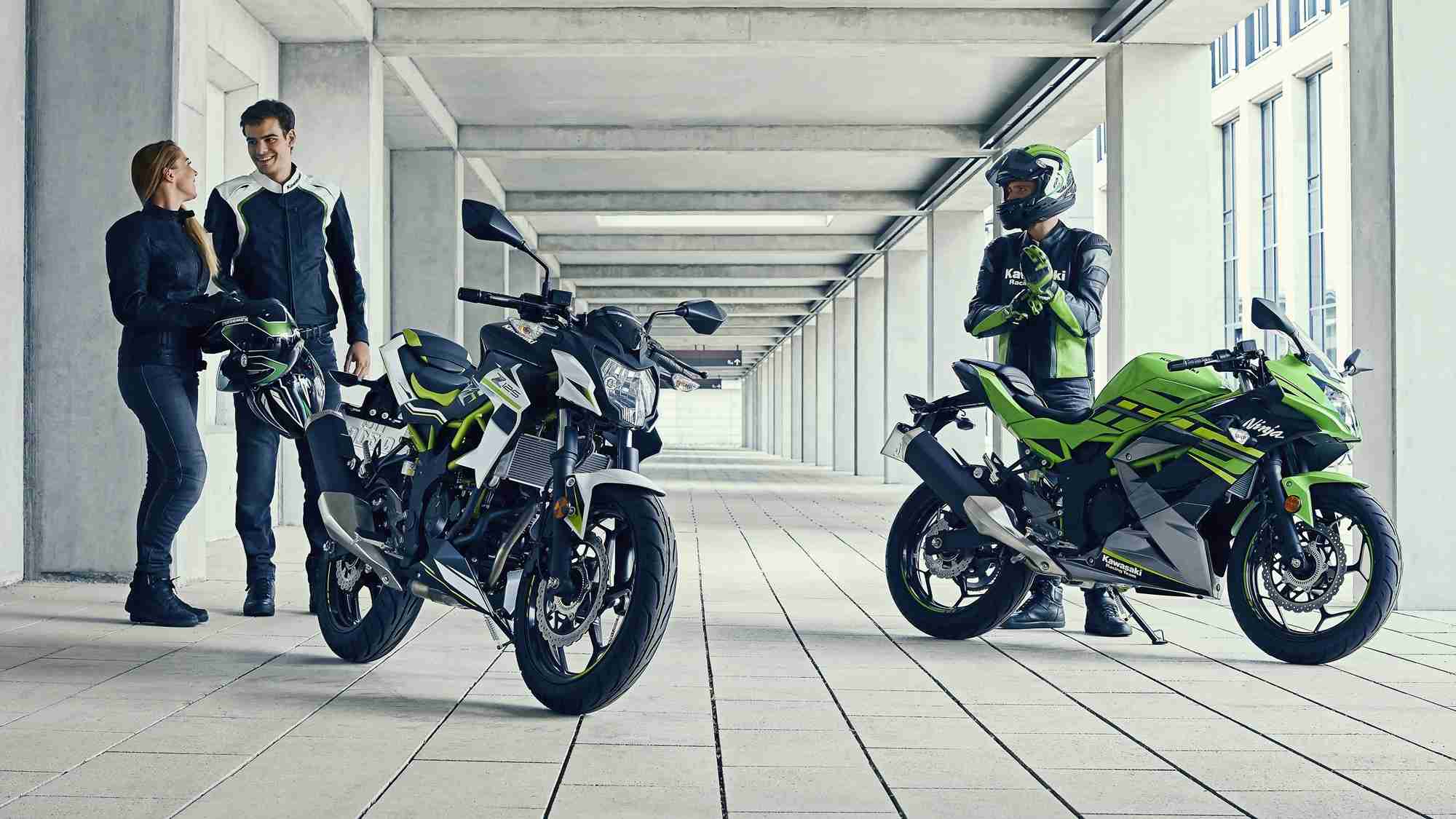 Calling upon Kawasaki's unique Sugomi styling character, the Z125 has the uncompromising naked looks that the Z brand is so famous for. With its full-grown size, low seat height and the 146 kg curb mass; the youngest sibling of the Z family will represent a great entry point to the popular naked style segment.
Ninja style is clearly visible in the new Ninja 125 with a silhouette and graphic treatment that owes much to Jonathan Rea's WorldSBK winning Ninja ZX-10RR. With the big bike look and feel, the 125 cc machine surely fits well in the Ninja family. Like the Z125, the Ninja 125's willing engine is wrapped in a tubular trellis frame matched to a box section swinging arm. Top that off with the low seat height and 148 kg ensure the young Ninja package is complete and ready to take on those sporty adventures ahead.
Both the Ninja 125 and Z125 are set to make a strong style and performance statement in 2019, the only question is; which one will you choose?