Still the only road going Supercharged Hyperpsort machine on the market, the latest 2019 Ninja H2 iteration has just been unveiled as part of the annual Bonneville Speed Week. Fully Euro4 compliant, the new 2019 model year Ninja H2 enjoys a substantial power increase from 200 PS to an incredible 231 PS. Pioneering the contemporary use of Supercharger technology on production motorcycles, Kawasaki is keen that power is not the only significant feature and, for 2019, there are certainly many other highlights such as the preservation of the current fuel economy figures despite the rise in horse power.
Some of this impressive power and fuel economy combination is due to a number of parts crossing over from the successful ultimate sport touring Ninja H2 SX. Items included in the new Ninja H2 spec include the air-filter, intake chamber, spark plugs and ECU but, critically, not the adoption of the balanced Supercharger.
Along with new high performance Bridgestone RS11 tyres the new spec also includes the latest Brembo "Stylema" front brake calipers. Super rigid, the Stylema has increased pad cooling ability, more instant and predictable initial actuation and better temperature characteristics for the brake fluid itself.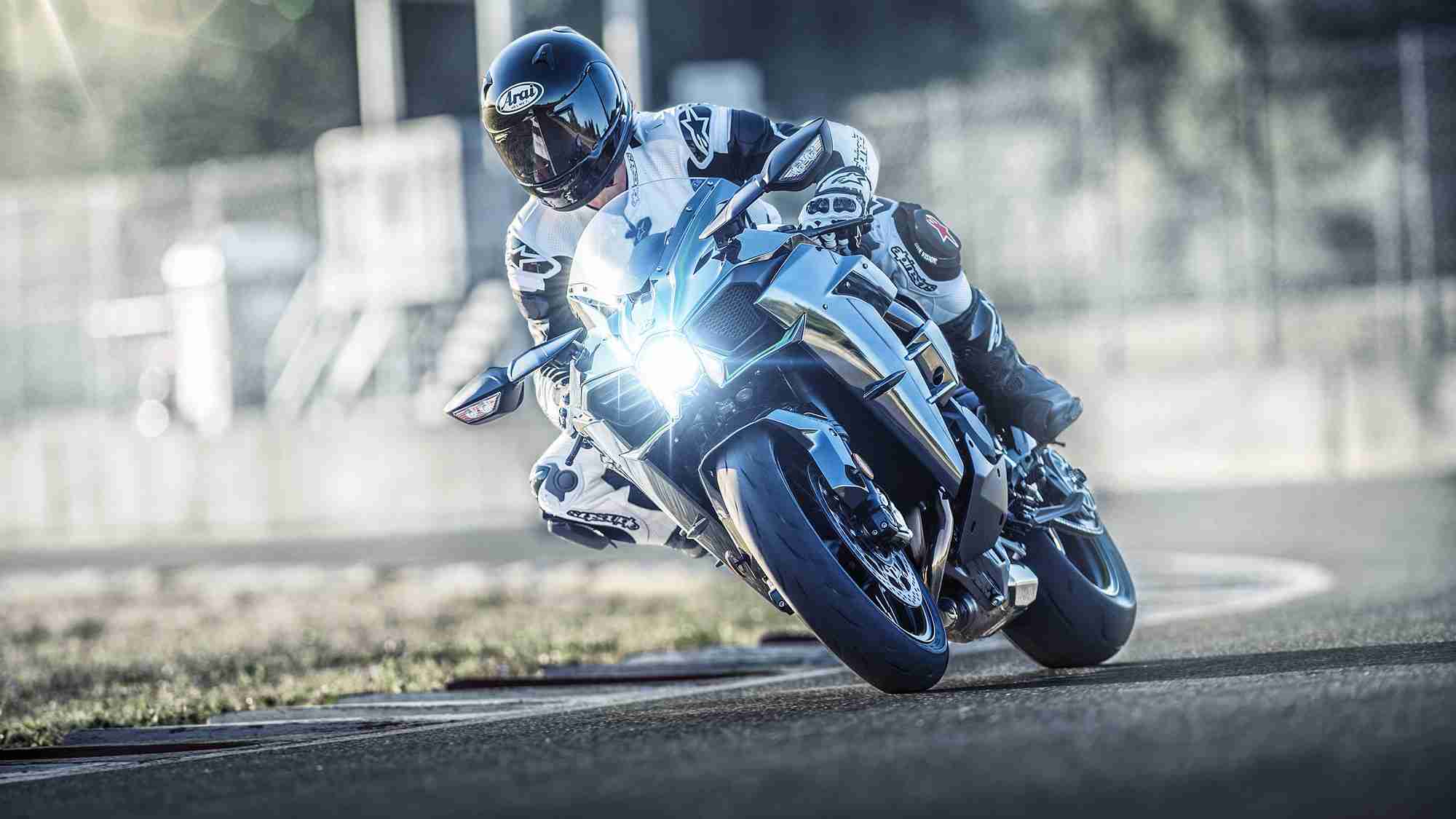 Visually there are also updates including a new Supercharged emblem plus highly durable paint and, for the first time on a Ninja H2, TFT colour meters with Bluetooth connectivity. The highly durable paint is a noteworthy feature that, in suitably warm ambient temperatures, can "selfheal" minor scratches and scuffs in an impressively short time frame. Developed in-house by Kawasaki, the time between the appearance of a light scratch and "healing" is in a different league to similar automotive systems that can take weeks to fully "heal".
The TFT meters have the same contemporary look and feel those currently fitted to the Ninja H2 SX SE but with the added innovation of smartphone connectivity via Kawasaki's new "Rideology" App. Once paired, the smart phone can display a number of items including vehicle information such as fuel level and battery condition as well as a riding log and service interval updates.
2019 Kawasaki Ninja H2
Kenji Nagahara – Managing Director of Kawasaki Motors Europe
"The visual impact and engineering prowess of the Ninja H2 will surely increase thanks to this major update. This Supercharged machine is the physical embodiment of our corporate strength. The addition of more power, smart phone "Rideology" technology and other specification upgrades for 2019 shows that, as a company, we are constantly pushing the boundaries of what is possible and delivering cutting edge motorcycles to the market."