Sherco TVS Factory Rally Team today announced a 3-rider squad for Dakar 2018. Joan Pedrero from Spain will be leading the squad which will include Adrien Metge from France and Aravind KP from India. The Sherco TVS Factory Rally Team has been performing strongly in all the international rallies and is aiming for a Top 10 finish at Dakar 2018.
Dakar 2018 is the 40th edition of the annual International Rally-Raid, and Sherco TVS Factory Rally Team will be participating in the event for the fourth consecutive year. The Rally will be held from January 6, to January 20, 2018. This year, the Rally will cover three countries, beginning in Lima, Peru, and passing through La Paz, Bolivia, before finally culminating in Córdoba, Argentina, after having traversed a total distance of over 9000 km.
This will be the second time that Aravind KP will participate in Dakar Rally. Joan Pedrero will be participating at Dakar Rally for the tenth consecutive time and this will be the 3rd Dakar Rally for Adrien Metge.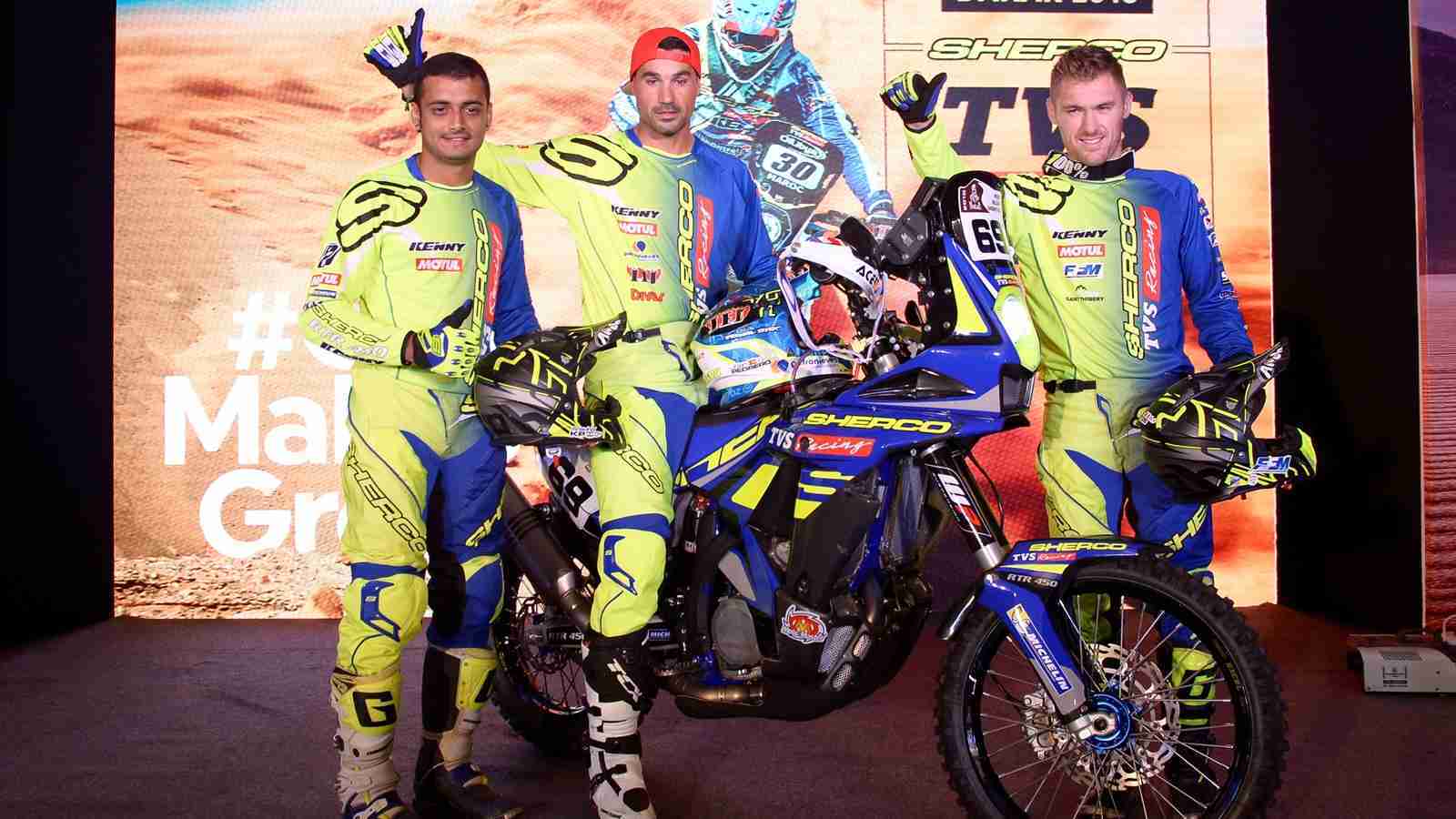 Vinay Harne, President – New Product Development, TVS Motor Company says, "Our partnership with Sherco for Dakar has been a hugely rewarding experience for our racing team. We have supported Indian riders and engineers in competing in international events and that has resulted in immense learning for both the partners. We wish the Sherco TVS Factory Rally Team the very best."
The Sherco TVS Factory Rally team participated in 4 international rally-raids this year – Baja Aragon, Merzouga Rally, PanAfrica Rally and 2017 OiLibya Rally of Morocco – with strong finishes in each.
Thomas Teissier, General Manager, Sherco Motorcycles said, "This is the fourth year of our partnership, and with each passing year our preparation for Dakar has become more focused and fierce. We have a strong relationship with TVS Racing, and we have worked together on the existing team structure. We are excited to have Aravind KP in our team again. The preparation has been good so far, and I have full faith in the abilities of our team for Dakar 2018. The preparation in the last two months before the race will be very crucial, and I am sure that the team will perform to the best of their ability."
Arun Siddharth, Vice President Marketing – Premium Two Wheelers, International Business & TVS Racing, said, "TVS was the first Indian manufacturer to participate at Dakar and this year we have stepped up our participation in, and preparation for, international rally raids. Races such as PanAfrica Rally, Merzouga Rally and OiLibya Rally have helped get more exposure, thus helping us improve our readiness for Dakar. Based on our performance at the other rally-raids this year, we are aiming for a Top 10 finish at the Dakar 2018."
---
For latest news in your mail box click HERE to subscribe to our daily newsletter!
or
Click HERE to Download our APP for all the action right on your mobile device!