Riders across the globe are ready to dazzle in sharp suits, silk vests, and deadly style on mean motorcycles, on café racers, classics, choppers, trackers, scramblers and a whole array of sweet vintage bikes. This year in Delhi DGR, about 300 sharply dressed riders of all sexes will set off from The Biker's Café Gurgaon at 6 am and proceed towards to Le Meridien, Gurgaon.
A spectacular affair held every last Sunday in September, DGR is the Most Stylish & Glamorous event in the riding community with riders dressed in the absolute height of style vrooming across town to raise funds & awareness for Prostate Cancer and over all Men's Mental Health.
Thousands of passionate motorcycle enthusiasts dressed in their dapper best are set to espouse this very worthy cause this year. So far 42,714 riders have registered across the world so far.
Combining a visual spectacle – truly cool riders on the most beautiful machines – from Enfields to Triumphs to Harleys – with a good cause, this is an event that no one should miss! The annual international motorcycle event raises funds for the prostate cancer research and men's mental health initiatives of the Movember Foundation, the world's largest men's health organisation.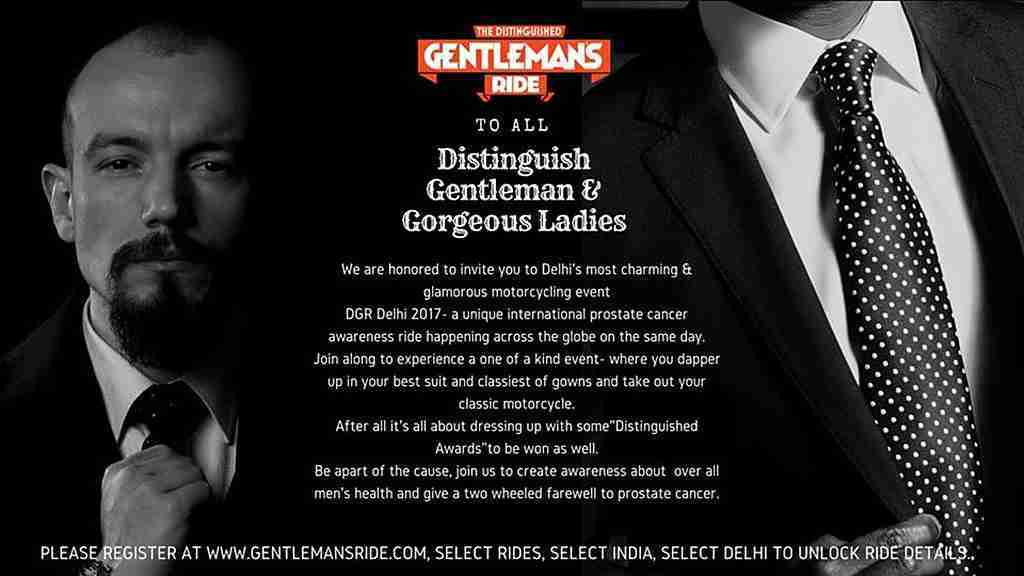 Tens of thousands of distinguished gentlefolk in hundreds of cities worldwide will don their cravats, tweak their moustaches, press their tweed and sit astride their classic and vintage styled motorcycles to raise funds and awareness for men's health, specifically prostate cancer and men's mental health.
Royal Mavericks – Delhi Royal Enfield Riders Community is hosting DGR Delhi consecutively for the 5th time in a row, supported by ISUZU & Zebronics. DGR Delhi is held on the same date across the world.