Now if you thought EICMA for KTM was just about the 790 Duke, you could not be more wrong. It was also an opportunity for KTM to indicate what further ways to utilise the LC8c parallel twin are looming on the horizon. And that responsibility was taken on by the KTM 790 ADVENTURE R prototype.
The KTM 790 ADVENTURE R prototype fully embraces the Austrian company's READY TO RACE philosophy. With its high dashboard tower, single seat, tiny LED lights and low-slung fuel tanks, the KTM 790 ADVENTURE R is clearly inspired by the KTM Rally machines that dominate competition the world over. The LC8c punches hard from inside its lightweight and extremely rugged chassis, complete with top-quality WP Suspension components front and rear. Naturally, a production version of this would come with the very best electronic rider assistance package too.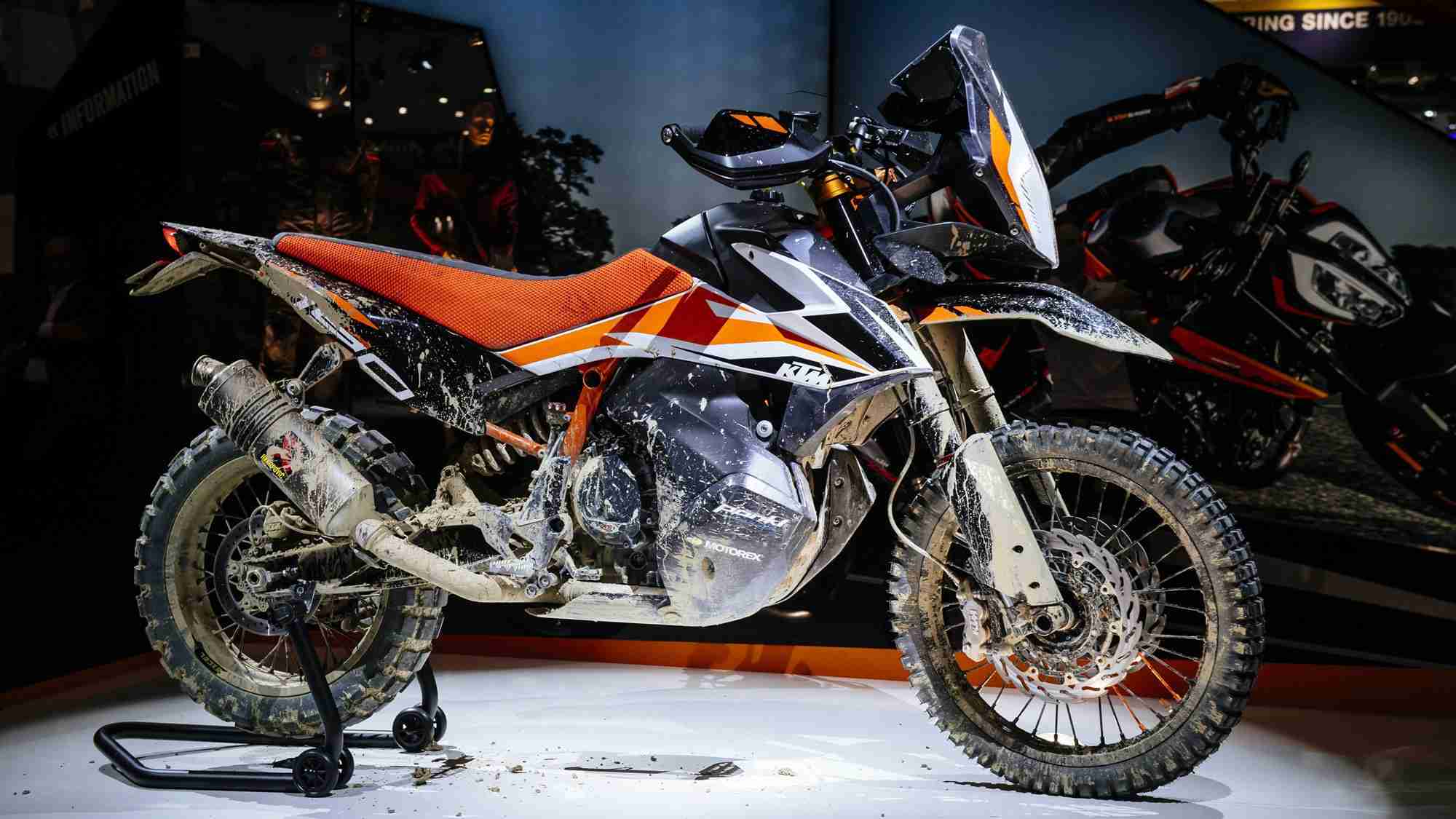 Mr. Trunkenpolz – "We aimed to design the most performance-focused mid-weight travel enduro of its class, with the dynamism of much bigger engine machines, by giving it a leading power-to-weight ratio. The KTM 790 ADVENTURE R prototype is built from a pure offroad obsession. KTM is the market leader in the dirt; our heritage in this field is something no other motorcycle brand can easily copy and this is another exciting indication of the future."
KTM 790 Adventure R prototype images
The KTM 790 ADVENTURE R prototype with its curious (and potentially new) look which complements the 1290 and 1090 versions by hovering an elbow in the mid-range market. Like the KTM 790 DUKE the power-to-weight ratio is the big bonus here for off-roaders and the KTM 790 ADVENTURE R prototype has its place between the KTM 690 ENDURO offering and its bigger brothers. The rally bike shape is a giveaway for the performance it could bring and the promise of a comprehensive rider assistance systems.
---
For latest news in your mail box click HERE to subscribe to our daily newsletter!
or
Click HERE to Download our APP for all the action right on your mobile device!